Austin City Limits celebrates its newest class of Hall of Fame inductees: blues great Buddy Guy, and acclaimed singer-songwriters Shawn Colvin and Lyle Lovett, with a special broadcast featuring best-in-class performances and collaborations from the Austin City Limits 6th Annual Hall of Fame Honors. Recorded live in Austin, TX on October 24, 2019 at ACL's studio home, ACL Live at The Moody Theater, this all-star salute features music luminaries and special guests sharing the stage for one epic night, honoring three beacons of American music who have played an instrumental role in making the iconic series a music institution. Performers include (in order of appearance): Jackson Browne, Sarah Jarosz, Jimmie Vaughan, Shemekia Copeland, Christone "Kingfish" Ingram, Willis Alan Ramsey and Edie Brickell joined by special guest, Oscar-winning actor, filmmaker and best-selling author Sean Penn, with the evening hosted by Robert Earl Keen.
The hour-long broadcast is sponsored by AXS and American Airlines with additional support from Cousins Properties Incorporated, Keller Williams, Stratus Properties and Texas Monthly. The broadcast airs Saturday, December 28 at 8pm ET on PBS. Check local PBS listings for times.
Master of ceremonies, Texas troubadour Robert Earl Keen, opens the hour introducing the legendary Jackson Browne to salute the night's first honoree, Shawn Colvin. In a heartfelt induction speech, Browne praises Colvin for songs that "get in your head and influence your way of looking at the world" before joining his friend for an acoustic rendition of the title track from her 2006 album These Four Walls. Colvin performs a spellbinding take on her GRAMMY® Award-winning smash "Sunny Came Home" from her landmark 1996 album A Few Small Repairs, accompanied by standout Sarah Jarosz on mandolin and harmony. Fellow honoree Lyle Lovett shows his appreciation by joining Colvin for a gorgeous spin on early gem "Diamond in the Rough," from her 1989 debut Steady On, as the two Texas singer-songwriters share the stage, with Jarosz and world-class musicians Larry Klein (bass) and Steuart Smith (guitar).
Guitar hero Jimmie Vaughan inducts living legend Buddy Guy, calling him "his musical hero and mentor." Vaughan fondly recalls how as kids he and his brother Stevie discovered the Chicago bluesman's recordings on Chess Records and loved how Guy "played so mean." The 83-year old showman accepts the honor with his signature wit, proclaiming "Better late than never," then proceeds to light up the stage with a trio of classics. Vaughan joins Guy and his four-piece band for an electrifying take on his signature "Damn Right, I've Got the Blues"; acclaimed blues singer Shemekia Copeland steps onstage for a playful, swaggering duet on "Cognac" from Guy's 2019 GRAMMY® Award-winning album The Blues Is Alive And Well; next-generation blues phenom, 20-year-old Christone "Kingfish" Ingram, joins forces with Vaughan and Copeland in a musical salute as Guy thrills the crowd with his show-stopping anthem "Skin Deep."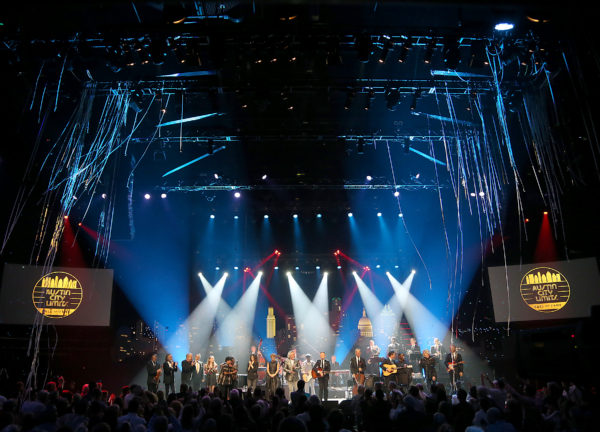 photo by Gary Miller
Finally, Sean Penn takes the stage to induct longtime friend Lyle Lovett. Calling Lovett a "humble maestro," and "the storytelling heir to Faulkner, Rogers and Twain," Penn humorously characterizes the Texan's arrival on the LA music scene in the early '90s: " Was he Buddy Holly reborn? Hank Williams evolved? Benny Goodman on acid? And where oh where did he get his hair?" Lovett accepts the honor, recounting his long musical kinship with Austin City Limits, from watching the program since it's 1975 debut to having the distinction of appearing on the program more than any artist second to Willie Nelson. Lovett welcomes a key early influence, seminal Texas singer-songwriter Willis Alan Ramsey, for a solo version of Lovett's beloved "If I Had A Boat," from his 1987 breakthrough Pontiac. Singer-songwriter Edie Brickell sparkles on the tart ballad "I Loved You Yesterday," joined by Lovett's trademark Large Band. Lovett steps up to the microphone for the finale, backed by the 13-piece Large Band and joined by the night's performers and fellow honorees, closing the hour with a Texas-sized smile and a spirited take on the Lone Star classic "That's Right, You're Not From Texas (But Texas Wants You Anyway)."
"Austin City Limits 6th Annual Hall of Fame Honors setlist:
Shawn Colvin & Jackson Browne "These Four Walls"
Shawn Colvin & Sarah Jarosz "Sunny Came Home"
Shawn Colvin with Larry Klein, Steuart Smith, Sarah Jarosz, and Lyle Lovett "Diamond in the Rough"
Buddy Guy & Jimmie Vaughan "Damn Right, I've Got the Blues"
Buddy Guy & Shemekia Copeland "Cognac"
Buddy Guy, Jimmy Vaughan, Christone "Kingfish" Ingram, Shemekia Copeland "Skin Deep"
Willis Alan Ramsey with The Large Band "If I Had a Boat"
Edie Brickell with The Large Band "I Loved You Yesterday"
Finale: Lyle Lovett & The Large Band with all guests "That's Right, You're Not From Texas (But Texas Wants You Anyway)"
Tune in December 28 for this special episode, and, as always, check your local PBS listings for the broadcast time in your area. Go to the episode page for more info, and don't forget to click over to our Facebook, Twitter and newsletter pages for more ACL info. Join us on January 4 for a brand new episode featuring two of indie rock's finest singer/songwriters: Sharon Van Etten and Lucy Dacus.