The Brittney Spencer song "First Car Feeling" celebrates the exhilaration of new experiences, new moments when everything feels fresh and exciting. We'd like to think Ms. Spencer was feeling some of that as she took the stage for her debut taping on Austin City Limits. She was a standout at last year's ACL Hall of Fame presentation as she put her stamp on Sheryl Crow's "My Favorite Mistake," so it was inevitable that she would come back to showcase her own tunes.
And what tunes they were. Drawn mostly from her forthcoming debut album My Stupid Life, out this January on Elektra Records, the songs bespoke a thoughtful songsmith unafraid to bare her soul while still paying attention to artistry. Fronting a seven-piece band of versatile musicians, Spencer smoothly blended country music with R&B, much like classic singers like Arthur Alexander and contemporary ones like Yola – a perfect fusion of craft and soul. She got the crowd dancing and singing along with "I Got Time," smiling in recognition with "Night In," and feeling her every emotion in the ballad "Deeper." In a couple of special moments, Spencer paid tribute to her inspirations – Reba, Aretha, Janis, Dolly, Latifah and more – with "Bigger Than the Song" and a cover of Willie Nelson's "On the Road Again" worked up especially for this show. She also marveled at her good fortune (augmented by hard work) in the title track of the upcoming record. A spectacular vocal performance on "My First Rodeo" brought the audience to their feet, leaving the singer fighting back tears. "I've been trying not to cry the whole show," she remarked.
Most impressively, she stunned the crowd with the poignant "Sober & Skinny," taking the surface humor of "If you get sober, I'll get skinny" and using it to highlight the heartbreak of a mutually self-destructive relationship. That led into the even more emotional "Reaching Out," an anthem for anyone who feels alone and unwanted – something anyone can identify with, as shown by the standing ovation Spencer received as she quit the stage. She rewarded the people's persistent applause by returning with a raucous version of the Nancy Sinatra classic "These Boots Are Made For Walking." Spencer looked giddy as she left the stage for the second time, as well she should: once it airs early next year as part of our Season 49, this episode will prove that Brittney Spencer is a star.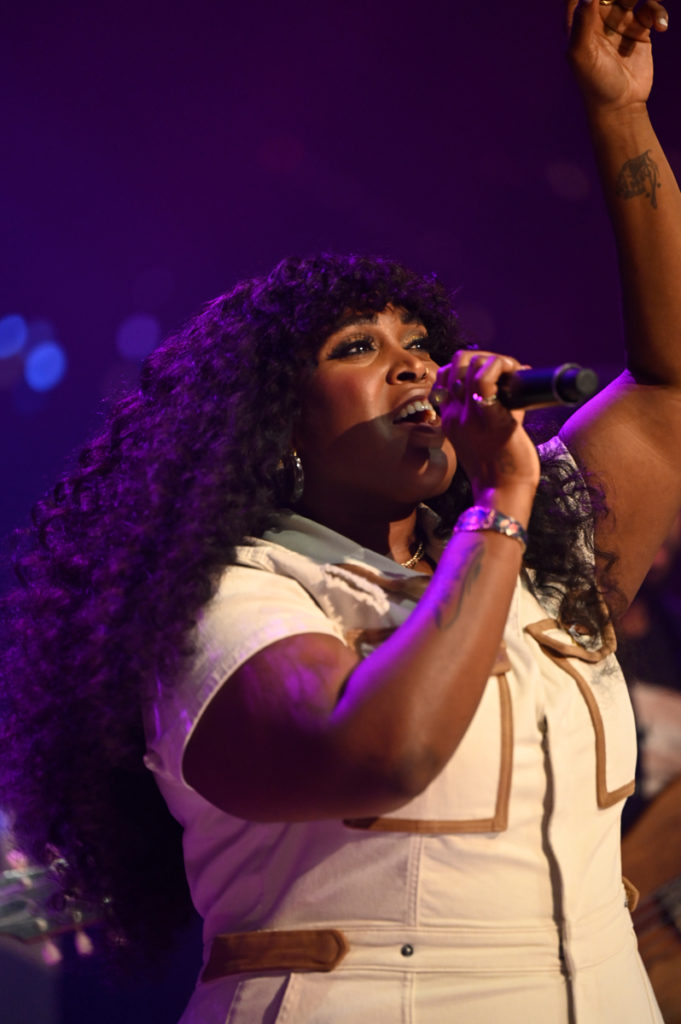 Setlist: 
First Car Feeling – My Stupid Life
Better As Friends – If I Ever Get There: A Day at Blackbird Studio EP
Night In – My Stupid Life
Bigger Than the Song – My Stupid Life
Deeper – My Stupid Life
On the Road Again – Willie Nelson cover
I Got Time – My Stupid Life
My Stupid Life – My Stupid Life
If You Say So – My Stupid Life
My First Rodeo – My Stupid Life
Sober & Skinny – single
Reaching Out – My Stupid Life
These Boots Were Made For Walking – Nancy Sinatra cover
Musicians: 
Brittney Spencer – vocals, guitar
Abbey Cone – vocals
Alfred Carty – bass
Bobby Wesley – guitar
Harrison Finks – keyboards
John McNally – pedal steel, guitar
Matt Cummings – guitar
Megan Jane – drums