Last seen in these parts in Season 11, country icon Tanya Tucker has never slowed down, racking up hits since the seventies. Riding yet another career high thanks to the 2022 documentary The Return of Tanya Tucker and the Grammy-winning Tucker/Brandi Carlile co-write "Bring My Flowers Now," the Seminole, Texas native – who's finally getting inducted into the Country Music Hall of Fame this year – returned to the Austin City Limits stage at full power, bringing with her a new acclaimed record, Sweet Western Sound.
Before we got that LP, however, Tucker – decked out in a green leather fringed jacket and polka-dotted scarf – and her six-piece band dug into that bucket of hits, opening with the frisky top tenner "If Your Heart Ain't Busy Tonight." "I just wanna thank y'all for hangin' in for so many years," she declared – a broad hint of the next song, the old school honkytonker "Hangin' In." Minus drummer Toby Caldwell, the musicians then gathered at the front of the stage for an acoustic pickin', mandolin and fiddle-powered take on her late eighties #1 hit "Strong Enough to Bend." The hits kept on coming with 1976's "Don't Believe My Heart Can Stand Another You," a good choice for the audience's mid-song clapping.
The repertoire leapt forward in time to While I'm Livin', the 2019 Brandi Carlile-produced LP that brought Tucker back to prominence. Driven by her gritty vocals, "Hard Luck" rang out with energy and swagger to big cheers. Then came the Grammy-winning killer: co-write "Bring My Flowers Now." Backed only by piano and harmonies from singer Presley Tucker and bassist Dino Villanueva, Tucker explained the origins of the song, then delivered it with quiet dignity and expertly controlled passion as only someone feeling the weight of the years could. "If your heart is in them flowers," she sang, "Bring 'em on." From the audience's standing ovation, their hearts were deep in that garden.
That would be a tough song for anyone to follow up, but Tucker did it by dipping into Sweet Western Sound for "Kindness," a song that fit the tenor of its predecessor, but with a faster tempo and wry humor. She followed with "When the Rodeo is Over (Where Does the Cowboy Go)," a song Carlile sent to Tucker over the phone, and the kind of classic narrative ballad only a singer of Tucker's experience (plus co-writer and Tucker paramour Craig Dillingham on harmony) could pull off with the proper gravitas. That went doublefold for "Ready As I'll Never Be," a farewell to loved ones performed with solemn soul. "Losin' your friends is hard enough," she explained, "but when your friends are your heroes, it's even harder." If there was a dry eye in the house, we'd be shocked.
The mood then changed for the rowdier, as Tucker shared a tequila with an audience member and launched her classic anthem "Texas (When I Die)," as much a showcase for her band as it was an audience party, earning her another standing O. Another tough act to follow, but once again she managed it with her early nineties bluesy strut "It's a Little Too Late." "It's never too late to do the right thing," she said. "I'm proof of that."
Tucker commented on how much she and the band had anticipated this ACL taping, thanked her friends and family for being there, and touched on her illustrious past, including having met Elvis Presley. Then, of course, she closed the show the only way she could. "I'm sincere when I say I love this song," she smiled. The familiar piano chords floated in the air, then she sang the words: "Delta Dawn/what's that flower you have on." Needless to say, the crowd took a chorus on their own, before Tucker ended the song with a gospel flourish. She left the stage to a final standing ovation, as well she should've. There's nothing like seeing a living legend still in her prime, and Tanya Tucker lived up to the legend. You'll see for yourself when this episode airs this fall as part of our 49th season on your local PBS station.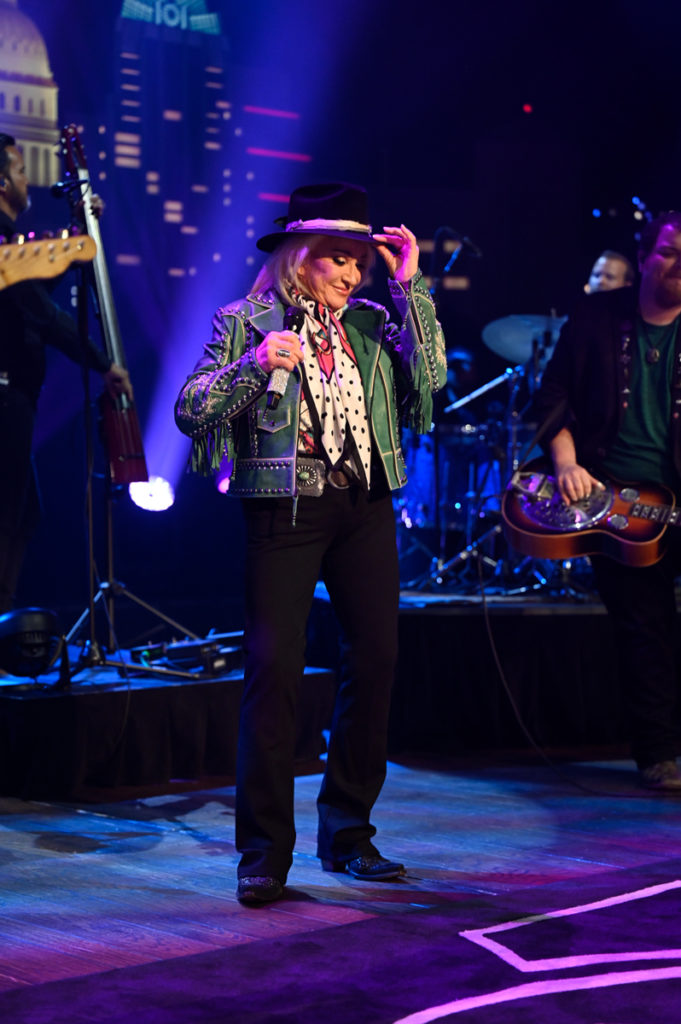 Tanya Tucker on Austin City Limits, 2023. Photos by Scott Newton.