Rock superstars Foo Fighters returned to the ACL stage for their third headlining appearance with a powerhouse, unforgettable, near 20-song set. The iconic band have captured the hearts of audiences worldwide with their soul-baring rock and roll.
Fearless leader Dave Grohl led the band through a mellow version of their classic "Times Like These," opening a nearly two and a half hour performance—a musical sermon that celebrated the Foos legendary near three-decade career. Fans were undoubtedly welcomed to the church of rock and roll. A collection of the Foos' signature blend of melody-driven alternative rock, roughened around the edges by Dave Grohl's punk-influenced screams, were delivered masterfully. The rockers became intimate storytellers amongst speedy drum fills and rock and roll riff-mania, as they delivered tracks from their 2023 release But Here We Are and hard-hitting classics from throughout their catalog. The rock veterans proved their rightful place as the rock heroes of the ACL stage – a monumental music moment that fans will remember, everlong.
Grohl's candid stage charisma and heartwarmingly charming commentary lead the way for audience interactions sprinkled in between tracks. "What's up, people!" Grohl shouted ahead of playing "Nothing At All." "We've been here hanging out all week – this is good shit! I like playing new stuff with an audience like this." After Grohl introduced esteemed guitarists Pat Smear and Chris Shiflett, bassist Nate Mendel banged out the instantly recognizable riff to the Beastie Boys classic "Sabotage." Grohl then turned the spotlight to keyboardist Rami Jaffee and new addition drummer Josh Freese (The Germs, Nine Inch Nails). "I wish this was the biggest band he's ever been in," Grohl noted about Freese. "He was in Devo, you guys!" Cue Freese energetically launching into the intro for their classic "Whip It."
Following the band's powerfully moving performance of "The Glass", a musical memorial to Grohl's late mother, the Foos propelled forward with a change of pace, as Grohl asked "Anyone have any happy requests? Who wants to hear what? Let's do a big, happy sing-along!" The uplifting anthem "My Hero"emerged to gracefully lead the audience into an all-consuming emotional recovery, with the raising of heart-shaped hands in a momentous gospel-like sing-along.
As the heartfelt fan-lead choir filled the studio walls, the Foos' raw lyricism returned to center stage with "The Teacher." The song, off the 2023 release, But Here We Are, is a ten minute-long ode to grief's tumultuous nature, one that pulls us to yearn for fond memories while tugging us to grapple with the abruptness of goodbyes. Grohl's double decker ruby red Gibson SG played through to the final song, as the singer fondly recalled past ACL performances, and added "Let's hear it for Terry and everyone at ACL!" before seamlessly pumping the breaks into Groho's solo rendition of the signature tune "Everlong."
Encoring with their powerful anthem "The Best of You," Foo Fighters exemplified an unparalleled realness that never shied away from raw musicality. Invigorated by a rock and roll type of sincere sensitivity that is exclusively Foo-like, Foo fans are simply left to watch their heroes as they go.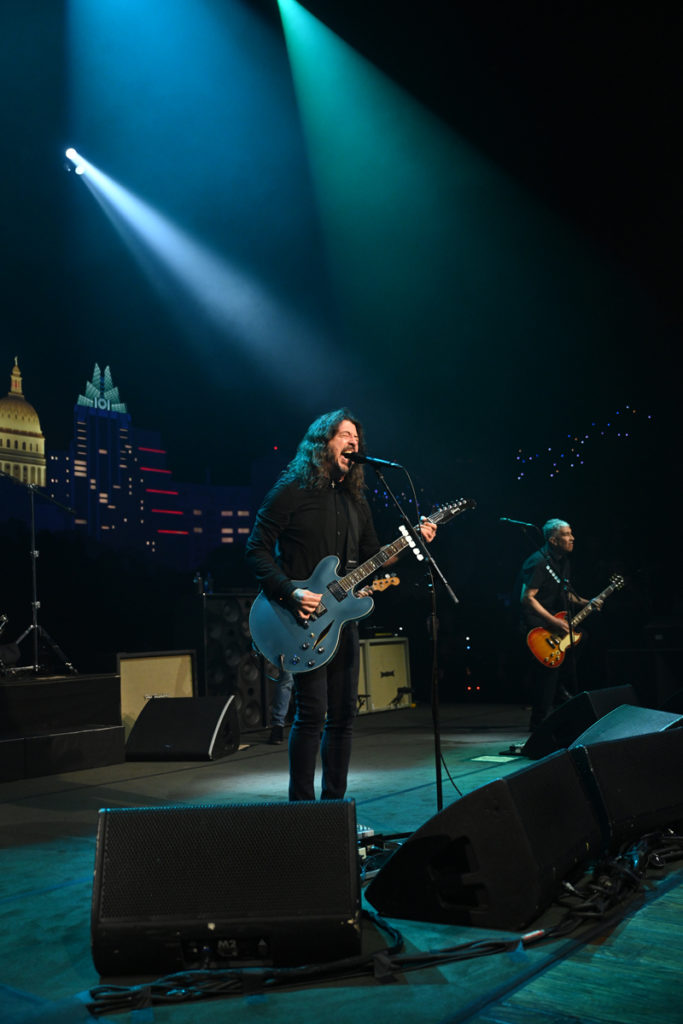 Setlist: 
Times Like These
No Son of Mine
Rescued
La Dee Da
Under You
These Days
Generator
Nothing At All
The Sky is a Neighborhood
Shame Shame
The Glass
All My Life
My Hero
This is a Call
Aurora
White Limo
The Teacher
Everlong
Encore:
The Best of You
Musicians:
Dave Grohl – vocals, guitar
Pat Smear – guitar
Chris Shiflett – guitar, vocals
Nate Mendel – bass, vocals
Rami Jafee – keyboards
Josh Freese – drums