A special installment, Austin City Limits 7th Annual Hall of Fame Honors, premieres January 8 at 8pm CT/9pm ET on PBS. Austin City Limits (ACL) celebrates the newest class of Hall of Fame Inductees, honoring a trio of Americana greats with longtime ties to ACL: Lucinda Williams, Wilco and Alejandro Escovedo, with best-in-class performances and highlights from the 2021 ACL Hall of Fame Induction Ceremony presented by PNC Bank, recorded live in Austin, Texas on October 28, 2021. Music greats Jason Isbell, Rosanne Cash, Margo Price, Sheila E., Lenny Kaye, Japanese Breakfast and more salute the new class of inductees with one-of-a-kind collaborative performances and tributes. The hour-long broadcast premieres Saturday, January 8 at 8pm ET on PBS. Check local PBS listings for times. The special will be available to music fans everywhere to stream online beginning Sunday, January 9 at 10am ET at pbs.org/austincitylimits. In addition, a streaming-only, 90-minute bonus installment featuring exclusive content from the celebration will be made available for fans the same day, including acclaimed performances by John Doe, legendary Los Angeles punk band X co-founder, iconoclastic Texas singer-songwriter Terry Allen and indie icon Bill Callahan. Providing viewers a front-row seat to the best in live performance for a remarkable 47 years, the series returns January 15 ringing in a new year with all-new episodes as part of its Season 47. Viewers can visit acltv.com for news regarding future tapings, episode schedules and select live stream updates.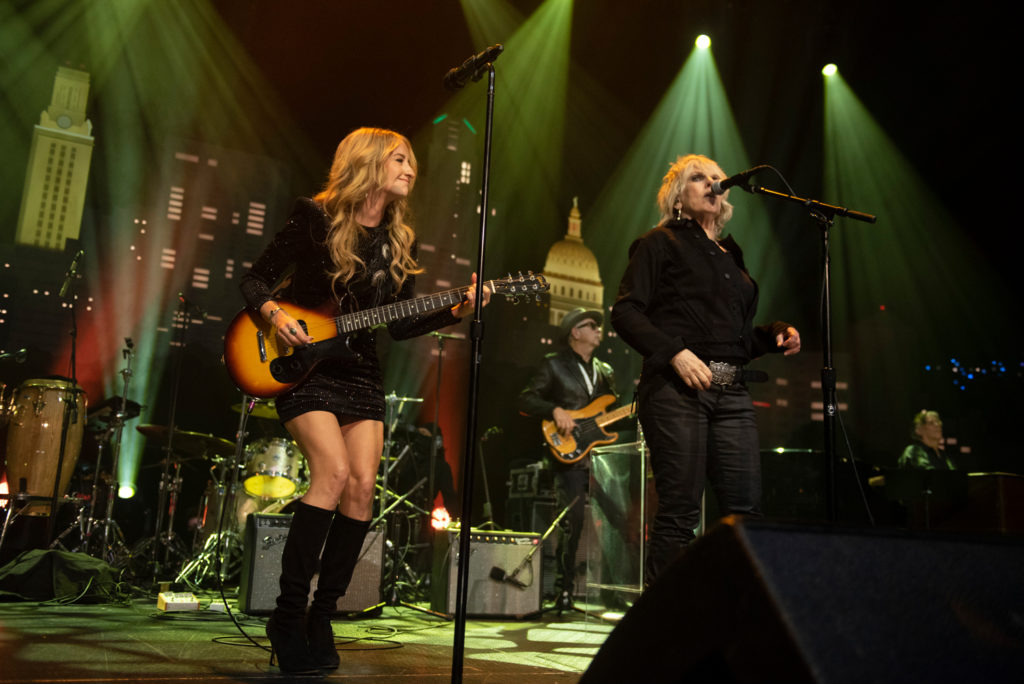 One of today's finest songwriters, Jason Isbell, opens the hour to salute the night's first honoree, legendary singer-songwriter Lucinda Williams. "A lot of my songs wouldn't exist if I hadn't spent so much time trying to rip her off," grins Isbell in a heartfelt induction, providing insightful examples of the way Williams uses detailed imagery to paint pictures with her lyrics. "She's made a map," he explains, for other songwriters, including himself, to follow. "Too rock for country and too country for rock," Williams cracks in her acceptance, recalling the music industry's early reaction to her sound. Isbell performs a gorgeous rendition of Williams' "I Envy the Wind" from her Grammy-nominated 2002 album Essence. The pioneering artist takes the stage for a pair of collaborative performances featuring highlights from her groundbreaking self-titled 1988 classic. "I'm on cloud nine," says the honoree as she is joined by her friend of 30 years, Rosanne Cash, for the gem "Crescent City." Country star Margo Price joins Williams for her signature scorcher "Changed the Locks' ' in an electrifying duet.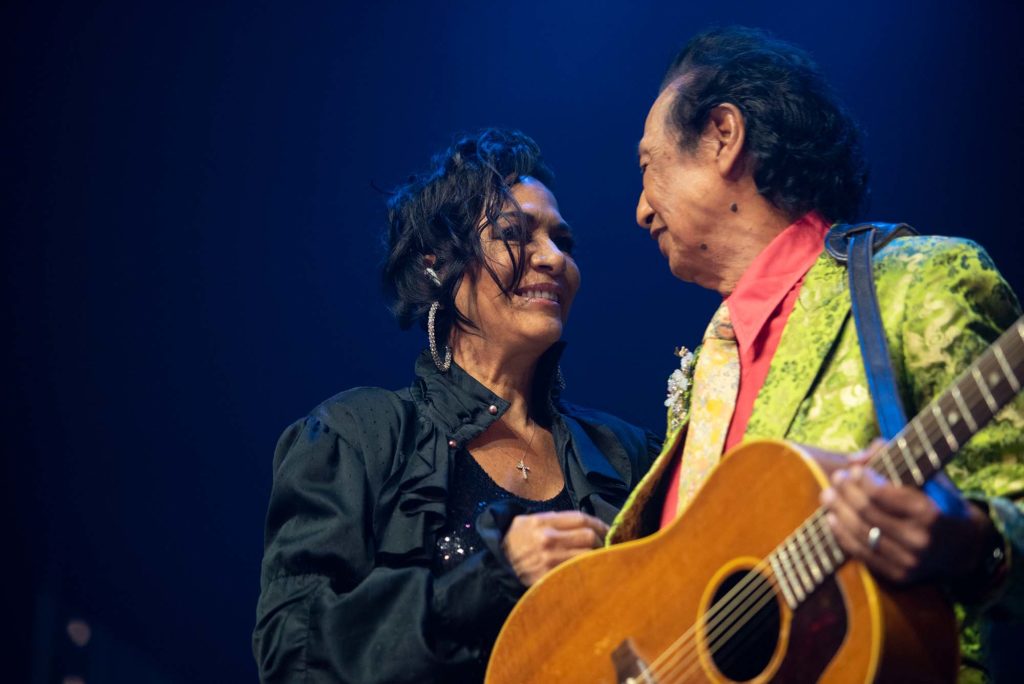 Punk pioneer Lenny Kaye recounts how he first met Alejandro Escovedo in 1974, and inducts his longtime friend with wit and wisdom, capturing the essence of what makes the genre-defying Mexican-American artist's eclectic, expansive body of work important to the world. Joined by his niece, the incomparable Queen of Percussion Sheila E. behind the drum kit, Lenny Kaye on guitar, and his veteran backing singers and string section, Escovedo opens the music salute with a Spanish-language song from his acclaimed 2018 immigrant-themed album The Crossing, bringing out Alex Ruiz, frontman for Austin Latin-rock band Del Castillo for the occasion. Escovedo completes his victory lap with a titanic take on "Put You Down," his 1996 orchestral-rock anthem with which he opened his 2006 ACL appearance, guitar-windmilling his way through the thrilling performance.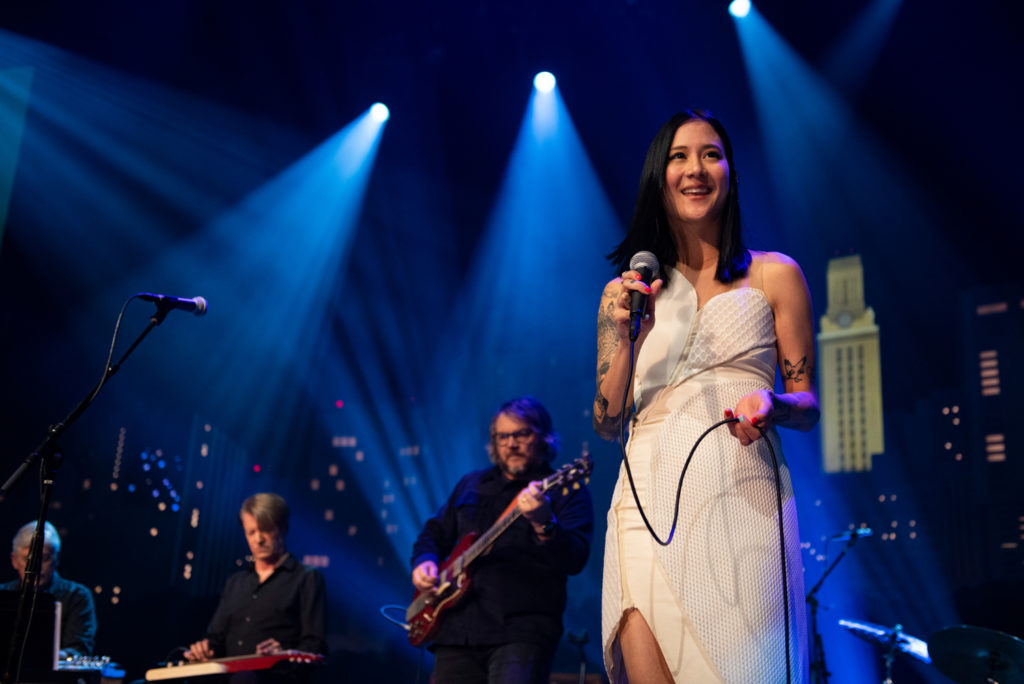 ACL Hall of Famer Rosanne Cash inducts Wilco with deep accolades, referring to the celebrated Chicago band as "heartland laborers in the tower of song, with thick skins and open hearts" and champions them for being "subversive without being destructive" with a humanity that "somehow breaks us and heals us at the same time." With Wilco's music, Cash says, "we don't need certainty when we love the questions." Bandleader Jeff Tweedy, guitarist Nels Cline, bassist John Stirratt, keyboardists Pat Sansone and Mikael Jorgensen and drummer Glenn Kotche take the stage to perform early career highlight "Shot in the Arm." A 2022 Grammy nominee and superfan, Japanese Breakfast's Michelle Zauner is backed by the band for a radiant spin on the pop charmer "Jesus, Etc." from the 2002 landmark Yankee Hotel Foxtrot.
The stars come out en masse for a stellar reading of Wilco's breakout "California Stars" from 1998's collaborative classic Mermaid Avenue, with Jeff Tweedy, Rosanne Cash and Alejandro Escovedo trading verses and the all-star ensemble of performers singing-along. Jason Isbell trades licks on the song's solo with Wilco guitar great Nels Cline, bringing the luminous hour to an epic close.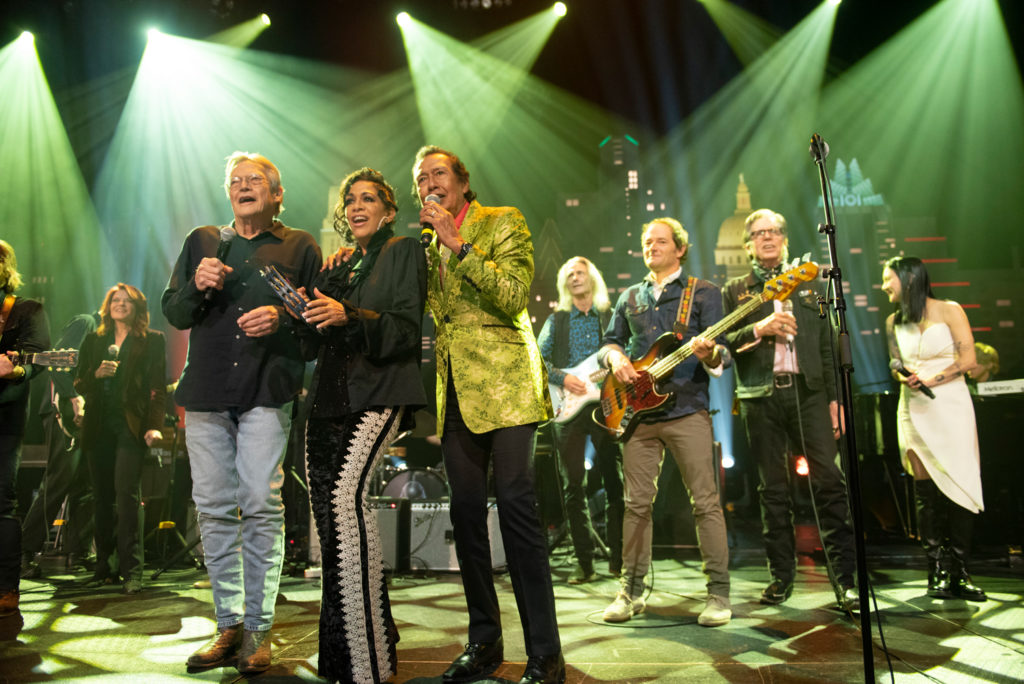 The seventh class of ACL Hall of Fame inductees represent the essence of everything ACL has stood for— originality, authenticity, virtuosity. Roots-music icon Lucinda Williams has made four classic appearances on ACL over a remarkable four-decade career, starting with her debut on Season 15 in 1990. Celebrated Chicago band Wilco has also appeared on ACL four times during their 25-year career, beginning in 2000 for the series' 25th Anniversary season. Texas legend Alejandro Escovedo made his debut during the first decade of the series in Season 8 in 1983 with the band Rank and File, going on to make a total of five appearances including a star-studded return in 2017.
Austin City Limits 7th Annual Hall of Fame Honors setlist:
Jason Isbell "I Envy the Wind"
Lucinda Williams & Rosanne Cash "Crescent City"
Lucinda Williams & Margo Price "Changed the Locks"
Alejandro Escovedo, Alex Ruiz, Sheila E. & Lenny Kaye "Algo Azul"
Alejandro Escovedo, Alex Ruiz, Sheila E. "Put You Down"
Wilco "Shot In the Arm"
Wilco & Japanese Breakfast "Jesus, Etc."
Wilco "California Stars" (All-Star Finale)
Bonus performances (streaming-only):
John Doe "Sally Was A Cop" (Alejandro Escovedo tribute)
Bill Callahan "Sky Blue Sky" (Wilco tribute)
Terry Allen "One Sunday Morning" (Wilco tribute)
Austin City Limits Hall of Fame
In 2014, Austin PBS established the Austin City Limits Hall of Fame (ACL HoF) to recognize legendary musicians and key individuals who have been instrumental in making television's longest-running popular music show an institution. The ACL HoF is a historical archive, educational resource and celebration of ACL and the Austin spirit, capturing milestones in the history of the show and celebrating the performers who have graced its iconic stage. The annual ACL HoF Induction and Celebration is Austin PBS' largest fundraising event with performances taped for broadcast on PBS stations nationwide. The 7th Annual Austin City Limits Hall of Fame Inductions and Celebration is presented by PNC Bank with additional support for the broadcast from AXS.
Austin City LimitsAustin City Limits (ACL) offers viewers unparalleled access to featured acts in an intimate setting that provides a platform for artists to deliver inspired, memorable, full-length performances. Now in its 47th Season, the program is taped live before a concert audience from The Moody Theater in downtown Austin. Austin City Limits is the longest-running music series in television history and remains the only TV series to ever be awarded the National Medal of Arts. Since its inception, the groundbreaking music series has become an institution that's helped secure Austin's reputation as the Live Music Capital of the World. The historic Austin PBS Studio 6A, home to 36 years of ACL concerts, has been designated an official Rock & Roll Hall of Fame Landmark. In 2011, ACL moved to the new venue ACL Live at The Moody Theater in downtown Austin. ACL received a rare institutional Peabody Award for excellence and outstanding achievement in 2012.