Following last year's pandemic-related pre-emption, we were beyond thrilled for the return of our biggest event/party of the season: the Austin City Limits Hall of Fame Inductions & Celebration Presented by PNC Bank. We were proud to induct three longtime ACL favorites, all trailblazing artists who have all appeared on the show multiple times: renowned alt-country band Wilco, Austin rock icon Alejandro Escovedo, and the truly legendary singer/songwriter Lucinda Williams. Joined by a diverse and impressive line-up of musicians paying tribute to these fantastic figures, we had a grand time celebrating some of our favorite performers on our favorite night of the year. We were also excited to announce the formal unveiling of PNC Plaza at ACL Live as part of the ceremony. Our new partner PNC Bank has made a five-year commitment as the Official Bank of Austin City Limits.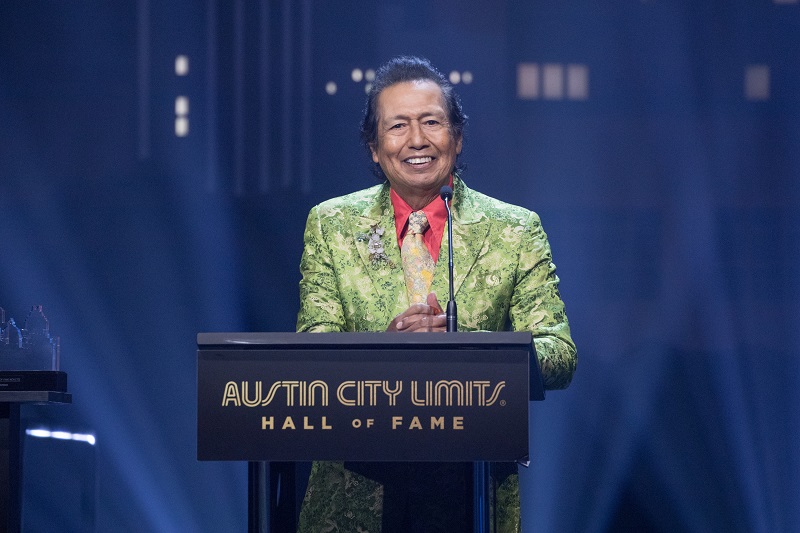 Following welcomes from Austin PBS acting CEO Lori Bolding and ACL executive producer Terry Lickona, it was time to induct the first honoree: Austin's own Alejandro Escovedo. Legendary rock writer, producer and longtime Patti Smith guitarist Lenny Kaye did the honors. Kaye spoke of his long friendship with Escovedo, and what makes his eclectic, expansive body of work important not only to the industry, but to the world. Escovedo accepted his award in a stunning, sparkling lime-green jacket, and spoke of the influence of his wife Nancy Rankin, his Mexican family, especially his older brother, jazz great Pete Escovedo, and of his journey through music, as well as his gratitude to ACL for giving a platform to showcase his musical theater piece By the Hand of the Father in 2002. Joined by his niece, the incomparable Sheila E., behind the drum kit of the Austin All-Stars Band and his veteran backing singers and string section, Escovedo opened the music salute with "Algo Azul," a song from his most recent album The Crossing, bringing out Alex Ruiz, frontman for Austin Latin-rock band Del Castillo and filmmaker Robert Rodriguez's band Chingon, for an all-Spanish version of the song La Cruzada. Escovedo then welcomed another old pal, John Doe, co-founder of legendary Los Angeles punk band X, to sing the rocking story song "Sally Was a Cop," from the 2012 album Big Station, amplified by a burning solo from house band leader Lloyd Maines on pedal steel. Escovedo finished his victory lap with a titanic take on "Put You Down," his 1996 rock anthem with which he opened his 2006 ACL appearance. Guitars raged, the string section seared, and the audience response was deafening.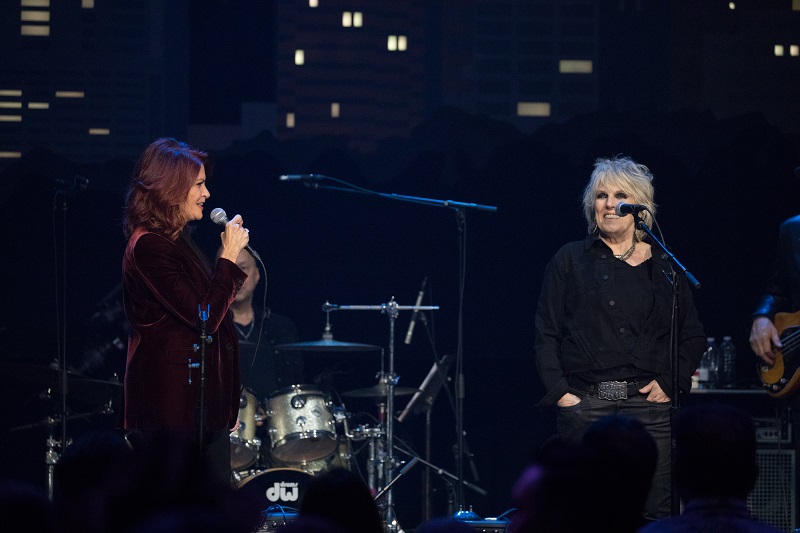 The only way to follow that was by inducting another icon, which meant it was time to honor the singer/songwriter all other singer/songwriters bow down to: Lucinda Williams. One of her best-known disciples, Jason Isbell, inducted her into the HOF, explaining how Williams made a map for other songwriters, including himself, to follow. "This will fit real nicely next to my Grammys," she commented wryly as she accepted her award. She praised Austin for helping give her her start, as well as Terry Lickona and the ACL staff. Isbell then took the stage to sing Williams' beautiful "I Envy the Wind," from her Grammy-nominated 2002 LP Essence. Williams joined her friend Rosanne Cash onstage to perform a moving version of the beguiling New Orleans tribute "Crescent City" from the Louisiana native's groundbreaking 1988 self-titled LP, capped by a standing ovation from the crowd. Country rock star Margo Price joined Williams, presenting her hero with flowers and a heartfelt thanks for the example she sets. Along with the All-Stars, Price and Williams tore into "Changed the Locks," the withering blues rocker also from 1988's Lucinda Williams. After the two singers-in-arms left the stage, steel guitarist and house bandleader Lloyd Maines – the first musician to be inducted into the ACL Hall of Fame – introduced the ace ACL All-Stars Band: guitarist David Grissom, bassist Bill Whitbeck, drummer Tom Van Schiak and keyboardist Chris Gage.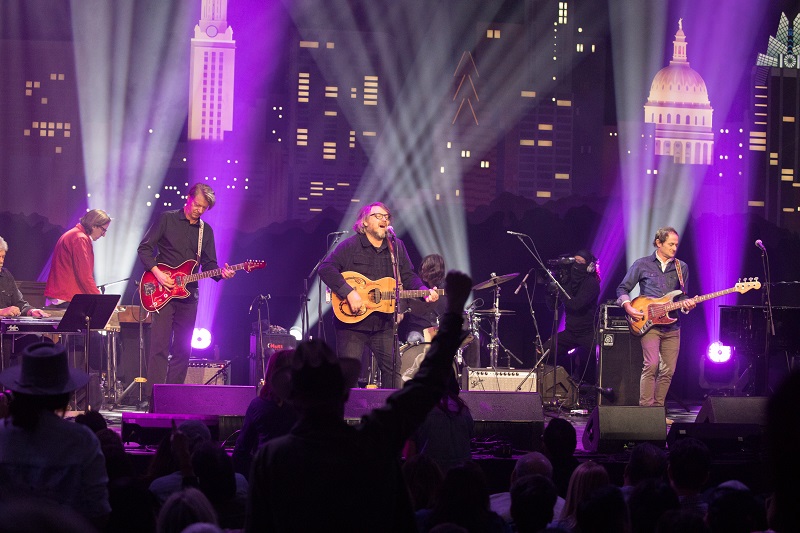 Following an intermission, it was time to induct Wilco. Rosanne Cash welcomed her friends into the Hall with a speech touching on their "musical alchemy that's just the thing if you want to spark a revolution in your audience." Her words earned her hugs from all six members (leader Jeff Tweedy, bassist John Stirratt, guitarist Nels Cline, keyboardists Pat Sansone and Mikael Jorgenson, drummer Glenn Kotche), while Tweedy gave a speech thanking not only ACL but all the bands that gave them inspiration along the way. Wilco then picked up their instruments to do what they do best, opening their segment with Summerteeth's rocking "A Shot in the Arm." The band exited the stage with the exception of guitarist Nels Cline remaining to accompany their friend Bill Callahan on lap steel. The low-fi great sang "Sky Blue Sky" in his deep baritone, with Cline coloring the proceedings with keening steel lines. Legendary Texas singer/songwriter Terry Allen took the stage solo, for a stately piano performance of "One Sunday Morning." Wilco returned to the stage joined by Japanese Breakfast's Michelle Zauner, along with Lloyd Maines (who played on Wilco's 1995 debut A.M.) for "Jesus, Etc.," the pop charmer from 2002's landmark Yankee Hotel Foxtrot.
"We'd like to invite everybody back on the stage," said Tweedy, bringing the all-star cast out for a stellar reading of "California Stars." Escovedo, Cash, Isbell, Allen, Sheila E., Price, Callahan, Kaye, Zauner, Doe, Maines, and the string players joined in on Wilco's early career highlight for a powerhouse closer. It was a great way to end the show, and stay tuned for highlights on Austin City Limits 7th Annual Hall of Fame Honors when it airs January 8 on PBS.