Austin City Limits returns to Nashville for a special broadcast offering performance highlights from the 17th Annual Americana Honors & Awards. The new installment features a stunning revue of unforgettable performances celebrating the finest artists in American roots music. The hour is filled with musical highlights from Americana mainstays and next-generation stars, including many of the night's award-winners and honorees, among them (in order of appearance): Nathaniel Rateliff & the Night Sweats, Lukas Nelson & Promise of the Real, Fantastic Negrito, Brandi Carlile, Tyler Childers, Margo Price, I'm With Her featuring Sara Watkins, Sarah Jarosz and Aoife O'Donovan, Buddy Guy, Rosanne Cash, Jason Isbell & the 400 Unit, k.d. lang, Irma Thomas and John Prine. The special will be available to music fans everywhere to stream online beginning Sunday, February 10th @12 ET at pbs.org/austincitylimits and the broadcast premiere will launch February 9th on PBS and vary by market (check local listings for times).
For the eighth consecutive year, the producers of Austin City Limits, in conjunction with producers Martin Fischer, Michelle Aquilato, Edie Hoback and the Americana Music Association, are proud to present a special ACL Presents to close out Season 44. Recorded live at Nashville's historic Ryman Auditorium on September 12, 2018, The Americana Music Association's 17th Annual Honors & Awards ceremony is a celebration of the diverse sounds of roots music, from folk, bluegrass and alt-country to R&B and the blues.
The show opens with a scorcher: a spirited cover of "Fortunate Son" featuring two of the night's honorees, Nathaniel Rateliff and Lukas Nelson, joined by blues standout Fantastic Negrito, trading verses on the Creedence Clearwater Revival classic, augmented by the stellar vocals of famed gospel group The McCrary Sisters. Multiple nominee Brandi Carlile hits the stage with her band and a six-piece string section for an epic performance of "The Joke," nominated for Song of the Year. The year's Emerging Artist Award-winner Tyler Childers performs a gripping, acoustic "Nose on the Grindstone" detailing the perils of coal country and opioids. Artist of the Year nominee Margo Price thrills the Ryman crowd with a walk into the audience during her performance of "A Little Pain," a Song of the Year nominee. Group of the Year nominees showcase their bona fides: Nathaniel Rateliff returns with his band The Night Sweats for a rousing "Hey Mama"; Lukas Nelson & Promise of the Real deliver a passionate "Forget About Georgia"; and super-trio I'm With Her (featuring folk mavericks Sara Watkins, Sarah Jarosz and Aoife O'Donovan) perform acoustic in gorgeous, three-part vocal harmony. One of the genre's top stars, Jason Isbell, sweeping the night's top honors for Artist, Album and Group of the Year (with his band the 400 Unit), performs the riveting social gut-punch "White Man's World" from his award-winning album The Nashville Sound. Songwriting marvel John Prine is honored with Artist of the Year for the second consecutive year, and plays a captivating new gem, "Summer's End," from his acclaimed latest release The Tree of Forgiveness.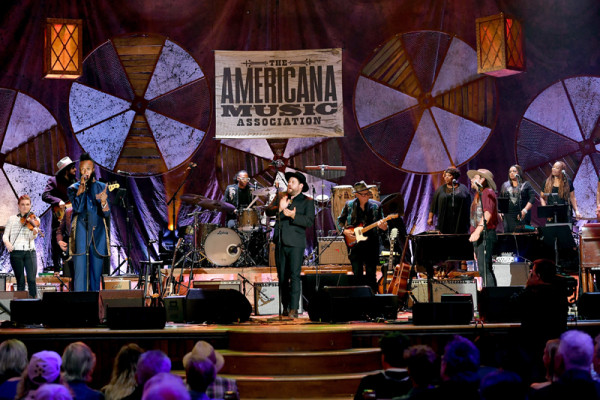 The Lifetime Achievement Award honorees take the stage to showcase their talents: Trailblazer honoree k.d. lang performs her phenomenal "Trail of Broken Hearts"; New Orleans soul queen Irma Thomas, the year's Lifetime Achievement Award honoree for Performance, delivers an electrifying version of her iconic "Time Is On My Side" to a standing ovation; Blues legend Buddy Guy earns a Lifetime Achievement Award for Instrumentalist, and rocks a blistering rendition of one of his signature six-string numbers, "Damn Right, I've Got The Blues." Rosanne Cash, the recipient of the Spirit of Americana "Free Speech" Award, whose late father Johnny Cash was the inaugural recipient of the award, takes the stage to perform a heartbreaking new song, "Everyone But Me," reminiscing about lost loved ones, including her late parents.
A show-closing tribute is paid to a game-changer in American roots music, the late, great Aretha Franklin, as all-stars Brandi Carlile, Irma Thomas, rising Americana stars Courtney Marie Andrews and husband and wife blues/soul duo The War and Treaty, along with gospel great Ann McCrary come together for the finale to sing "Chain Of Fools," bringing the audience to their feet.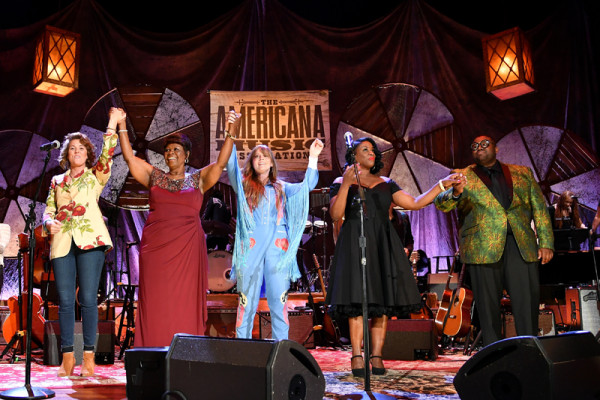 Buddy Miller returns as reigning musical director with an Americana All-Star Band featuring Don Was, Jerry Pentecost, Joe Pisapia, Ian Fitchuk, Lillie Mae, Joshua Grange, Jim Hoke, and The McCrary Sisters backing many of the night's performers.
Episode setlist:
Nathaniel Rateliff, Fantastic Negrito, Lukas Nelson "Fortunate Son"
Brandi Carlile "The Joke"
Tyler Childers "Nose On The Grindstone"
Nathaniel Rateliff & The Night Sweats "Hey Mama"
Margo Price "A Little Pain"
Lukas Nelson & Promise of the Real "Forget About Georgia"
I'm With Her (featuring Sara Watkins, Sarah Jarosz, Aoife O'Donovan) "Overland"
Buddy Guy "Damn Right I've Got the Blues"
Rosanne Cash "Everyone But Me"
Jason Isbell and The 400 Unit "White Man's World"
k.d. lang "Trail Of Broken Hearts"
Irma Thomas "Time Is On My Side"
John Prine "Summer's End"
Finale featuring Brandi Carlile, Irma Thomas, Courtney Marie Andrews, The War and Treaty, McCrary Sisters "Chain of Fools"
Tune in this weekend for this episode, and, as always, check your local PBS listings for the broadcast time in your area. Go to the episode page for more info, and don't forget to click over to our Facebook, Twitter and newsletter pages for more ACL info. Join us next week for an encore episode, starring pop superstar Ed Sheeran.