It goes without saying that an ACL Hall of Fame taping is something special. The combination of ACL greats being saluted by their peers and fans always makes for an emotional, exciting evening. For the HOF's fifth anniversary, we were privileged to honor Austin blues icon Marcia Ball, East L.A. rock pioneers Los Lobos and the late American music giant Ray Charles. With an all-star roster of talent to celebrate these tremendous artists' work, it's no wonder the Hall of Fame is something we look forward to every year.
Following a delightful set of tunes from Austin's own Mariachi Los Toros and remarks from KLRU-TV CEO Bill Stotesbery and ACL executive producer Terry Lickona, host Chris Isaak took the stage to introduce the first honoree: singing/songwriting/piano-pounding ATX veteran Marcia Ball. Inducted by her longtime friend and collaborator Irma Thomas, the Soul Queen of New Orleans, Ball gave a lovely speech that paid tribute to her inspirations (including Thomas), her family and band, and music charities HAAM, HOME and SIMS. She took her seat behind the piano and introduced Thomas and singer Tracy Nelson. Together the trio reprised their 1998 appearance on ACL with the joyful "Sing It," the title track from their Grammy-nominated collaboration of the same name. The threesome went back to the blues for the shuffling "I Want to Do Everything For You," from the same record. Ball then brought up her old friend and Austin treasure Lou Ann Barton, along with next-generation blues singers Shelley King and Carolyn Wonderland. Together the sextet paid tribute to Dreams Come True, the 1990 album Ball and Barton made with the sadly absent Angela Strehli, rolling through Ike Turner's classic "Fool in Love." Ball, King, Wonderland, Nelson and Thomas closed out the segment with the funky, uplifting "Shine Bright," the title tune to Ball's latest record, and proof that she's as vital an artist now as she's ever been.
One quick set change later, Chris Isaak returned to introduce the next inductee, "one of the most important music artists in American music history," the late, great Ray Charles. The genre-defiant musical giant nicknamed the Genius was inducted by Concord Records president John Burk, who produced Charles' final album Genius Loves Company and told the story of proposing that album to Charles in his office. Valerie Ervin, president of the Ray Charles Foundation, accepted the award as the house band and Norah Jones took the stage. Joined by former Ray Charles Orchestra keyboardist and musical director Dr. James Polk, the ivories-tickling singer opened with the quietly dramatic ballad "Seven Spanish Angels," originally recorded in 1984 as a duet between Charles and Willie Nelson. Jones then reached back three decades to the mid-fifties for the blues ballad "What Would I Do Without You," one of her favorite Charles tunes. Host Isaak came on to gracefully sing one of Charles' iconic recordings: Don Gibson's classic country tune "I Can't Stop Loving You."
Two of Austin's own rounded out the tribute. Equally genre-agnostic singer and songwriter Ruthie Foster put her remarkable voice to the service of "Georgia On My Mind," Hoagy Carmichael's immortal standard that will forever be associated with Charles – though Foster's gospel-influenced reading gave the master a run for his money. Foster remained onstage, joined by Carolyn Wonderland and Shelley King, to back up blues rock star Gary Clark Jr., eschewing his trademark guitar slinging for a swaggering take on the sizzling "(Night Time is) the Right Time." Isaak returned to praise house band director Lloyd Maines, who introduced the ACL All-Stars: guitarist David Grissom, organist Red Young, hornmen John Mills, Jon Blondell, Eric Burnheart and Adrian Ruiz, bassist Bill Whitbeck and drummer Tom Van Schaik.
Following an intermission, Isaak returned to introduce the night's final honoree: one of America's greatest, most versatile rock & roll bands, Los Lobos. Austin filmmaker Robert Rodriguez inducted the band, telling the story of how they scored his movie Desperado. Accepting the award, David Hidalgo talked about how the Austin musical royalty of the early eighties welcomed them to town. Then it was time for Los Lobos to do what it does best, as they picked up their instruments and launched right into "Will the Wolf Survive," the song that took the rock underground by storm in 1984. Steel guitar master Robert Randolph then came on stage for "Don't Worry Baby," the blazing blues rocker that opens Lobos' first album and a standard of their shows since. The band donned acoustic instruments for one of their catalog highlights – the title track of La Pistola y El Corazón, the group's tribute to its Mexican-American roots. Then came what may have been a surprise to Los Lobos' fanbase, as singer/songwriter Boz Scaggs arrived to join the band to add vocals and guitar to "Hearts of Stone," a groovy, soulful Lobos classic.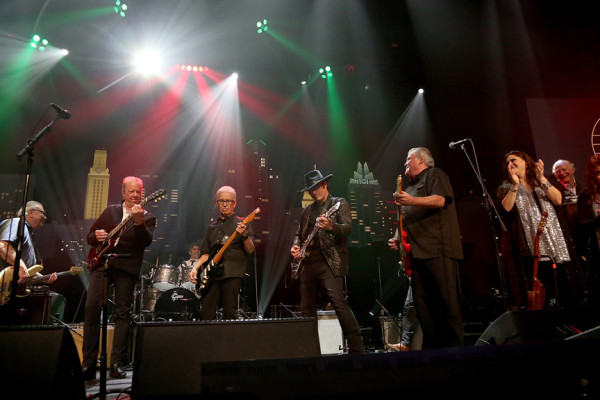 Of course, Los Lobos couldn't leave the stage without playing their biggest hit. But they didn't do it alone, inviting all the night's performers, plus Rodriguez and guitarist Adrian Quesada, up for a rousing "La Bamba," with a big rock ending and plenty of streamers. You couldn't ask for a better ending than that, and we can't wait for you to see it when the ACL Hall of Fame 2018 Special airs on New Year's Eve on your local PBS station.