Austin City Limits presents acclaimed singer-songwriter Brandi Carlile in a sparkling new hour. Carlile showcases her acclaimed By The Way, I Forgive You, her sixth studio album and a career high point, which has earned "Best of 2018" raves at NPR, Rolling Stone, Entertainment Weekly, Billboard and more.  The Seattle area native delivers a radiant performance marking her first return to the ACL stage since her 2010 debut in Season 36.  An outspoken social activist, Carlile dedicates her hit anthem "The Joke" to the marginalized, saying "This is a song for anybody that feels unloved or unaccepted or unnatural or illegal." Joined by her longtime bandmates and songwriting partners Tim and Phil Hanseroth—twin brothers on guitar and bass—and augmented by a string quartet, the hour is an emotional tour de force.  She introduces "Most Of All" saying "We're gonna sing you a song about your first love—your parents," in a gorgeous salute to acceptance in family dynamics.  A set highlight is a solo acoustic version of "The Mother," a poignant song that grapples with her recent entry into motherhood with signature frankness, featuring a surprise onstage visit from her 4-year-old daughter.  Carlile closes the cathartic hour on piano with the declaration of love, "Party Of One;" a blissful show stopper as the strings play her offstage.
"Brandi Carlile has that uncanny ability to channel universal emotions that are part of life's highs and lows into a song," said ACL executive producer Terry Lickona. "Her voice alone is like a salve that soothes. Her performance on this show is nothing short of uplifting!"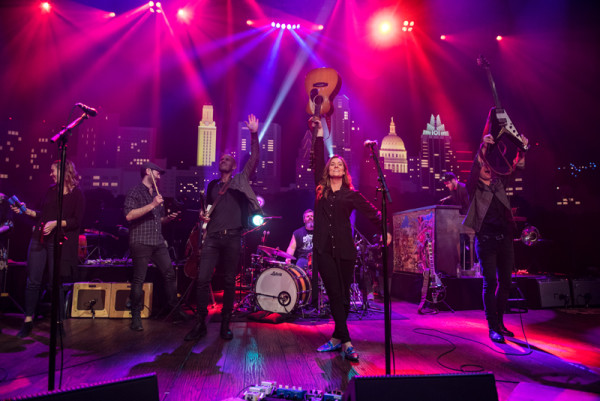 Tune in this weekend for this episode, and, as always, check your local PBS listings for the broadcast time in your area. Go to the episode page for more info, and don't forget to click over to our Facebook, Twitter and newsletter pages for more ACL info. Join us next week for a brand new episode featuring contemporary R&B artists Miguel and Alessia Cara.