Austin City Limits has all the feels in a soulful new installment showcasing two gifted vocalists: worldwide superstar Sam Smith and emerging singer-songwriter Anderson East.  
The multi-platinum, four-time GRAMMY ® award-winning Sam Smith wowed ACL audiences with his 2014 debut during the program's milestone Season 40, and the British native returns with songs from his chart-topping, acclaimed sophomore album The Thrill Of It All.  Smith turns his songs about heartbreak into anthems of strength in a sparkling performance, backed by gospel-style vocalists. Smith proudly tells the Austin crowd he wrote "HIM," the powerful same-sex anthem, "as a message that love is love," inspiring the crowd to join on the soaring chorus. He performs a thrilling version of his smash "Pray" and delivers the stirring "Palace" as a passionate duet joined by his backing singer, displaying the full range of his vocal prowess.  The magnetic star closes out the set with the mega-hit "Too Good At Goodbyes," with Smith gamely instructing the Austin crowd to "sing this to your ex."
Alabama rock-and-soul singer Anderson East dazzles with his staggering vocal power and a firestorm of songs blending rock, blues, country and soul for a mighty ACL debut.  The singer-songwriter performs songs from his acclaimed Encore, produced by longtime collaborator, Nashville it-producer Dave Cobb.  The album's title is derived from East's steadfast belief that every song on his new album must be worthy of closing out one of his notoriously epic live shows.  East brings the fireworks for set-opener "Surrender" with his hard-charging eight-piece band, complete with joyous horns and backup singers, laying down the driving beat.  He introduces the tender charmer "King For A Day" saying "here's a song about how I'm feeling." The swaggering "Girlfriend" segues directly into the sultry declaration of desire "All On My Mind" for a one-two gut-punch.  Vintage Southern soul-burner "Satisfy Me," a Stax-worthy R&B gem from his 2015 debut Delilah, has the crowd on their feet and East saves the finest moment for last—bringing the house down with the powerhouse vocal climax of rousing set-closer "House Is A Building."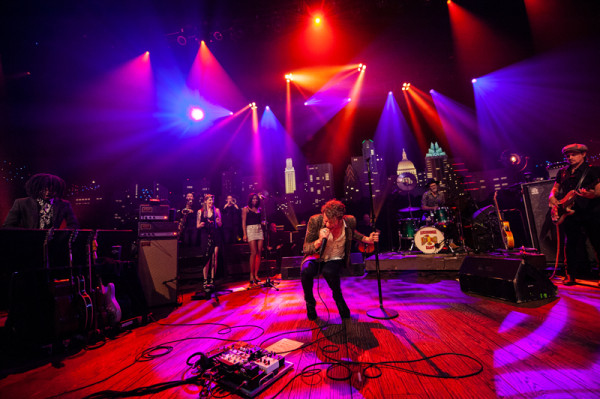 "Sam Smith and Anderson East bare their souls in totally different ways," says ACL executive producer Terry Lickona, "Sam starts with a whisper, then soars; Anderson starts with fireworks. What they have in common is their unabashed honesty and ability to make a powerful emotional connection with their audience."
Tune in this weekend for this episode, and, as always, check your local PBS listings for the broadcast time in your area. Go to the episode page for more info, and don't forget to click over to our Facebook, Twitter and newsletter pages for more ACL info. Join us next week for a brand new episode featuring rocking singer/songwriter Brandi Carlile.