This weekend, ACL brings you Mavis Staples and Bonnie Raitt, two legends and soul sisters with the perfect combination of soul, R&B, blues, and gospel. "We come this evening to bring you some joy, some happiness, inspiration and some positive vibrations," declared Miss Staples back in June 2012 during the taping, and boy, did they deliver! This was a night full of smoky voices, sassy guitar playing, audience hooplah and ardent exhibition.
This episode marks Bonnie Raitt's third appearance on Austin City Limits. The audience greets the nine-time Grammy Award-winner and bestselling artist with much love and admiration. She predominantly plays off of her 2012 album Slipstream, including "Down to You," "Used to Rule the World" and a bluesy take on the Bob Dylan song "One Million Miles." She finally exclaims, "Awww man! I love John Hiatt!" before ending with her Nick of Time hit "Thing Called Love."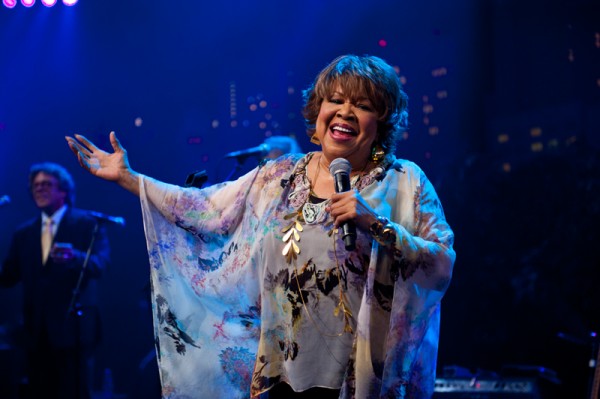 Mavis Staples is a clearly a legend. This lady has seen it all from singing songs on the forefront of the Civil Rights movement to being inducted in the Rock and Roll Hall of Fame. Joined onstage with three backup singers and a backing band, Mavis' energy and famous low register voice charm the audience like we've never seen on classics like "Creep Along Moses" and "Freedom Highway." At the end of the set, Mavis invites her lovingly coined "baby sister" Bonnie Raitt onstage for a couple of songs. On the emotional duet "Losing You," dedicated to their fathers, Mavis and Bonnie share a moment where they hold hands and look at each other – it's one of the incredibly touching moments of the evening. They end the night with a rendition of "Will the Circle Be Unbroken" that had the entire audience clapping and dancing.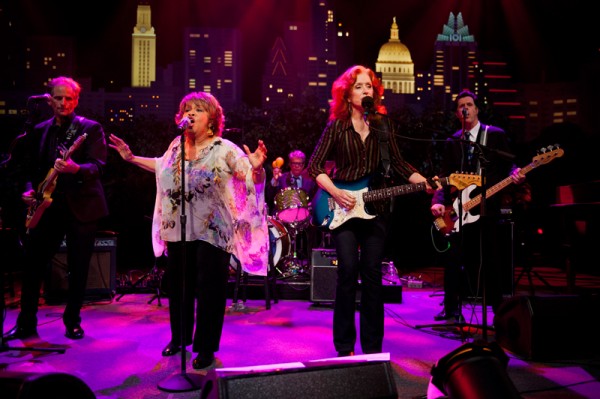 Don't miss this inspiring and heartfelt episode – you won't regret it. To find out when and where you can catch this episode check here for local listings. Also, don't forget to "Like" us on Facebook or follow us on Twitter, or sign up for our newsletter, for more ACL news and info. Next week: Bon Iver.