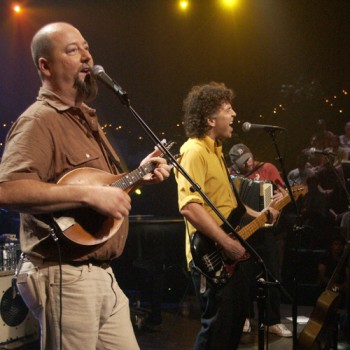 Few bands could take the gansta rap stylings of Snoop Dogg's "Gin and Juice" and turn it into an Americana anthem. But Austin's The Gourds have done that and more during their career of making quirky, witty, fun music.
Since the release of their debut CD, Dem's Good Beeble in 1997, the band has been one of the stars of the Austin music scene. At the heart of The Gourds is the songwriting dichotomy of Kevin Russell and Jimmy Smith. Texas Monthly wrote "Kevin Russell is the meat-and-potatoes foot-stomping foundation of the group, whose best efforts resonate like charismatic old friends. The flipside is Jimmy Smith, whose work stubbornly refuses to yield to expectations. Like someone who asks, 'You know what I think,' and then doesn't tell you, his songs can frustrate until they creep into your consciousness and stay there." Add to that the musicianship of Claude Bernard, Keith Langford and Max Johnston and music fans get the "literate redneck party music for the well-read and unwashed" (Houston Press).
Earlier this year, The Gourds released Heavy Ornamentals to critical praise. Bumpershot wrote "The Gourds have been making music that celebrates American folk traditions ranging from good ol' country to blues to cajun to whatever-you-care-to-name. On Heavy Ornamentals, the tradition continues.
"{It} is a demonstration of everything that The Gourds do best. And that's plenty." And Glide Magazine wrote on Heavy Ornamentals "The Gourds have allowed each song to become an excuse to meld their mishmash hybrid bluegrass style with relatable lyrics that makes everyone laugh and feel at home."