Austin City Limits returns to Nashville for a special broadcast offering performance highlights from this year's Americana Honors & Awards. ACL Presents: Americana Music Festival 2017 premieres November 18 on PBS and features a stunning revue of unforgettable performances celebrating the finest artists in American roots music. The spirited hour is filled with standout performances from Americana legends and next generation stars, alongside many of the night's award-winners and honorees, including: Old Crow Medicine Show, John Prine, Iris Dement, Rhiannon Giddens, Marty Stuart & His Fabulous Superlatives, Amanda Shires, The Lumineers, Drive-By Truckers, Graham Nash & The Milk Carton Kids, Margo Price, Jason Isbell, Van Morrison and Robert Cray and Hi Rhythm.
Recorded live at Nashville's historic Ryman Auditorium on September 13, 2017, The Americana Music Association's 16th Annual Honors & Awards ceremony is a celebration of music that is authentic, diverse and original from many genres (including alternative country, folk, bluegrass, blues and R&B), both traditional and contemporary.
"Each year this show blows my mind.  If there was an infra-red device tracking creativity, Nashville would be the brightest light on the planet," says Jed Hilly, Executive Director of the Americana Music Association.  "I'm so grateful and truly humbled by the incredible artists and musicians who grace our stage."
Acclaimed string band Old Crow Medicine Show welcome the audience to "the mother church of country music," Nashville's Ryman Auditorium, leading a marching drumline down the center aisle to kick off the broadcast with a riotous rendition of the Dylan classic "Rainy Day Women #12 and 35."  Artist of the Year John Prine, recently hailed "the Mark Twain of American songwriting" by Rolling Stone, is joined by this year's Lifetime Achievement Award honoree for Trailblazer, country-folk pioneer Iris DeMent, for a sparkling version of their legendary duet "In Spite of Ourselves."  Album of the Year nominees give stellar performances including Rhiannon Giddens, who receives a standing ovation for her riveting "Julie," a powerful meditation on slavery from her Freedom Highway.  Southern rockers Drive-By Truckers also sing for social justice, showcasing their protest anthem "What It Means," a politically-charged statement named one of the Top 10 songs of the year by NPR, from their acclaimed album American Band.
The night's Emerging Artist of the Year honoree Amanda Shires stuns in a solo debut and returns for the slowburning duet "If We Were Vampires" with her partner and creative collaborator, singer-songwriter Jason Isbell, one of the genre's top stars.  The spectrum of Americana's range  is in full view as chart-toppers The Lumineers light up the stage with the title track from their recent album Cleopatra and longtime country icon Marty Stuart and his band the Fabulous Superlatives, awarded Group of the Year, deliver a dose of blazing,  road-tested honky-tonk with crowd-pleasing new gem "Time Don't Wait."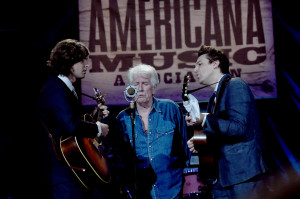 In true Americana style, the broadcast is packed with musical moments and one-of-a-kind collaborations from a diverse, multi-generational slate of roots luminaries: rock legend Graham Nash joins acoustic duo The Milk Carton Kids in sweet three-part harmony on The Everly Brothers classic "So Sad".  Last year's Emerging Artist winner Margo Price returns with a show-stopping new number, "Do Right By Me," backed by the soaring vocals of gospel greats The McCrary Sisters.  The night's Lifetime Achievement Honoree for Songwriting, rock icon Van Morrison, performs a soulful new song "Transformation" joined by his daughter Shana Morrison.  Famed bluesman Robert Cray and legendary Memphis soul sidemen Hi Rhythm, both Lifetime Achievement honorees, deliver a supercharged performance with a blistering blues/soul cut, "You Must Believe in Yourself," from their acclaimed 2017 collaborative album.
The hourlong broadcast is hosted by esteemed songwriter and Americana wagonmaster Jim Lauderdale.  Multi-instrumentalist Larry Campbell leads the ace house band and joins the host on vocals to salute late country giant Don Williams with a stirring rendition of his timeless hit "Tulsa Time" as the all-star cast returns for the singalong finale, bringing the hour to a moving close.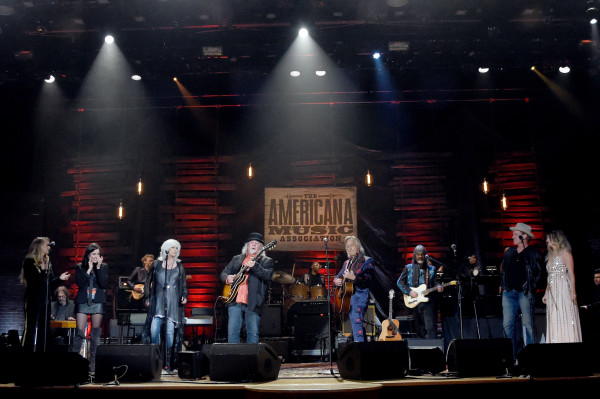 The show was co-produced by Two Talented Cats Entertainment's Martin Fischer and Edie Hoback, Michelle Aquilato and ACL Executive Producer Terry Lickona.
Tune in this weekend for this special, and, as always, check your local PBS listings for the broadcast time in your area. Go to the show page for more info, and don't forget to click over to our Facebook, Twitter and newsletter pages for more ACL info. Join us next week for an encore episode, featuring the electrifying ACL debut of R&B superstar Ms. Lauryn Hill.