Austin City Limits returns to Nashville for a special broadcast featuring performance highlights from this year's Americana Honors & Awards. ACL Presents: Americana Music Festival 2016 premieres November 19th on PBS and delivers dazzling performances that represent the genre's diversity and excellence. The music-filled hour features many of the night's award-winners and honorees, including buzzed about newcomers and icons who helped define the genre; among them: George Strait, Margo Price, Jason Isbell, Bonnie Raitt, Bob Weir, Alison Krauss, Steve Earle, Parker Millsap, Dwight Yoakam, William Bell and Emmylou Harris & Rodney Crowell.
Recorded live at Nashville's historic Ryman Auditorium on September 21st, The Americana Music Association's 15th Annual Honors & Awards ceremony is a celebration of music that is authentic, diverse and original from many genres, both traditional and contemporary. "If you can taste the dirt through your ears, that is Americana," says Americana Music Association Executive Director Jed Hilly. "It is music that is derived or inspired by American roots traditions."
Acclaimed singer/songwriter Jason Isbell, who took top honors for Album of the Year and Song of the Year, gives a captivating performance of his "If It Takes A Lifetime," accompanied by his wife, fiddler Amanda Shires, and band The 400 Unit. Roots giants who died in 2016, Merle Haggard, Guy Clark and Ralph Stanley are honored with one-of-a-kind performances: the show opens with the night's Lifetime Achievement Award Honoree for Performance, Grateful Dead founder Bob Weir, in tribute to Merle Haggard, performing a rendition of the country outlaw's iconic "Mama Tried."  Steve Earle delivers Guy Clark's classic "Desperados Waiting For A Train," calling out "See you when I get there, Maestro," at the song's close. Roots titan Alison Krauss performs a stunning a cappella version of bluegrass legend Ralph Stanley's "Gloryland," joined by stalwarts Buddy Miller, Melonie Cannon and Stuart Duncan.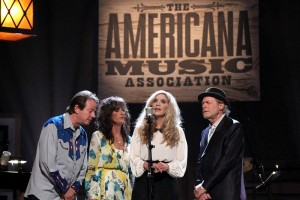 In true Americana style, the broadcast is loaded with musical moments and collaborations. Legendary duet partners Emmylou Harris and Rodney Crowell, awarded Duo/Group of the year, perform a stirring "Bring It On Home." Bonnie Raitt, a 2015 Lifetime Achievement honoree, offers a new track, "Gypsy in Me," backed by gospel greats The McCrary Sisters. She returns to join Stax soul legend William Bell, the night's Lifetime Achievement Award Honoree for Songwriting, on the slow-burn "The Three of Me," accompanied by producer John Leventhal on guitar. Honky-tonk maverick Dwight Yoakam delivers a blistering gem from his acclaimed new release Swimmin' Pools, Movie Stars… alongside Stuart Duncan on fiddle.
The genre's breakout newcomers give show-stopping performances, including the Emerging Artist Award-winner, Nashville rebel Margo Price with her "Tennessee Song." Americana sensation Parker Millsap performs a powerful "Heaven Sent" from his critically-acclaimed Album of the Year-nominated release, joined by standouts Sarah Jarosz and Aoife O'Donovan on backing vocals.  Chart-toppers The Lumineers light up the stage with a new song, "Angela." Emerging Artist nominees Nathaniel Rateliff & The Night Sweats perform "Wasting Time," showing the full range of the Americana spectrum.  
King of country music George Strait, performs his signature, "King of Broken Hearts," alongside the songwriter, Jim Lauderdale, for a thrilling close. The hourlong broadcast is hosted by Americana kingpin Lauderdale, and performers are backed by a first class house band led by Nashville mainstay Buddy Miller and featuring it-producer Dave Cobb, with Stuart Duncan, Fred Eltringham, Steve Fishell, Matt Rollings, Chris Wood and The McCrary Sisters.
The show was co-produced by High Five Entertainment and its President Martin Fischer and ACL Executive Producer Terry Lickona.