Austin City Limits proudly wraps up Season 47 with a gem: a salute to late folk and country singer-songwriter legend Nanci Griffith. A beacon in the Texas music scene, the Austin original had a deep association with Austin City Limits, performing on the program eight times between 1984 and 2001. Sadly we lost Griffith in 2021, but ACL celebrates her life and legacy with twelve classic performances. "The Best of Nanci Griffith" offers a fascinating look at the renowned country-folk artist through her many appearances and premieres February 12 @ 8pm ET/7pm CT. Check local PBS listings for times. The episode will be available to music fans everywhere, streaming online the next day beginning February 13 @ 10am ET at pbs.org/austincitylimits. The Peabody Award-winning program continues its extraordinary run as the longest-running music television show in history, providing viewers a front-row seat to the best in live performance for a remarkable 47 years. Despite the challenges facing live music during the past year, ACL is proud to have delivered a full season of performances for viewers, all recorded at ACL's studio home in Austin, Texas in 2021, in front of limited live audiences. In the following weeks, ACL will continue to broadcast fan-favorite encore episodes until the new season premieres this fall. Viewers can visit acltv.com for news regarding future Season 48 tapings, encore broadcast schedules and select live stream updates.
One of the most acclaimed singer-songwriters of her generation, Nanci Griffith released more than 20 albums, sold millions of records and won a Grammy. Her previously uncategorizable blend of folk music and country provided an early blueprint for Americana. She is recognized as a pioneer in the genre whose influence has been felt on nearly every Texas singer-songwriter who came afterward, and broke ground for countless artists including Lyle Lovett, Jimmie Dale Gilmore, Mary Chapin Carpenter and Robert Earl Keen. Her songs have been covered by a wide range of artists and she has earned worldwide recognition for her music.
Born in Central Texas and raised in Austin, Nanci Griffith became an early favorite on the Texas singer-songwriter circuit, and this poignant hour chronicles her times on the program from her ACL debut in Season 10 to her final appearance during Season 27 in 2001. For that first appearance on Austin City Limits she wore a bright yellow, flowered dress she made herself especially for the occasion, and showcased songs from her 1984 career breakthrough Once in a Very Blue Moon, including the title track, later covered by Dolly Parton. Joined by a mini-orchestra of Nashville and Austin luminaries (including a young singer-songwriter named Lyle Lovett on backing vocals), the sweet-voiced singer and storyteller wowed the hometown crowd.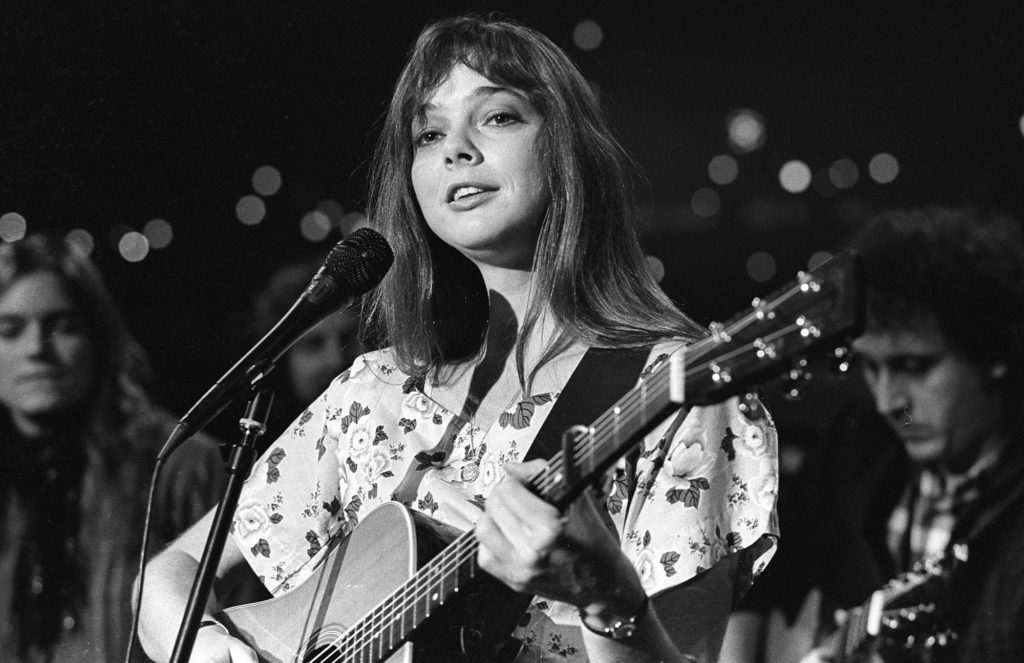 Upon her 1988 ACL return she tells the audience "It's nice to be home again," and performs selections from her 1986 folk-country classic The Last of the True Believers. A set highlight is her early rendition of the Julie Gold penned "From A Distance," an anthem first recorded by Griffith that became her first international #1 hit, and was later famously covered by Bette Midler. She captivates the crowd with "Love at the Five and Dime," a small-town tale featuring Austin's original Woolworth's at its centerpiece, filled with Griffith's keen eye for detail and emotion.
A frequent collaborator whose peers lined up to play with her, the hour also highlights her work alongside other artists. An outspoken social justice advocate, Griffith appears on a Songwriters Special in 1991, and performs her powerful social commentary, the anti-racism ode "It's A Hard Life Wherever You Go," joined by songwriters Mary Chapin Carpenter and Indigo Girls on harmonies. She appears in 1994 performing songs from Flyer, an album which featured guest appearances from members of R.E.M. and U2. For a 1997 appearance, she performs a pop-country set with her longtime heroes, Buddy Holly's Crickets, as her backing band, and pays tribute to the songwriters of West Texas she credits as her earliest influences. She returns in 1997 for one of the most revered episodes in the ACL archives, a Celebration of Townes Van Zandt, appearing with fellow greats including Willie Nelson, Guy Clark, Emmylou Harris and Steve Earle, and sings the legendary Texas songwriter's classic "Tecumseh Valley," a version from her repertoire widely-known to have been favored by Townes himself, featured on her Grammy-winning 1993 all-covers album Other Voices, Other Rooms. Griffith's influence transcended genre and generations: in 1999 she appears as a guest of Hootie & the Blowfish's Darius Rucker for a gorgeous duet of her "Gulf Coast Highway," singing the lyrics: "And when we die we say, we'll; Catch some blackbirds wing; Then we will fly away to Heaven come; Some sweet blue bonnet spring."
"Nanci was literally an Austin original, but besides being her hometown, she epitomized Austin's influence on her generation of singer-songwriters," said ACL executive producer Terry Lickona. "Her songs were mini literary masterpieces, filled with vivid stories and imagery – all set to great melodies!"
The Best of Nanci Griffith setlist:
The Ballad of Robin Winter-Smith
Once In A Very Blue Moon
The Last of the True Believers
From A Distance
Love at the Five and Dime
It's A Hard Life Wherever You Go
Listen to the Radio
These Days In An Open Book
This Heart
Tecumseh Valley
Gulf Coast Highway
Traveling Through This Part of You
Watch live, stream anytime, and let ACL be a trusted sidekick for entertainment during these challenging days. Viewers can visit acltv.com for news regarding live streams, future Season 48 tapings and encore episode broadcast and streaming schedules or by following ACL on Facebook, Twitter and IG. Fans can also browse the ACL YouTube channel for exclusive songs, behind-the-scenes videos and full-length artist interviews.
ACL's Season 47 premiered in October 2021 with standout performances featuring many 2022 Grammy nominees, including New Orleans musician/bandleader Jon Batiste, multi-platinum Olivia Rodrigo, country superstar Miranda Lambert, bluegrass star Billy Strings, legendary Jackson Browne, R&B singer-songwriter Leon Bridges, indie-rock original Phoebe Bridgers, country standout Brandy Clark, alt.rock icon St. Vincent and Americana singer-songwriter Sarah Jarosz alongside acclaimed performances from eclectic groove trio Khruangbin, celebrated singer Brittany Howard, UK singer-songwriter Jade Bird, "Gulf & Western" country sensation Charley Crockett, breakthrough singer-songwriter Joy Oladokun, superstars Duran Duran, cult songwriting favorite Terry Allen and more. ACL returned in January 2022 with a special installment, Austin City Limits 7th Annual Hall of Fame Honors, celebrating a new class of inductees: Wilco, Lucinda Williams and Alejandro Escovedo, featuring all-star music salutes and collaborations from Jason Isbell, Margo Price, Japanese Breakfast, Rosanne Cash, Sheila E., John Doe, Lenny Kaye, Bill Callahan, Terry Allen and more.