Austin City Limits is excited to announce we will live stream back to back tapings showcasing a pair of Texas originals: Houston's eclectic groove trio Khruangbin in their ACL debut on Sept. 13, performing standouts from their global sensation Mordechai, and Fort Worth R&B singer-songwriter Leon Bridges with highlights from his latest, Gold-Diggers Sound, in his second appearance on the ACL stage on Sept. 14. ACL offers fans worldwide a unique opportunity to watch these ACL tapings live in their entirety. Join us here on Sept. 13 for the debut by Khruangbin, and here on Sept. 14 for the return of Leon Bridges, at 8 p.m. CT on both nights.
Taking their name from a Thai word that means airplane, Khruangbin has always been multilingual, weaving far-flung musical languages like East Asian surf-rock, Persian funk, and Jamaican dub into mellifluous harmony. The atmospheric Texan trio is formed by bassist Laura Lee Ochoa, guitarist Mark Speer, and drummer Donald 'DJ' Johnson Jr.  Khruangbin's widely-acclaimed recent album Mordechai represents a shift for the primarily instrumental act, featuring vocals prominently on nearly every song, It's a shift that rewards the risk, reorienting Khruangbin's transportive sound toward a new sense of emotional directness, without losing the spirit of nomadic wandering that's always defined it. And it all started with them coming home. By the summer of 2019, the Houston act had been on tour for nearly three-and-a-half years, playing to audiences across North and South America, Europe, and southeast Asia behind its acclaimed debut The Universe Smiles Upon You and their breakthrough second album Con Todo El Mundo. They returned to their farmhouse studio in Burton, Texas, ready to begin work on their third album. But they were also determined to slow down, to take their time and luxuriate in building something together. Khruangbin had worked with lyrics before, but this time Ochoa had found she had something to say—and so did the songs. Letting those words ring out gave Khruangbin's cavernous music a new thematic depth. Musically, the band's ever-restless ear saw it pulling reference points from Pakistan, Korea, and West Africa, incorporating strains of Indian chanting boxes and Congolese syncopated guitar. But more than anything, the album became a celebration of Houston, the eclectic city that had nurtured them, and a cultural nexus where you can check out country and zydeco, trap rap, or avant-garde opera on any given night. In those years away from that home, Khruangbin's members often felt like they were swimming underwater, unsure of where they were going, or why they were going there. But Mordechai leads them gently back to the surface, allowing them to take a breath, look around, and find themselves again. The just-dropped Mordecai Remixed embodies the band's creative aesthetic: "We write our music to be interpreted; this is another wonderful interpretation of the music. There is something very vulnerable about letting others work on your music. But through the correspondence with the different artists, we gained a bigger connection to the songs themselves." Frequent collaborators, Khruangbin teamed up with Leon Bridges to pay tribute to the state that raised them with 2020's EP Texas Sun.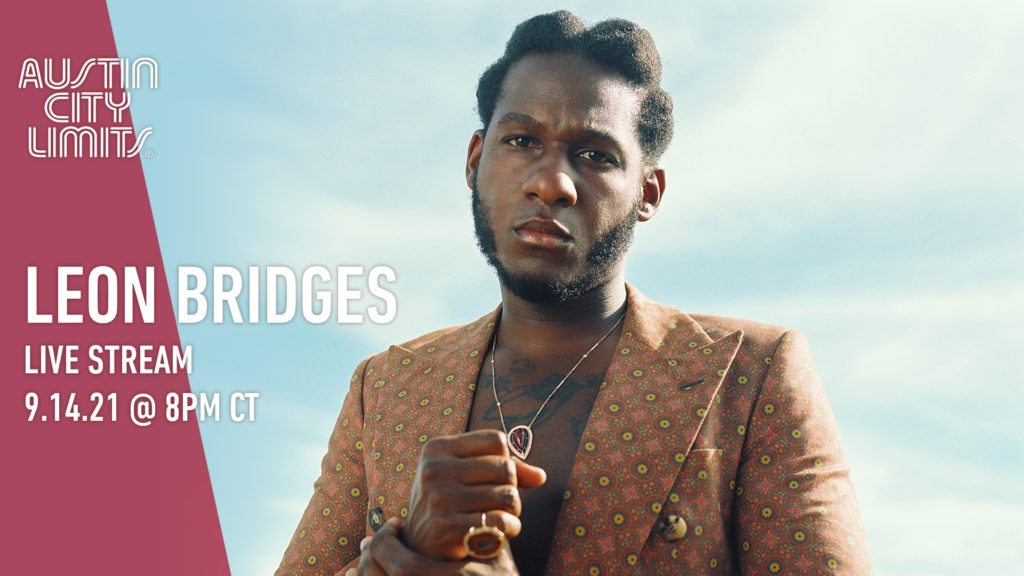 Grammy Award-winning R&B artist and songwriter Leon Bridges returns to our stage for the first time since his 2016 ACL debut, showcasing his third release, the acclaimed Gold-Diggers Sound, whose name comes from the East Hollywood studio where the album was made. Gold Diggers Sound is a literal place: a studio, speakeasy-style bar and hotel on an unassuming block in Los Angeles. The Fort Worth native spent over two years in residence conceptualizing, writing and recording, and the result is his most confident, intimate and sensual album to date. Hailed a Critics Pick by The New York Times, Gold-Diggers Sound is a modern R&B album with touches of soul and psychedelia, featuring twelve tracks, including previously released tracks "Motorbike", "Why Don't You Touch Me" and "Sweeter," which Bridges released last June after the police murder of George Floyd. The record is birthed from extended late nights at the Los Angeles complex and celebrates Bridges' immersive experience of creating music in the same space in which he lived, worked, and drank. What began as nightly all-night jam sessions where Leon and his fellow musicians could just vibe and let loose away from crowds, cameras, and structured studio schedules, quickly began to form into what he realized was an album. Says Bridges, "I spent two years jamming in what often felt like a musician's paradise. We effortlessly moved from the dance floor to the studio. We would be finishing our tequilas at 10AM and waking up with coffee and getting to work at 10PM. It was all for the love of R&B and musicianship." Gold-Diggers Sound is also the culmination of three years of musical experimentation: recording the Texas Sun EP with Khruangbin, duetting with Kacey Musgraves, collaborating with artists including Diplo, Luke Combs, Odesza, Lucky Daye and John Mayer, and contributing vocals to The Avalanches' haunting "We Will Always Love You." It positions him as a dynamic artist unbound by expectations, yet always focused on delivering outstanding performances guided by soulful commitment. "I love staying unpredictable. I get high off of that," says Bridges. "R&B and soul aren't linear things; they have different outputs. I want my fans to embrace the direction I'm going in. My music is going to continue to evolve, but it's always going to stay meaningful and soulful."
Join us here on Sept. 13 for the debut by Khruangbin, and here on Sept. 14 for the return of Leon Bridges, both at 8 p.m. CT. Both performances will air in an hour-long broadcast episode airing November 6, 2021 on PBS as part of our upcoming 47.