Austin City Limits is excited to announce that we will be live streaming two highly-anticipated tapings: rock giants Cage the Elephant on 9/27 and indie rock queen Sharon Van Etten on 9/30. Each stream starts at 8 pm CT on our YouTube channel.
Cage The Elephant is one of rock's biggest live acts, and the band makes their ACL debut on the heels of their recently released fifth studio album Social Cues. Produced by John Hill (Santigold, Florence + The Machine, Portugal. The Man, tUnE-yArDs), Social Cues is the follow up to their 2015 GRAMMY®-winning Tell Me I'm Pretty for Best Rock Album. The acclaimed Social Cues is garnering raves with Rolling Stone calling it "their best album yet" and The Chicago Sun-Times saying "the band has pushed their sonic boundaries further and created their most personal record to date." The majority of the material on Social Cues was written during the unraveling of frontman Matt Shultz's marriage. In order to make sense of such a difficult experience, he explored the hidden recesses of his psyche, creating characters to tell different parts of his personal story. He explains, "when I'm creating, I try to put myself in a reactive state of improvisational thought. I let images just arise in my mind and wait for it to evoke an emotional response and then when it does, I know I'm on to something." Deeply inspired by punk music, brothers Brad and Matt Shultz began playing music in their Bowling Green, KY high-school with fellow students Jared Champion and Daniel Tichenor. Shortly after forming the band, they made the bold move to London to launch their career. Their self-titled 2008 debut album generated international attention, catapulting them up the Billboard Alternative and Rock charts and achieving Platinum certification. Cage The Elephant has released three additional studio albums – 2011's Thank You, Happy Birthday, the Gold-certified Melophobia in 2013 and 2015's Tell Me I'm Pretty. They have had 7 Billboard #1 singles with 11 singles landing in the Billboard Top 10 and digitally have a combined 1.5 billion streams worldwide. Cage The Elephant is lead singer Matt Shultz, rhythm guitarist Brad Shultz, drummer Jared Champion, bassist Daniel Tichenor, lead guitarist Nick Bockrath and keyboardist Matthan Minster.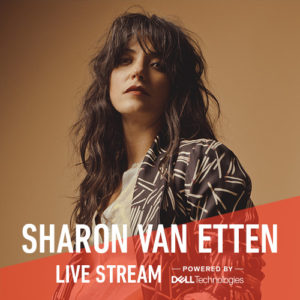 Sharon Van Etten's fifth album, Remind Me Tomorrow, called her "most atmospheric, emotionally piercing album to date" (Pitchfork), comes four years after the acclaimed Are We There, and reckons with the life that gets lived when you put off the small and inevitable maintenance in favor of something more present. "I wrote this record while going to school, pregnant, and working on other music" says Van Etten. Throughout Remind Me Tomorrow, the singer-songwriter veers towards the driving, dark glimmer moods that have illuminated the edges of her music throughout her decade-long career and pursues them full force. With curling low vocals and brave intimacy, Remind Me Tomorrow is an ambitious album that provokes our most sensitive impulses: reckless affections, spirited nurturing, and tender courage. Rolling Stone raves the release "…ups her ambitions even further, pushing toward a grand, smoldering vision of pop." Recorded in Los Angeles, the songs on Remind Me Tomorrow have been transported from Van Etten's original demos through producer John Congleton's arrangement. Congleton (St. Vincent, David Byrne, Unknown Mortal Orchestra) helped flip the signature Sharon Van Etten ratio, making the album more energetic-upbeat than minimal-meditative. "I tracked two songs as a trial run with John," she says. "I gave him Suicide, Portishead, and Nick Cave's Skeleton Tree as references and he got excited. The songs are as resonating as ever, the themes are still an honest and subtle approach to love and longing, but Congleton has plucked out new idiosyncrasies from Van Etten's sound. For Remind Me Tomorrow, Van Etten put down the guitar. The record shows this magnetism towards new instruments: piano keys that churn, deep drones, distinctive sharp drums. There are intense synths, a propulsive organ, a distorted harmonium. The New York Times named the record's first single "Comeback Kid" one of "The 25 Songs That Matter Right Now," calling it "the song you want to raise up your fists and loosen your hips to."
Van Etten is earning glowing reviews on her global tour, with high-profile slots at Glastonbury and Lollapalooza. NPR Music raves that her live show is "a grand and magnificent turning point for this talented performer and her band." We are thrilled to welcome Van Etten to our stage in her first-ever appearance.
Join us on Sept. 27 for Cage the Elephant here and on Sept. 30 for Sharon Van Etten here for sets by these great artists. The broadcast episodes will air later this year as part of our new Season 45 premiering October 5 on PBS.