Austin City Limits is proud to announce two new tapings for our milestone Season 45. Canadian country singer Colter Wall makes his debut on August 30, while Kentucky modern-rock stars Cage The Elephant make their highly-anticipated ACL debut on September 27.
After two years of nonstop touring, Colter Wall wanted to make an album about home. Drawing on the stories of his native Saskatchewan, the young songwriter's corner of the world takes shape throughout his second full-length album, Songs of the Plains. Produced by GRAMMY® Award-winning Dave Cobb in Nashville's Studio A, the project combines striking original folk songs, well-chosen outside cuts, and a couple of traditional songs that reflect his roots growing up in the small city of Swift Current. "One thing I've noticed over the last few years, in the United States and playing in Europe, is that people all over the world really don't know much about Canada at all," he says. "When you talk about Saskatchewan, people really have no idea. Part of it is because there are so few people there. It's an empty place—it makes sense that people don't know much about it. But that's my home, so naturally I'm passionate about it. With this record, I really wanted people to look at our Western heritage and our culture." "I went into the studio and knew exactly the story I wanted to tell," Colter says of the release. "That made it easier on a sonic level and a musical level, to be able to tell Dave that it's a record about my home. That changes it at the roots level because it's like having a mission statement, saying, 'All right, let's make a Western album.'" Indeed, Wall captures the expansiveness of the Western Canadian plains by relying on minimal production and his resonant baritone, which he's strengthened into a mighty instrument in its own right. It's a deep and knowing voice you wouldn't expect of a man who just turned 24 years old. The New Yorker declared, "Wall is among the most reflective young country singers of his generation… His ace in the hole is his showstopping voice: a resonant, husky baritone, wounded and vulnerable." "Wall pushes in close against the untenanted space of the middle provinces, filling their geographic gaps with an intoxicating rasp," notes Pitchfork. "He sings with a serrated edge, his voice digging crevices rich with heartbreak, homeland, and heritage." Noisey calls Songs of the Plains " a heartbroken triumph, a statement suggesting that all that's missing is perhaps not forever lost."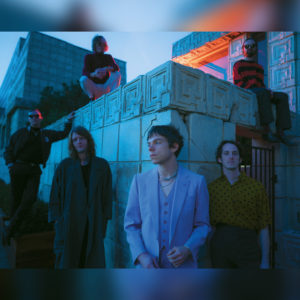 Currently on a national co-headlining tour with ACL veteran Beck, Cage The Elephant is one of rock's biggest live acts, and the band makes their highly-anticipated ACL debut on the heels of their recently released fifth studio album Social Cues. Produced by John Hill (Santigold, Florence + The Machine, Portugal. The Man, tUnE-yArDs), Social Cues is the follow up to their 2015 GRAMMY®-winning Tell Me I'm Pretty for Best Rock Album. The acclaimed Social Cues is garnering raves with Rolling Stone calling it "their best album yet" and The Chicago Sun-Times saying "the band has pushed their sonic boundaries further and created their most personal record to date." The majority of the material on Social Cues was written during the unraveling of frontman Matt Shultz's marriage. In order to make sense of such a difficult experience, he explored the hidden recesses of his psyche, creating characters to tell different parts of his personal story. He explains, "when I'm creating, I try to put myself in a reactive state of improvisational thought. I let images just arise in my mind and wait for it to evoke an emotional response and then when it does, I know I'm on to something." Deeply inspired by punk music, brothers Brad and Matt Shultz began playing music in their Bowling Green, KY high-school with fellow students Jared Champion and Daniel Tichenor. Shortly after forming the band, they made the bold move to London to launch their career. Their self-titled 2008 debut album generated international attention, catapulting them up the Billboard Alternative and Rock charts and achieving Platinum certification. Cage The Elephant has released three additional studio albums – 2011's Thank You, Happy Birthday, the Gold-certified Melophobia in 2013 and 2015's Tell Me I'm Pretty. They have had 7 Billboard #1 singles with 11 singles landing in the Billboard Top 10 and digitally have a combined 1.5 billion streams worldwide. Cage The Elephant is lead singer Matt Shultz, rhythm guitarist Brad Shultz, drummer Jared Champion, bassist Daniel Tichenor, lead guitarist Nick Bockrath and keyboardist Matthan Minster.
Want to be part of our audience? We will post information on how to get free passes about a week before each taping. Follow us on Facebook and Twitter for notice of postings. The broadcast episodes will air on PBS later this year as part of ACL's upcoming milestone Season 45.