Austin City Limits is excited to announce that we will be live streaming our upcoming tapings with two captivating acts: rising young Austin indie rockers Wild Child on June 21 here and Nashville blue-eyed soul singer/songwriter Anderson East on June 22 here.
Austin's Wild Child make their ACL debut in support of Expectations, the band's most creative, colorful and intellectually engaging album to date.  The Austin-American Statesman raves, "Four albums in, the Austin indie-folk band-that-could has become increasingly confident without losing the sense of childlike wonder that's so central to the spirit of their music."  The septet's new release rose out of a desire to take a multispectral approach to writing and recording that went beyond simply trying to engineer success. The band made a list of their favorite musicians who were also producers, choosing ones they thought would shine a new light on specific compositions, and then set about chasing their album from studio to studio all over the world. That route took them to Chris Walla's (Death Cab For Cutie) studio in Tromsø, Norway, to a home-built warehouse studio in Philadelphia with Dr. Dog's Scott McMicken, and back to Wimberley, Texas, as Matthew Logan Vasquez (Delta Spirit) set up a makeshift studio in Wild Child lead singer and violinist Kelsey Wilson's childhood home. The group also tapped the talents of frequent tour mate Chris Boosahda (Shakey Graves), Atlantic Records recording artist Max Frost, and Grammy-winning producer Adrian Quesada (Black Pumas, Brownout). The result is a theater of possibilities, with arrangements that reflect the range of tastes of the producers, from scruffy lo-fi tape hiss to smoothed out precision-cut electronic pop sounds. "Without sacrificing Wild Child's signature pop swell, Expectations emerges soulful and serious," says the Austin Chronicle.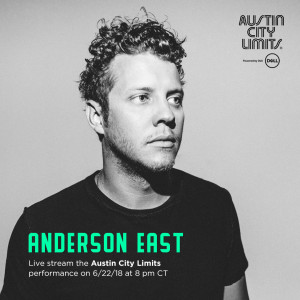 Called "an exciting singer-songwriter effortlessly able to blend elements of rock, blues, country and soul" by Associated Press, Anderson East steps on our stage for the first time with his latest album Encore, produced by longtime collaborator Dave Cobb.  The album's title is derived from East's steadfast belief: that every song on his new album must be worthy of closing out one of his notoriously epic live shows. The Athens, Alabama native broke onto the music scene with "Satisfy Me" from his 2015 major label debut Delilah, followed by a breakout series of years that included appearances on Cobb's Southern Family compilation, Brandi Carlile's Cover Stories benefit LP and the Fifty Shades Darker soundtrack, as well as spending much of 2017 on the road with Chris and Morgane Stapleton as part of their All-American Road Show.  The New York Times calls Encore "an often lustrous revisiting of raucous Southern soul, rousingly delivered and pinpoint precise," with NPR Music claiming that it "draw[s] inspiration from the sophistication of Donny Hathaway's compositions and arrangements, the grandness of Van Morrison's Caledonia Soul Orchestra and the dashing song interpretation of Joe Cocker." American Songwriter says, "This remains a sharp, soul-drenched, organically based set that solidifies the R&B roots at the heart of East's talents," adding that it's "poised to push the talented singer-songwriter over the top and into the mainstream."
Join us on June 21 for Wild Child's full-set live stream here and June 22 for Anderson East's set here on our ACLTV YouTube channel. The broadcast versions will air on PBS as part of our upcoming Season 44.