Austin City Limits showcases two standout acts featured on this year's namesake ACL Festival: The Head and the Heart and Benjamin Booker. Both acts are highlights on the touring circuit, drawing raves for soulful live performances.
Seattle folk-rock band The Head and the Heart make their second ACL appearance with a luminous performance featuring songs from their newest release Signs of Light. The indie favorites are one of live music's biggest draws, with high-profile 2017 festival appearances including Coachella, Bonnaroo, Newport Folk in addition to Austin's own ACL Festival. The sextet deliver an uplifting, singalong set filled with new musical touchstones including "All We Ever Knew" and "City of Angels." A moving cover of "Hunger Strike" honoring late Seattle icon Chris Cornell is a set highlight, rich with three-part harmonies. The band bring the passionate set to a glorious close with the soaring "River and Roads" from their 2011 self-titled debut, a fan favorite.
Florida-raised, New Orleans-based guitarist and singer-songwriter Benjamin Booker delivers a raw, impassioned ACL debut packed with songs from his acclaimed 2017 album Witness and his 2014 self-titled breakout debut. Opening with his rocking radio hit "Violent Shiver," the twenty-eight year old phenom draws on soul, blues and gospel, showcasing stirring soul-rockers "Carry," "The Slow Drag Under" and "Believe" backed by a gospel choir. A powerful performance of his Civil Rights anthem "Witness" combines Booker's husky, soulful voice with a profound message on racism in America. 
"The Head and the Heart and Benjamin Booker are prime examples of artists who just keep getting better," says ACL executive producer Terry Lickona. "Rather than finding a groove and just staying with it, they are constantly searching for new ways to express their voices, and new sounds to go along with them. The end result can be surprising but always inspiring."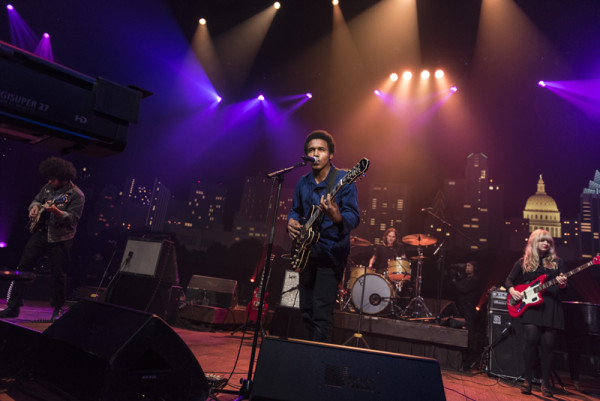 Tune in this weekend for this episode, and, as always, check your local PBS listings for the broadcast time in your area. Go to the episode page for more info, and don't forget to click over to our Facebook, Twitter and newsletter pages for more ACL info. Join us next week for another encore episode, featuring jazz singer Cassandra Wilson performing a tribute to Billie Holiday.