Austin City Limits presents a thrilling hour with Robert Plant in an unforgettable performance marking the legendary frontman's return to the ACL stage for the first time in more than a decade. The career-spanning set features Led Zeppelin classics alongside more recent songs in an episode that will delight die-hard fans and music fans everywhere.  
From the opening riffs of Led Zeppelin staple "The Lemon Song," Plant commands the stage with his dynamic presence and iconic vocals. Backed by his world-class six-piece band the Sensational Shape Shifters, the rock superstar performs Zeppelin classics, including "Black Dog," and an electrifying version of "Babe I'm Gonna Leave You." Plant artfully mixes new and old, captivating the audience with songs from throughout his fascinating musical journey, including the blissed-out reverie of early solo smash "In The Mood" and recent standout "Rainbow" from 2014's acclaimed lullaby and…The Ceaseless Roar. With his multi-cultural, diverse band, the icon explores the connection between rock 'n' roll and traditional African music, revitalizing fan favorites with West African instruments to glorious effect. Closing out the set with an explosive performance of the face-melter "Whole Lotta Love," Plant weaves blues standards "I Just Want to Make Love to You" and "Hey! Bo Diddley" into the classic, demonstrating the epic scope of his illustrious career.
"Robert Plant is one of the few artists from any generation who can stand the test of time while always exploring, experimenting, and expanding his musical horizons," says ACL executive producer Terry Lickona. "Yet there's a common thread of genius through all his music, from the earliest Zeppelin tunes to his newest work. Then there's that voice! We are truly honored to have such a legend return to our stage for a second time."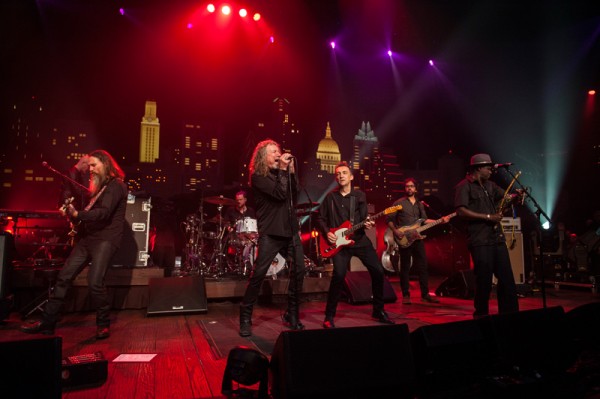 Tune in this weekend for this episode, and, as always, check your local PBS listings for the broadcast time in your area. Go to the episode page for more info, and don't forget to click over to our Facebook, Twitter and newsletter pages for more ACL info. Tune in next week for another brand new episode featuring the return of Florence + the Machine and the debut of Andra Day.