As a bandleader, Jack White has visited the Austin City Limits studio before, ripping it up with the Raconteurs back in 2006. Now Jack White returns to our stage as a solo artist to demonstrate exactly why he's one of today's most exciting musicians.
Ever the risk-taker, White hits the stage bathed in blue light and accompanied by not one but two bands comprised of Nashville's best musicians. Working without a net, White eschews a set list and draws from nearly every project of his prolific career. So this episode treats you to some White Stripes ("I'm Slowly Turning Into You," "We're Going to Be Friends," "Dead Leaves and the Dirty Ground"), a little Raconteurs ("Top Yourself"), a pinch of Dead Weather ("Blue Blood Blues"), a blues cover (Blind Willie Johnson's "John the Revelator") and White's contribution ("You Know That I Know") to The Lost Notebooks of Hank Williams, a collection of Williams lyrics set to music by contemporary songwriters.
Of course, much of the show is dedicated to songs from Blunderbuss, White's much-acclaimed solo debut. Watch him burn through "Freedom at 21" and "Missing Pieces" with his all-male group the Buzzards, then blaze through "Hypocritical Kiss" and "Love Interruption" with his all-female band the Peacocks. The mostly acoustic title tune serves as the transition point, as Buzzards give way to Peacocks before the guitars finish feeding back and "Love Interruption" begins.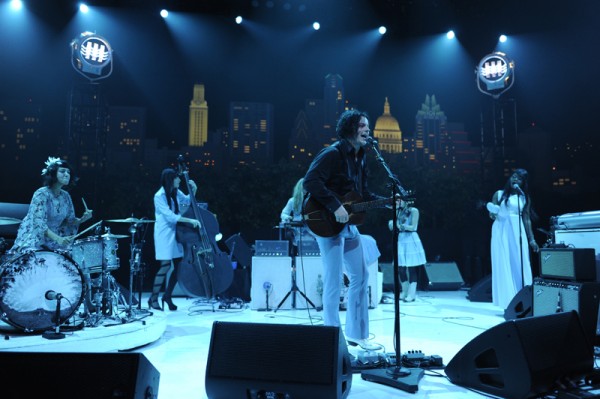 See more about the show here, then check your local PBS listings to find out when to tune in to see for yourself. Keep up with ACL news and happenings on our Facebook and Twitter feeds, as well as our news page. Next week: Vampire Weekend and Grizzly Bear.