There's nothing like the combination of a great song and a great voice. This weekend on Austin City Limits we've got a pair of singer/songwriters who've mastered that blend: Rosanne Cash and Brandi Carlile.
The daughter of American icon Johnny Cash, Rosanne Cash is no stranger to the ACL stage – this is her seventh appearance on the show. For this episode, Cash showcases her album The List, which contains her interpretations of classic folk and country tunes drawn from a list of essential songs compiled by her father before his passing. She essays powerful takes on standards like "Bury Me Under the Weeping Willow," "500 Miles" and "Sea of Heartbreak," as well as some of her own tunes, including "The World Unseen" and "Dreams Are Not My Home." Longtime fans will gain insight into Cash's creative process, while others by discover a new favorite.
Speaking of new favorites, we're proud to show an encore presentation the ACL debut of Brandi Carlile. The Washington-born singer and tunesmith has been making music since she was in her teens, and by the time she released Give Up the Ghost, the album she highlights in this episode, she'd made fans of Elton John, Sheryl Crow and other well-known acts. Joined by her trusty sidekicks the Hanseroth twins, Carlile shows off her literate folk rock with "Pride and Joy" and "The Story," proves her (and her band's) vocal chops with the a cappella "Oh Dear" and rocks the house down with a sizzling cover of Johnny Cash's "Folsom Prison Blues." This episode shows neophytes what diehards already know – Brandi Carlile is a contender.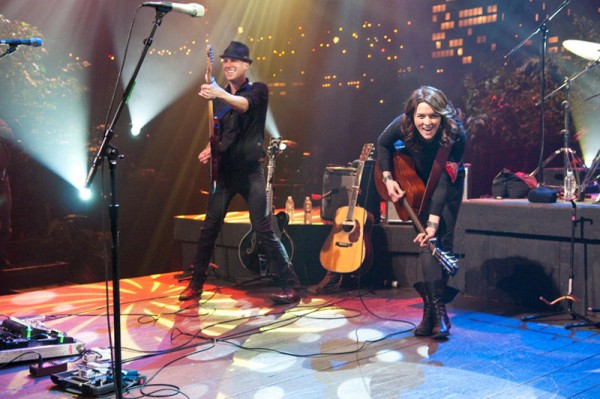 Check your local listings and tune in! You can find more info on this episode here. More ACL info in general can be had on our Facebook and Twitter and via our newsletter. Next week: our singer/songwriter fest continues with Alejandro Escovedo and Trombone Shorty.