Austin City Limits has had its eye on guitarists Rodrigo y Gabriela for a few years, and we're happy that the stars finally aligned just right for us to invite them to our house. Backed by the  Cuban fusion band C.U.B.A., the duo conquered The Moody Theater with passion, groove and oft-stunning technique.
The pair makes the most of the contrast between their styles – Rodrigo rips out flatpicked licks that betray his metal roots while Gabriela flails at her ax with flamenco-based rhythms, often using a wah-wah pedal to send her riffs into outer space. Backed by the stellar C.U.B.A. the pair enthusiastically mixed Afro-Cuban grooves, jazz fusion harmonies, Latin melodies and the occasional rock flourish into a blazing storm of tuneful technique. "Hanuman," "Ixtapa" and "Diablo Rojo" filled the Moody with hot licks and cool grooves, bringing the crowd to their feet. Even midway during the show, when the band left the stage so Rodrigo y Gabriela could really show off their skills on "Savriti," Hora Zero" and "Buster Voodoo," the energy stayed at a level that could power a small city.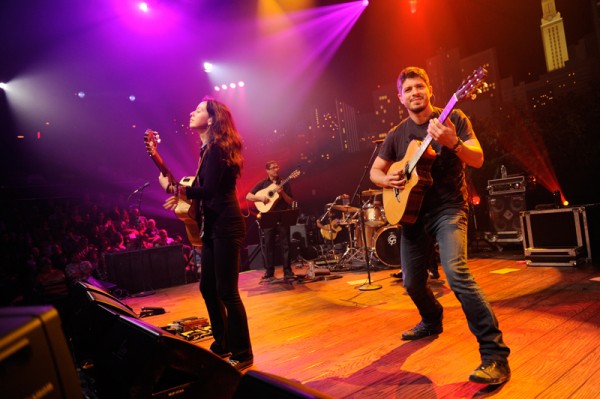 Rodrigo y Gabriela are a joy to watch –  jumping across the stage, making eye contact with their fans and encouraging the audience to provide rhythms through applause. The crowd responded in kind, lavishing love on a gang of musicians working hard and having fun doing it. That energy will inevitably translate to the small screen, and we can't wait for y'all to see this stunning show. No doubt about it – Rodrigo y Gabriela rule.