When Justin Vernon created the acclaimed For Emma, Forever Ago in his family's cabin in Medford, Wisconsin in 2008, he probably never thought that his candid creation would lead his band Bon Iver to the Austin City Limits studio. But here he is, playing to a packed house at ACL Live at the Moody Theater.
Joined by eight multi-instrumentalists, Vernon turned his intimate confessionals into orchestral pop anthems that kept the crowd mesmerized. They played all but one song from 2011's Grammy-winning Bon Iver, Bon Iver, but left plenty of room for gems from For Emma and beyond. Making good use of controlled cacophony on "Perth" and "Creature Fear" and soft-to-loud dynamics on "Calgary" and the hit "Holocene," the band deftly demonstrated its range and depth. ("Holocene reminds me of driving along the West Coast and feeling so insignificant, but in a good way," tweeted Miranda S.) Bon Iver pulled back for the folky "Skinny Love" and the lovely "Re: Stacks" (performed by Vernon solo) and revved back up for the catchy "Towers" and the rocking "Blood Bank."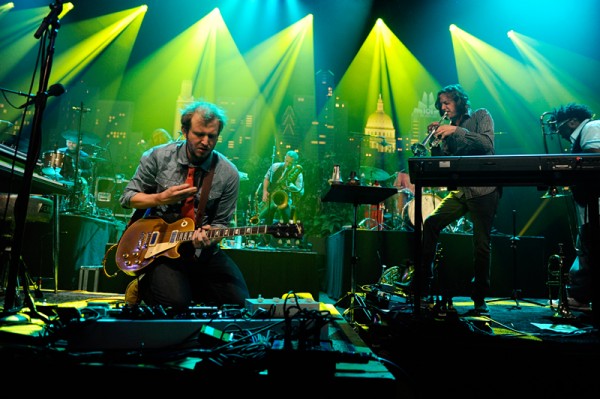 As if Vernon didn't already have the audience in the palm of his hand, he appealed to their local pride with what Julia Brash described as an "overwhelmingly beautiful" cover of hometown heroine Patty Griffin's "Nobody's Crying," before engaging them in a mass singalong for "The Wolves." "All we needed was a campfire," noted Zackary Wilburn, "and we would have been in that cabin up in Wisconsin!" Bon Iver closed out the night with "For Emma," in many ways the song that started it all.
"This is the only good, perfect, wonderful music show that we have," Vernon asserted during the encore. Such high praise makes us blush – we're as happy to have hosted Bon Iver as its leader was to be here. Bon Iver's enchanting episode will air in the fall – check with your local PBS station for airdates and showtimes. You can also keep up with Season 38's progress via Facebook, Twitter and this very blog.