Get those air guitars and horns ready, because this weekend Austin City Limits is bringing both the rock AND the funk with an encore episode featuring Alejandro Escovedo and Trombone Shorty & Orleans Avenue.
When Alejandro Escovedo returned to the ACL stage for his third showcase (or fourth, if you count his appearance as a member of Rank & File way back in Season 8), he brought a stripped-down band and sound. Rather than the expansive sonics of his Orchestra, the mission of the Sensitive Boys is to rock the heck out. Having showcased his love of early 70s glam/proto-punk rockers like Mott the Hoople and Lou Reed on recent LPs Real Animal and Street Songs of Love, Escovedo brings that aesthetic to our stage for a blazing rock & roll set full of great tunes like "Anchor," "Faith" and "Always a Friend." If you're not jumping around the room, you might need to check your pulse.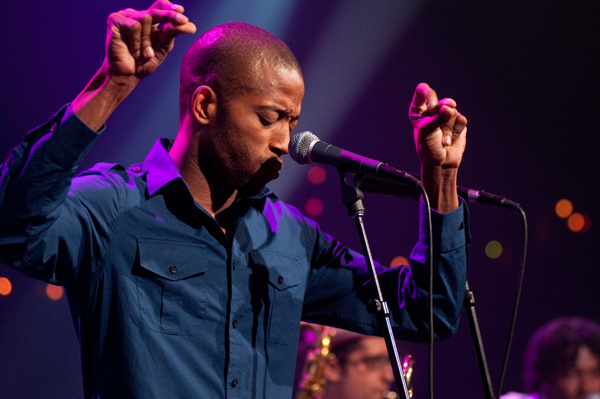 And as long as you're on your feet, you want to stay there for Trombone Shorty & Orleans Avenue. From his days as a pre-teen jazz prodigy, Troy Andrews has been absorbing every musical sound that comes out of his native New Orleans, with an emphasis on his town's particularly groovy brand of funk. Andrews and his crack band showed their mastery on their first major label Backatown, and hit the same second line grooves hard on our stage. "Hurricane Season" and "Where Y'at?' are greasy enough, but when the band launches into their James Brown medley, it's time to tear the roof off the sucker.
You can check out the episode page for more details, as well as our video page for some behind-the-scenes action. Don't forget to stop by our Facebook, Twitter and Tumblr pages for regular updates on the ACL universe. Next week: a beloved classic featuring the one and only Roy Orbison.