VIDEOS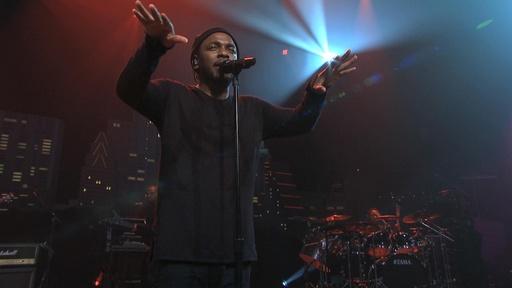 "Alright" (Season 41)
Kendrick Lamar is an artist like no other – a political poet capable of creating compelling concept albums and a lyrical storyteller adroit at imparting the everyday experience of young African-American men. The man rap giants Dr. Dre, Snoop Dogg and The Game titled "the King of West Coast rap" makes his Austin City Limits debut perfoming songs from throughout his career.
A Compton, California native, Lamar refined his sound with Top Dawg Entertainment, releasing mixtapes as K. Dot and rapping with Ab-Soul, Jay Rock, and Schoolboy Q in group Black Hippy. In 2010, Lamar released his first mixtape under his own name – Overly Dedicated – and followed with his first album, Section 80, in 2011. The same year, Dre signed Lamar to his label Aftermath. Good kid, m.A.A.d city was released to wide critical acclaim in 2012. The album garnered seven Grammy nominations.
"There's a certain hunger that you can sense about Kendrick," said Eminem, who has toured and worked in studio wtih Lamar, told New York Times Magazine. "He raps to be the best rapper in the world."
Lamar release his third album To Pimp a Butterfly earlier this year. Rolling Stone called the album a "densely packed, dizzying rush of unfiltered rage and unapologetic romanticism, true-crime confessionals, come-to-Jesus sidebars, blunted-swing sophistication, scathing self-critique and rap-quoatable riot acts."
New York Times Magazine called Lamar "a street poet who has earned the affection of hip-hop purists as well as younger listeners." Pitchfork contributor Carvell Wallace said, "Kendrick makes the kind of music that can lead you to fight for your own survival."
"I think that's why I put my energy into making music," Kendrick said to New York Times Magazine. That's how I get my thoughts out, instead of being crazy all the time."
EPISODE LIST
Kendrick Lamar (41)
NEWS
if you like Kendrick Lamar, you might also like...