Austin City Limits returns to new episodes with an electrifying double-bill featuring two great live acts—Alabama Shakes and Vintage Trouble.
Alabama Shakes return to the ACL stage for a powerhouse performance on the heels of their five Grammy Award nominations, including Album of the Year, for Sound & Color, which debuted at No. 1 and topped critics' 2015 year-end best album lists.  The Athens, Alabama-based modern soul band, who first appeared in Season 38, have become international sensations since their 2012 debut, with breakout performances at music's biggest festivals including Coachella, Bonnaroo, Glastonbury, Lollapalooza and ACL Fest.  Lead singer Brittany Howard demonstrates her stunning vocal and emotional range in a knock-out six-song set exclusively showcasing Sound & Color, with blazing renditions of "Don't Wanna Fight", the Grammy-nominated track for Best Rock Song and Best Rock Performance and the anthemic "Gimme All Your Love".  The soulful set-closer "Over My Head" highlights the Shakes' genre-bending sense of exploration, as they continue to break new sonic ground as one of the finest bands of their generation.
"Few contemporary singers in the world today can touch the raw power and emotion of Brittany Howard," says ACL executive producer Terry Lickona.  "Since their ACL debut, before they even had their first record out, Alabama Shakes has reached new heights, and their Grammy nomination for Album of the Year says it all!"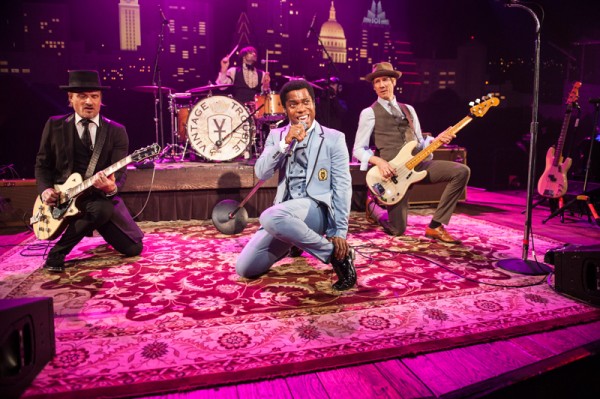 For their first appearance on ACL, Vintage Trouble deliver a thrilling, explosive performance. The high-energy LA quartet has garnered massive attention for their stadium-worthy live show, securing opening slots with rock giants AC/DC, The Rolling Stones and The Who.  Rolling Stone raves, "Imagine James Brown singing lead for Led Zeppelin and you'll get an idea of Vintage Trouble's muscular, in the pocket sound." VT performs a blistering five-song set filled with the electrifying soul, blues and rock of their recent album 1 Hopeful Rd. Dynamic frontman Ty Taylor ventures into the audience for the set-opener "Run Like The River," and in an ACL first, climbs through the studio to deliver the song's close from the theater's balcony. "Can we go back to the 1950s, and can we imagine that we are in a juke joint in North Carolina?" asks Taylor, and the Austin crowd is happy to oblige, on their feet for the entirety, hands-clapping and fists-pumping. A sweat-soaked Taylor lets his passion loose on the set-closing ballad "Run Outta You," sparking a crowd sing-along that moves the charismatic singer to tears for a memorable debut.  
"I've never seen anyone take command of a stage (and audience) like Ty Taylor and Vintage Trouble!" says Lickona.  "It was a musical and emotional roller-coaster ride. People are still talking about that taping—and now so will viewers."
Tune in this weekend for this episode, and, as always, check your local PBS listings for the broadcast time in your area. Go to the episode page for more info, and don't forget to click over to our Facebook, Twitter and newsletter pages for more ACL info. Tune in next week for another new episode, featuring the ACL debut of rap superstar Kendrick Lamar.