Austin City Limits returns to Nashville for a special broadcast featuring performance highlights from the 21st Annual Americana Honors. For over two decades, the annual celebration of roots music has honored the leading lights of Americana music while showcasing unique performances and collaborations. The program is filled with musical highlights from many of the event's award-winners and honorees, among them (in order of appearance): Phosphorescent, Brandi Carlile, Lucius, The Fairfield Four, James McMurtry, The War And Treaty, Lukas Nelson, JP Harris, Sierra Ferrell, Chris Isaak, Buddy Miller, Lyle Lovett, The Milk Carton Kids, Allison Russell, and The McCrary Sisters. The hourlong special premieres Saturday, April 1 at 7pm CT/8pm ET on PBS and varies by market (check local listings for times). Check PBS listings for local airtimes. The special will be available to music fans everywhere to stream online beginning Sunday, April 2 @10am ET at pbs.org/austincitylimits. Viewers can visit acltv.com for news regarding upcoming Season 49 tapings, episode schedules and select live stream updates. The program's official hashtags are #acltv and #americanafest.
Recorded live at Nashville's historic Ryman Auditorium in September 2022, The Americana Music Association's 21st Annual Americana Honors & Awards ceremony is a celebration of the confluence of roots, blues, soul, folk and country music.  For the eleventh year, the producers of Austin City Limits, in conjunction with producers Martin Fischer, Michelle Aquilato, and Jed Hilly for the Americana Music Association, proudly deliver a special ACL Presents.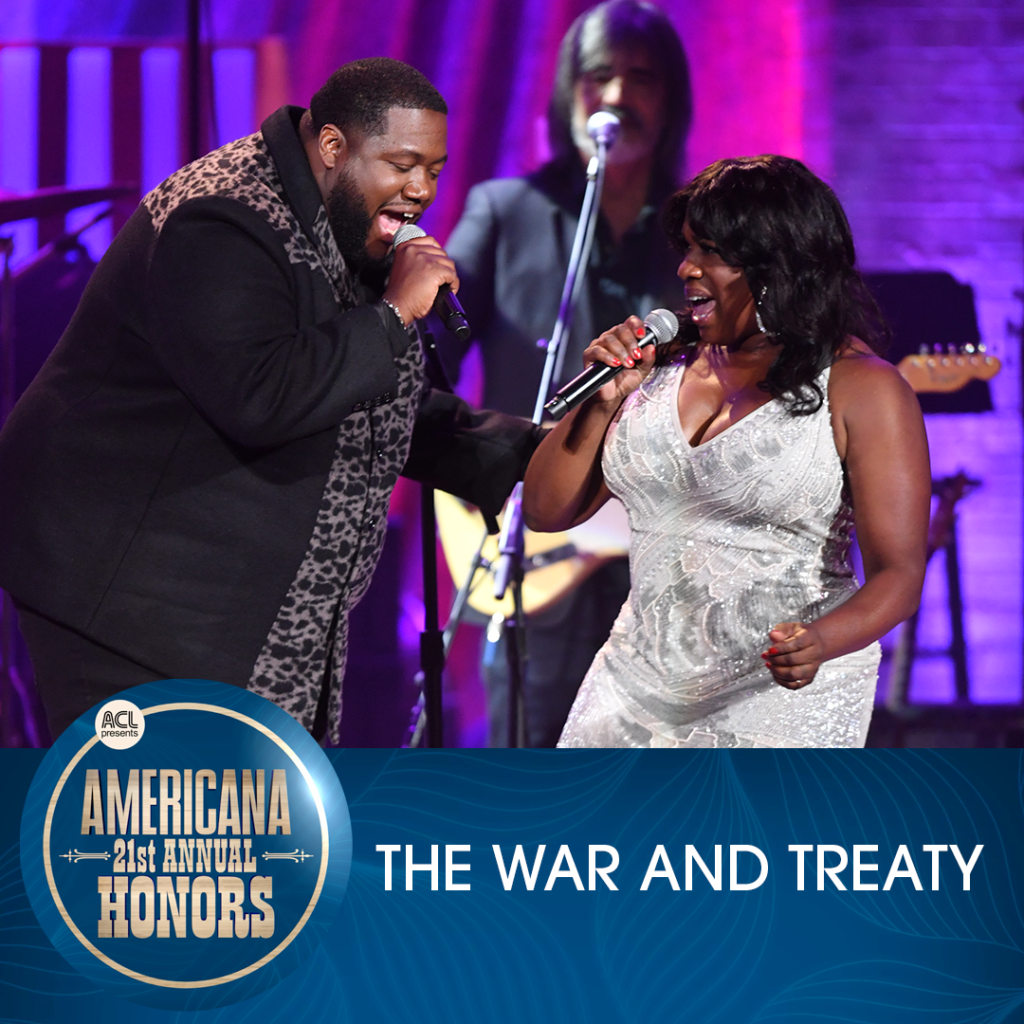 One of the genre's biggest stars, Song of the Year-winner Brandi Carlile, takes the stage joined by indie-folk duo Lucius for an exuberant performance of Carlile's gem "You and Me On the Rock," a triple 2022 Grammy nominee for Record of the Year, Best Americana Performance and Best American Roots Song, from her 2022 Grammy-winning Best Americana Album In These Silent Days. Husband and wife duo The War and Treaty, named Duo/Group of the Year, deliver an electrifying performance of their soulful duet "That's How Love Is Made," that brings the Ryman audience to its feet. Americana stalwart Sarah Jarosz introduces "one of her all-time favorites," Texas songwriter James McMurtry, who sings a sterling rendition of his Song of the Year nominated "Canola Fields." The Awards' Emerging Act of the Year honoree Sierra Farrell makes a sparkling debut with her buoyant hot jazz number "At the End of the Rainbow." Album of the Year winner, singer-songwriter Allison Russell, performs her empowering anthem "You're Not Alone" from her celebrated debut solo record, Outside Child; she is joined by frequent collaborator Brandi Carlile backed by an all-female ensemble of musicians featuring cellist and Instrumentalist of the Year Larissa Maestro.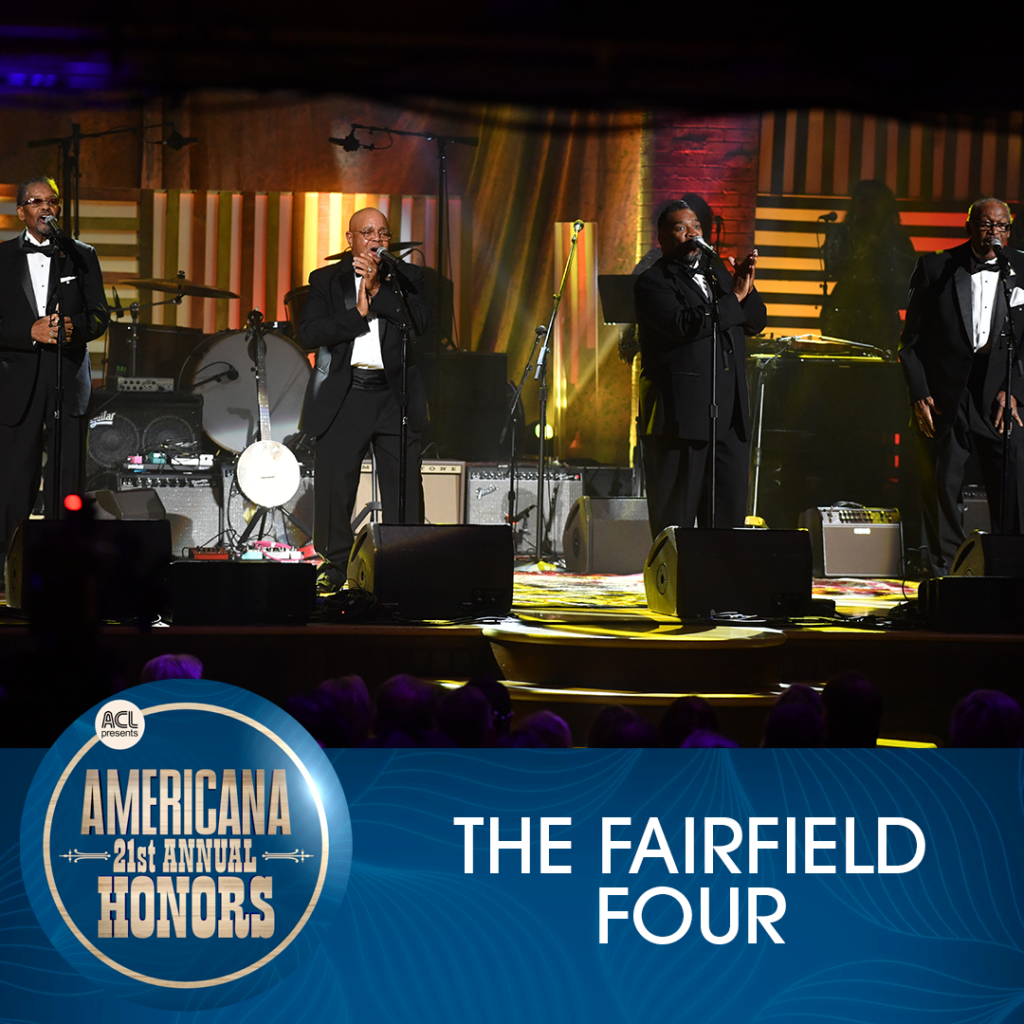 Lifetime achievement honorees showcase their incredible legacies: Fairfield Four, a harmony singing group that originated in the 1920s at Nashville's Fairfield Baptist Church, are honored with the Legacy of Americana Award for preserving traditional Black a cappella gospel music; they perform a stirring a capella "Rock My Soul." Americana great Lyle Lovett introduces Chris Isaak, lifetime achievement honoree for performance, calling him "a remarkable artist and remarkable human being" and Isaak delivers a spirited rendition of his classic "Somebody's Crying." Rock legend and Americana champion Robert Plant makes a surprise appearance to honor genre icon and long-standing Americana house band leader Buddy Miller with a Lifetime Achievement Award; Miller takes the stage to perform an emotional rendition of Americana forebear Levon Helm's "Wide River to Cross," a song Miller co-wrote. Lukas Nelson pays homage to an influential late country great, Don Williams, the gentle giant of country music, with a moving version of the Texas-born singer and songwriter's "Lord, I Hope This Day is Good."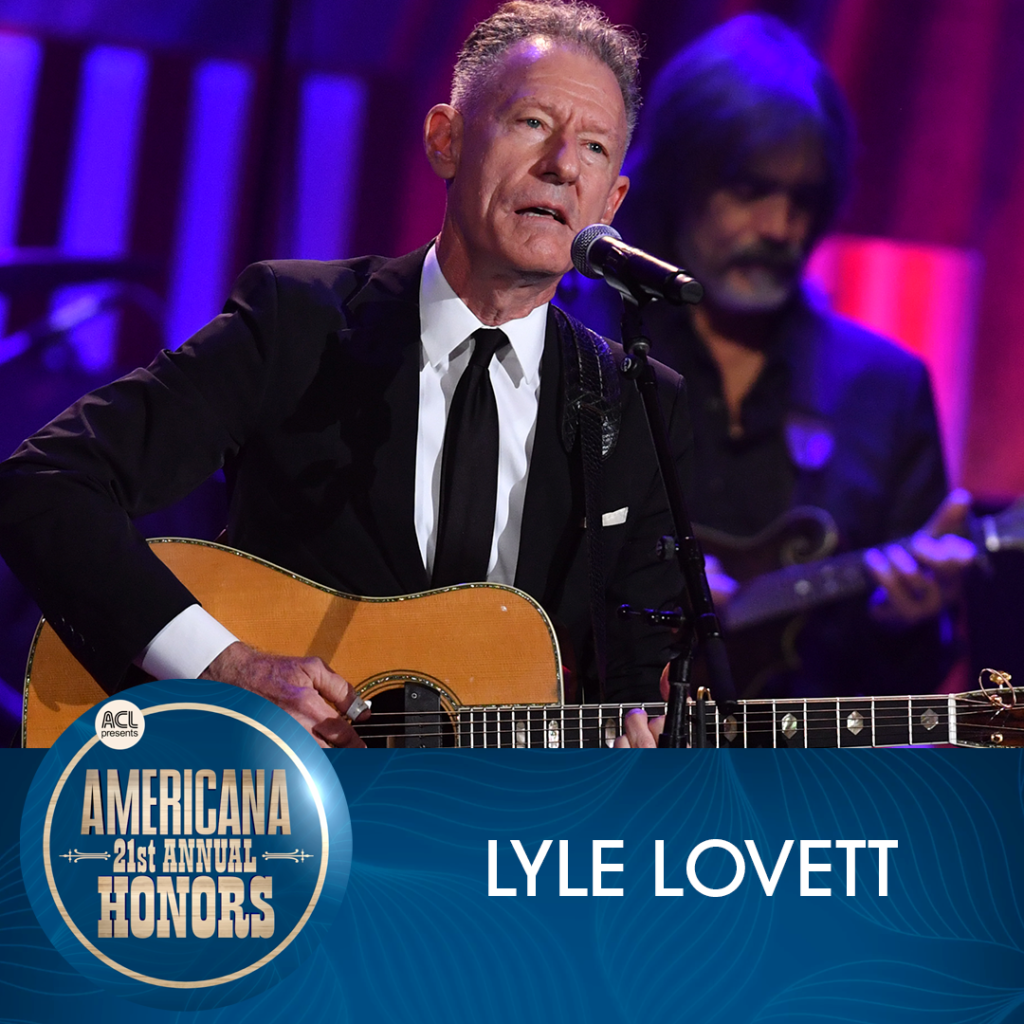 The hour celebrates a trio of seminal American roots music albums marking their 50th anniversary: Phosphorescent, the stage name of singer-songwriter Matthew Houck, opens the hour in salute to Neil Young's landmark Harvest with a rendition of Young's classic "Are You Ready for the Country?" Lyle Lovett takes the stage to perform an acoustic version of the Little Feat ballad "Willin'" in tribute to the band's Sailin' Shoes, joined by Little Feat's Bill Payne on piano; Americana's dynamic acoustic duo The Milk Carton Kids salute Jackson Browne's 1972 self-titled debut with a gorgeous rendition of the singer-songwriter legend's "Something Fine."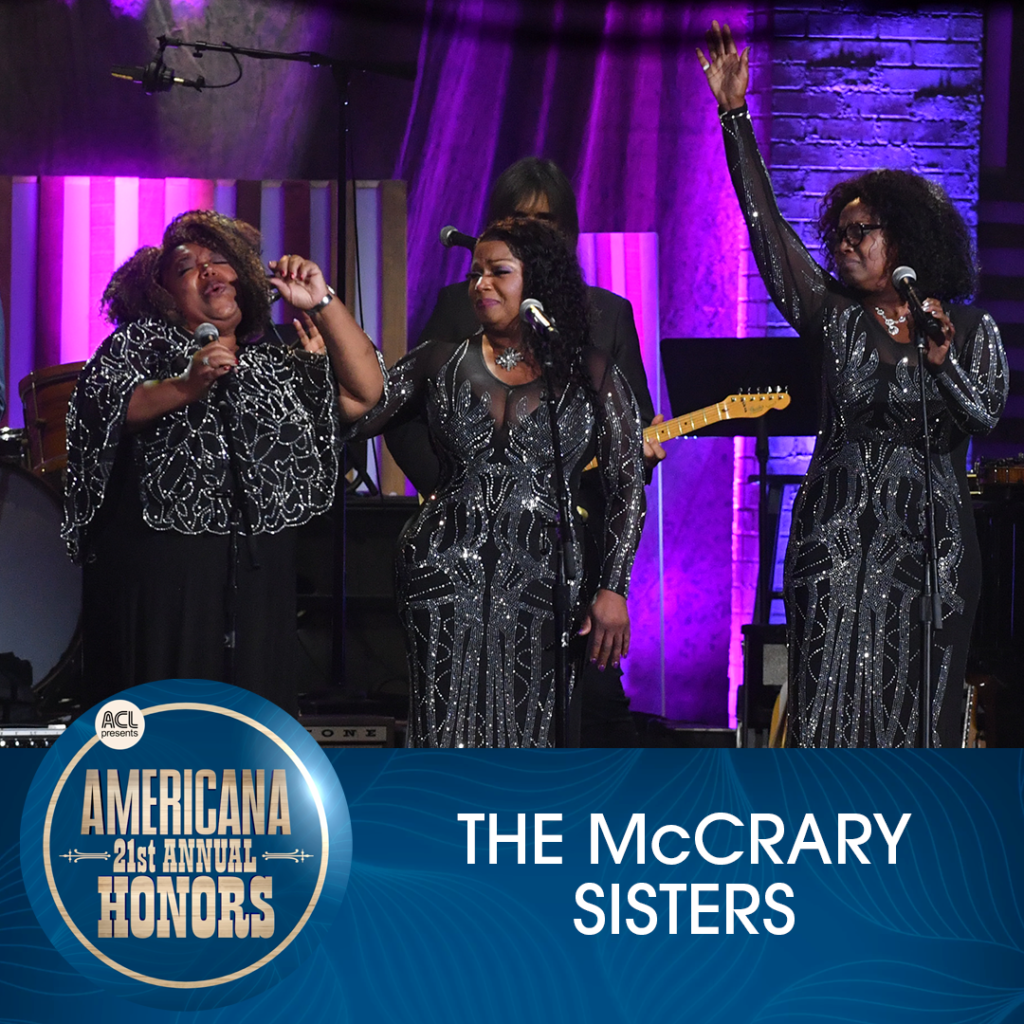 The special also pays tribute to Americana greats lost in 2022: Iconic gospel group The McCrary Sisters, longtime performers at the Americana Awards, honor their late sister and bandmate Deborah McCrary with the powerful elegy "Amazing Grace." Luke Bell, a gone-too-soon cult favorite among indie country fans, is saluted by roadhouse country singer JP Harris. Harris performs Bell's "The Bullfighter," saying "Luke never got a chance to sing this song himself from this stage like he should've, so I'm going to do my damnedest in your stead, little brother."
Broadcast setlist:
Phosphorescent "Are You Ready for the Country"
Brandi Carlile ft. Lucius "You and Me on the Rock"
The Fairfield Four "Rock My Soul"
James McMurtry "Canola Fields"
The War And Treaty "That's How Love is Made"
Lukas Nelson "Lord I Hope This Day is Good"
JP Harris "Bullfighter"
Sierra Ferrell "At the End Of the Rainbow"
Chris Isaak "Somebody's Crying"
Buddy Miller "Wide River To Cross"
Lyle Lovett "Willin'"
The Milk Carton Kids "Something Fine"
Allison Russell ft. Brandi Carlile "You're Not Alone"
About the Americana Music Association:
The Americana Music Association is a professional not-for-profit trade organization whose mission is to advocate for the authentic voice of American roots music around the world. The Association produces events throughout the year; including AMERICANAFEST and the critically acclaimed Americana Honors & Awards program. The Americana Music Association receives enormous support from the Tennessee Department of Tourism, Nashville Convention & Visitors Corp, ASCAP, BMI, SESAC.
About AMERICANAFEST:
The 23rd annual AMERICANAFEST will take place September 19-23, 2023 in Nashville, Tenn., once again bringing together music industry professionals and fans alike for five days of discovery, insight and connections. Declared a "veritable juggernaut" by American Songwriter, AMERICANAFEST showcases hundreds of artists and bands throughout many notable venues in Nashville, TN. The destination event also features a first-rate industry conference, bringing together the top tier of the music business to discuss current industry topics and issues. Musical festivities are kicked off by the critically acclaimed Americana Honors & Awards, which celebrates luminaries and welcomes the next generation of trailblazers while offering one-of-a-kind performance pairings at Nashville's famed Ryman Auditorium. For more information, please visit www.americanamusic.org.
About ACL Presents:
ACL Presents is music programming created by, or in association with, Austin PBS, the producers of Austin City Limits (ACL). ACL Presents programming includes television specials, live events, web series and recorded music presentations and is made in the spirit and standards of the legendary PBS series Austin City Limits, the longest-running live music series in television history. ACL Presents collaborations have included: Hardly Strictly Bluegrass with KQED and AMERICANAFEST with Nashville Public Television (NPT).