With over a decade of acclaimed albums and a rapidly growing following for their live show, Dr. Dog has been bubbling under the radar long enough that they are ready to blow up. Given the Philadelphia band's continued upward momentum, it was inevitable the band would grace the ACL stage. When it finally happened last night, it wasn't just for the hundreds of lucky fans who joined us in the studio. For only the second time in the show's history, we streamed an ACL taping, bringing an unvarnished view of Dr. Dog's unique psychedelic indie rock to the masses.
Dr. Dog launched into the catchy pop song "Shadow People" from the ACL stage that had been enhanced with lamps, desks and antique ephemera ("Dr. Dog 's stage decor gives me the urge to go antique shopping down on SoCo," quipped star512 ).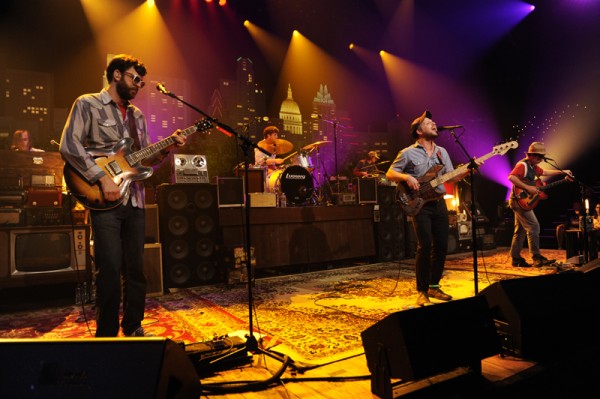 Wielding a setlist made of an even mix of their last three LPs (Be the Void, Shame, Shame and Fate), the sextet worked its magic on an eager crowd of diehard fans who appreciated the depth of the catalog. Balancing instrumental skill with a relaxed looseness, the band combined influences from across the spectrum of rock history with stunning clarity –  "Kudos to whomever is mixing," commented @johnlmyers. "Sounds fantastic." "Lonesome" boasted a band vibe, while "Do the Trick" subtly incorporated a Philly soul groove. "Vampire" mixed late-period Beatles with noisy rock, while "That Old Black Hole" added a Johnny Cash backbeat to the psychedelic stew. The spaghetti western dub psych of "Fate" sounded as at home in the band's hands as the gypsy melody and reggae rhythms peeking out of "The Ark."
A Dr. Dog show isn't all musical eclecticism, however – "I Only Wear Blue," "Heavy Light" and "Where'd All the Time Go?" offered plenty of singalong moments and catchy melodies. "Dr. Dog have become a fierce distillation of American rock 'n' roll music," notes AustinBloggyLimits.  "These guys are so versatile," enthused Aunt Betty Reden on Facebook. "Awesome! Refreshing!"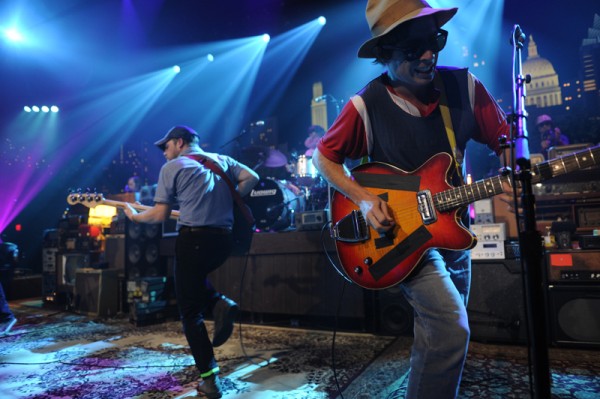 The main set ended with the propulsive epic "The Rabbit, the Bat, and the Reindeer," but Dr. Dog wasn't through with us yet. The band pulled the tongue-in-cheek gospel suicide note "Die, Die, Die" from the LP We All Belong (surprising director and crew, as it wasn't on the setlist) before ending with a rare treat: its cover of Architecture in Helsinki's "Heart It Races," a tune the Dog doesn't perform live often. It was a rapturous end to a show Frank Cunningham from the band's Philly stomping ground declared on Facebook, "Freakin' magnificent!"
Derek Neasham of Georgia asserts, "Feed's been great! I hope they start making this a common practice. " So do we, Derek. Thanks to everyone who joined in studio and online, and we hope to hear from you and all the folks at home come October when the ACL episode featuring Dr. Dog hits your television screens.