Austin City Limits is thrilled to announce a stellar slate of summer tapings for our upcoming Season 49: On June 28, we'll present the highly-anticipated ACL debut of innovative rap star Lil Yachty, currently riding a career high following what Rolling Stone calls "one of 2023's boldest left turns." On July 7, we welcome back Grammy-winning guitar duo Rodrigo y Gabriela in their first appearance in a decade, with a one-of-a-kind performance featuring the Austin Symphony Orchestra. This appearance marks the first time Austin City Limits/Austin PBS has collaborated with the Austin Symphony Orchestra, one of Austin's oldest and most respected arts organizations. Eclectic, Gen-Z jazz duo DOMi & JD BECK, nominated for a 2023 Best New Artist Grammy, make their debut appearance on July 8; and acclaimed singer-songwriter Jenny Lewis returns to the ACL stage for the first time since Season 40 on July 26.
Lil Yachty kicked off 2023 on a high note with the release of his sonically divergent fifth album Let's Start Here., a monumental psychedelic alternative rock album thatreceived widespread acclaim from critics and musical peers alike. Recorded in Brooklyn and a Texas border town, Let's Start Here is an imaginative, immersive exploration of psychedelic rock, rap, and soul inspired by Pink Floyd's The Dark Side of the Moon, Frank Ocean and Tame Impala, among others, and features all live instrumentation and co-writers as varied as Mac DeMarco, Nick Hakim, Alex G and members of MGMT, Unknown Mortal Orchestra and Chairlift. "I did what I really wanted to do, which was create a body of work that reflected me," explains Yachty in a recent Billboard cover feature. "My idea was for this album to be a journey: Press play and fall into a void." The Source raves, "Let's Start Here. continues to further the star's reputation as an innovative savant," and Rolling Stone hails, "The rapper and musician's ambitious left-turn incorporates experimental rock and jazz with near-flawless execution, arriving at something that feels genuinely brand-new." The 25-year-old Georgia native became a teenage breakout sensation when his Soundcloud-released song "One Night" was featured in a viral comedy video. In 2016, after collaborating with rapper DRAM on the Top 5 hit "Broccoli," Yachty signed a joint deal with Quality Control Music and the legendary Motown Records, releasing his debut solo album Teenage Emotions in 2017. His 2018 album Lil Boat 2 debuted at No. 2 on the Billboard 200 chart. After having all of his major label albums and mixtapes chart in the Billboard Top 200 and scoring seventeen hits in the Top 40, Yachty's Let's Start Here. debuted atop three genre charts that prove his crossover appeal: Top Rock & Alternative Albums, Top Rock Albums and Top Alternative Albums. Highlights include the album's trippy opener, "the BLACK seminole." a seven-minute opus that Yachty performed on his recent buzzed-about Saturday Night Live musical debut. Along with a coveted slot on 2023's ACL Festival, Yachty embarks on his own extensive headlining The Field Trip Tour this fall with stops across North America and Europe.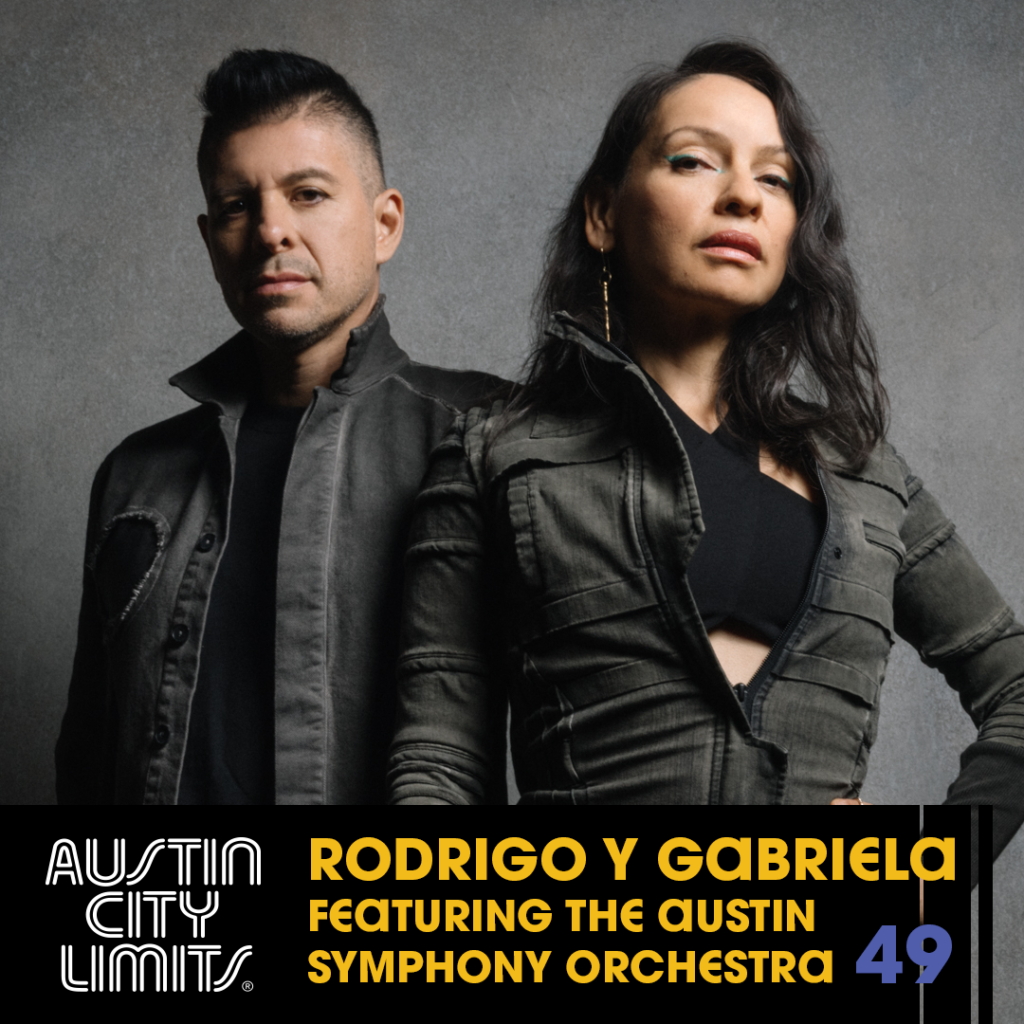 In an unprecedented performance, Rodrigo y Gabriela will be joined by over thirty musicians from the Austin Symphony Orchestra to bring to life their latest release In Between Thoughts…A New World on the ACL stage. For over two decades, the Mexico City-bred duo of Gabriela Quintero and Rodrigo Sanchez have created music that invites lasting transcendence, captivating audiences across the globe with their virtuosic and wildly inventive guitar playing. In Between Thoughts marks a sharp departure from the signature acoustic sound the acclaimed act first showcased on their 2006 self-titled studio debut, and finds the pair expanding their sound with an orchestra. Conceived during the pandemic, the duo worked remotely with Vienna-based composer Adam Ilyas Kuruc and The Bulgarian Symphony Orchestra, who ornamented their serpentine arrangements with lush strings and powerful percussion. Sparked from their study of Advaita Vedanta (a Hindu philosophy rooted in the concept of nondualism), In Between Thoughts…A New World arrives as one of Rodrigo y Gabriela's most revelatory offerings to date: a spontaneously composed body of work primed to bring about the very expansion of consciousness that inspired its creation. As they delved further into the philosophy, the duo began channeling their sense of heightened awareness into song form. "The music just started flowing out, without any real intention," says Rodrigo. "When we looked back we realized we'd come up with nine songs that told the story of our coming to understand the Advaita path, in the exact perfect order." The album finds Rodrigo trading his acoustic guitar for electric, adding a mercurial new energy that's elegantly amplified by the duo's subtle use of analog synths, Mellotron, and other electronic instruments. Propelled by a fierce vitality hinting at their thrash-metal roots, the result is an album of relentless movement and endless fluidity, each moment charged with the pure thrill of discovery. "When the subject matter is something like spirituality or seeking meaning, that can very easily go along with music that's calming or serene," says Gabriela. "But we wanted to do something different — we wanted to bring a cinematic quality and a lot of action to the music, and make it feel as exciting as we find all this to be."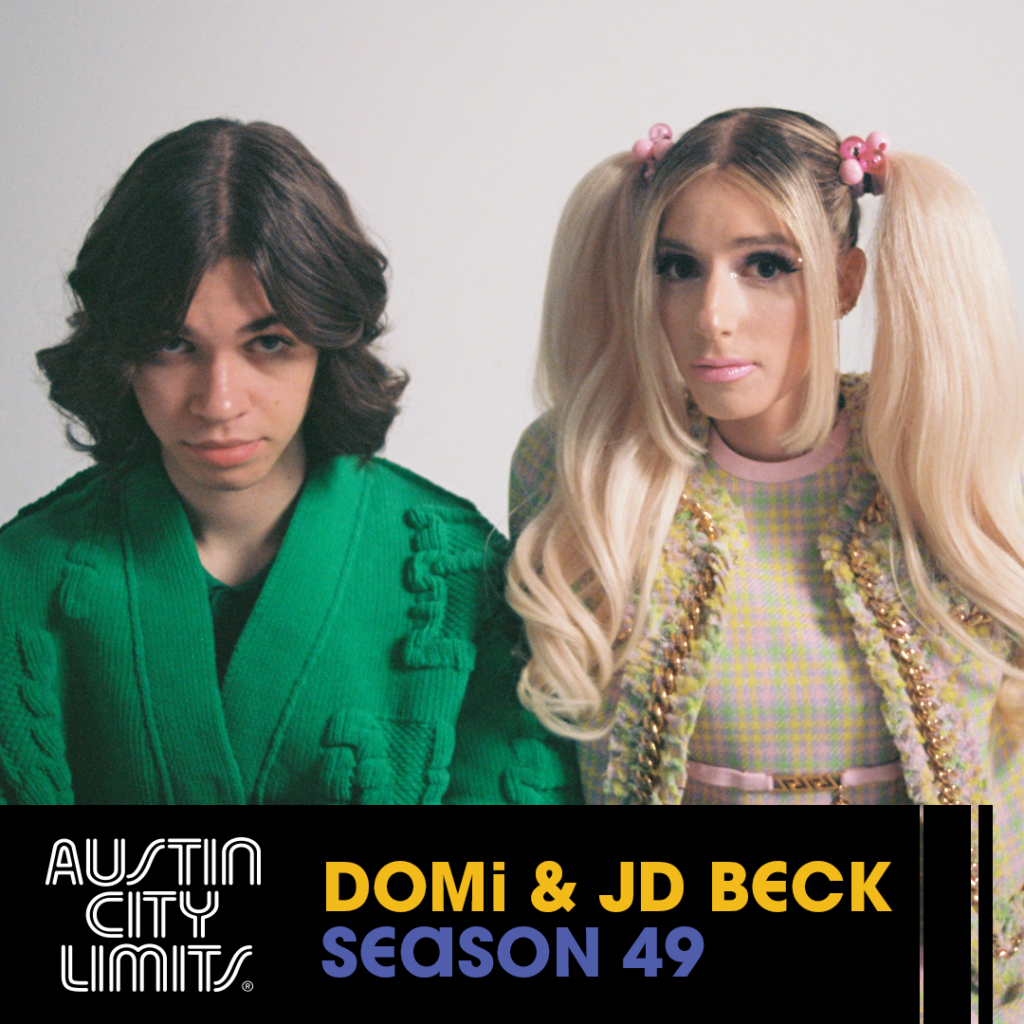 "My philosophy of life is don't take shit too seriously," says keyboard savant DOMi Louna, born Domitille Degalle. And that's fair. But the vibrant world she and her drum ace collaborator JD BECK have given us demands exploration. The astoundingly virtuosic jazz duo's music finds both humor and greatness in harmonic complexity, rhythmic shiftiness, and speed. She favors sounds that evoke '70s jazz fusion and the colorful blips of 2000s Pokémon soundtracks, while he tunes and plays his snare in ways that can sound electronic, channeling IDM and boom bap. Sometimes they're stuffed into a bathroom and sometimes the drums are muffled by pretzels stacked on the hi-hat, or toilet paper tossed on the snare. Their acclaimed debut album—NOT TiGHT, released by Anderson .Paak's new label APESHIT in partnership with the legendary jazz label Blue Note Records—is an attempt to bottle their goofy magic. They offer winking breaks and gleeful pivots, but the album is more composed than anything they've done before, toying with pop structures and pretty restraint. "Since they first started breaking the internet with their hyperarticulate strain of beat music, DOMi and JD BECK have gradually burrowed their way into the jazz mainstream," raves NPR Music. "Or maybe it's that the mainstream has sidled up to them?" The duo first played together in a room full of blaring demos at a trade show, but they bonded over gauche keyboard effects and mom jokes. Over the next year and a half, they wrote and recorded much of NOT TiGHT at JD's house in a Dallas suburb on drums and a 49-key MIDI board with just a few mics. The album—which earned them two GRAMMY nominations including Best New Artist—features the likes of Thundercat, whose deadpan funk is their closest antecedent, Herbie Hancock, Snoop Dogg, Busta Rhymes, Mac DeMarco, Kurt Rosenwinkel, and .Paak himself. The duo has been featured in the line-ups of music festivals across the globe from Coachella to the North Sea Jazz Festival. Neither can believe what's happening, but leave it to them to skewer the moment. When JD suggests people might hate NOT TiGHT, DOMi Louna says, "That would be sick! Booo. They suck!"
Having appeared on ACL twice before (with Rilo Kiley in Season 31, and leading her own band in Season 40), Jenny Lewis returns to the ACL stage showcasing her upcoming fifth solo album, Joy'All, out June 9th. Produced by Dave Cobb and recorded at the historic RCA Studio A in Nashville, Joy'All sees the highly anticipated return of one of the most compelling singer-songwriters of the 21st century embarking on a new era, in a new town—Nashville—and on a new label, as she joins the iconic roster of Blue Note/Capitol Records. Heralded by the "strummy, beach bummy" (VULTURE) first offering "Puppy and a Truck," as well as the subsequent singles "Psychos"– declared as "easily, one of Lewis' greatest creations" (PASTE) and "a cosmic country kiss-off" (ROLLING STONE)–"Giddy Up," and "Cherry Baby," Joy'All has already garnered a rapturous reception of critical acclaim: "four years on from her career-best On The Line, she's sounding better than ever." (PAPER). A culmination of Lewis' prolific 20+ year career, Joy'All follows her four previous solo albums —2019's On The Line, 2014's The Voyager , 2008's Acid Tongue and her 2006 solo debut Rabbit Fur Coat—as well as her universally-loved work in Rilo Kiley and side projects Nice As Fuck, Jenny & Johnny, and The Postal Service. With no signs of slowing down for 2023, Jenny is ready to hit the road for an epic itinerary that includes both the upcoming 20th anniversary Postal Service and Death Cab for Cutie co-headline tour as well as supporting dates for the Beck and Phoenix co-headline Summer Odyssey Tour, in addition to her own headlining dates in support of Joy'All.
Want to be part of our audience? We will post information on how to get free passes a week in advance of the taping. Follow us on Facebook and Twitter for notice of postings. Austin City Limits also previously announced summer tapings with celebrated Americana superstars Jason Isbell and the 400 Unit on June 14; country icon Tanya Tucker on July 10; and global music powerhouse Jorge Drexler on July 31. The broadcast episodes will air on PBS this fall as part of our upcoming Season 49.