Though wielding an acoustic guitar and a sultry voice, Adia Victoria isn't just a singer/songwriter. The South Carolina native's presence, charisma, expansive musical vision and willingness to confront difficult truths put her on a level beyond folky introspection and comfortable ambience, giving her the rocking sound as projected on her third album A Southern Gothic. Tonight the artist brought her socially conscious acid blues to the ACL stage for her taping debut, live streamed around the world.
"Good evening, Austin," Victoria pronounced as she took the stage. "We've come all the way from Nashville to play these blues for you." With a swampy, psychedelic sound, she and her three-piece band kicked the show off with the rumbling "Far From Dixie," one of the jewels in Gothic's crown. After commenting "I'm a bundle of butterflies and shaking in my red boots," she launched into "Magnolia Blues," a song of reminiscence that drew deeply from her region's most influential musical export. Victoria really grabbed the blues by the conceptual horn on the slow-crawling "Mean Hearted Woman," telling the "woman done me wrong" story from that woman's point of view, and dedicating it to "every woman who's ever been gaslit by a man in her life." Victoria continued her guided tour of the South with "My Oh My," another quietly intense slow burner. Incorporating a jangling strum akin to folk story songs, she explored the life of "lost" Southern girls in the evangelical church in the compelling "Whole World Knows."
Victoria introduced "Sea of Sand" as one of the first songs she ever wrote, and the defiant folk rocker proved an audience favorite, especially during the coda of her acoustic guitar contrasting with Mason Hickman's grunged-out power chords. The songwriter put down her guitar for "Troubled Mind," a song that began as a prayer, and allowed her band to lay out the music while she stalked the stage, microphone in hand. As the musicians kicked into the next number, Victoria introduced them to the crowd, throwing the spotlight on Hickman, bassist Jason Harris and drummer Daniel Closser. "This is a song about getting dumped," she noted, as the music evolved into the menacing rumble of "Different Kind of Love." She then led her boys into paying tribute to a primary inspiration by covering "You Was Born to Die," a thumping 1933 tune from the catalog of the great bluesman Blind Willie McTell. Closser's drum pound shored up Hickman's boogie riff for "Ain't Killed Me Yet," a celebration of life through the lens of pure defiance, as represented by the feral howl she unleashed during the breakdown.
Victoria re-donned her guitar for the final song, telling the crowd that she used to watch ACL with her grandmother, already knowing she would one day tread those boards herself. She then sang "South Gotta Change," her only release during the year of the pandemic, a passionate protest song inspired by the deaths of George Floyd and Rep. John Lewis and dedicated to everyone who ever told her to shut up and sing. There was no way to follow that, so Victoria and her band took a bow and quit the stage. It was an excellent show, and we can't wait for you to see when it airs early next year on your local PBS station.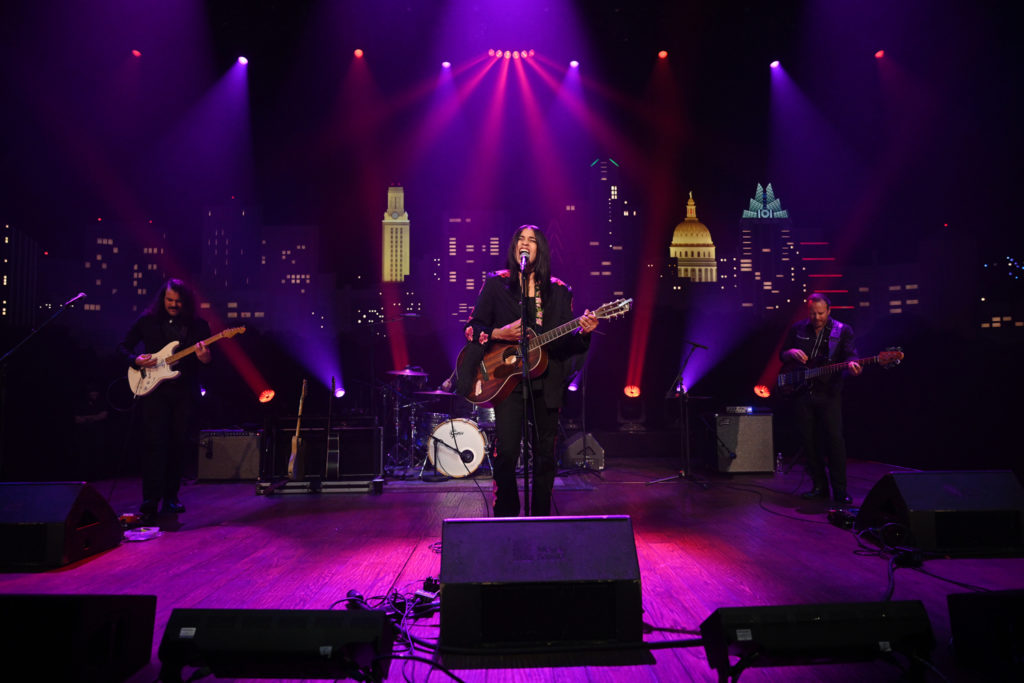 Adia Victoria on Austin City Limits, Season 48. Photos by Scott Newton.