Every year the Austin City Limits Hall of Fame Honors feels like a homecoming. This year was no exception, with so many friends and family with us to help celebrate. For this year's sixth Hall of Fame class, we inducted singer/songwriter Shawn Colvin, blues giant Buddy Guy and Texas icon Lyle Lovett, the man who nearly holds the record for the most appearances on the ACL stage (he's one behind Willie Nelson), and their pals came out to start the party. It was a night to remember.
Austin drum corps Austin Samba set a festive mood to kick off the evening. KLRU-TV, Austin PBS, CEO & General Manager Bill Stotesbery welcomed the crowd and introduced ACL's longtime executive producer Terry Lickona. He briefly recapped the show's iconic history before ceding the stage to the evening's host, Texas troubadour Robert Earl Keen and the ceremony was quickly underway.
Keen introduced the evening's first inductee – veteran Austinite Shawn Colvin. The legendary Jackson Browne inducted Colvin with a moving speech about her musical history and the genius that has marked it. "He's my hero," said Colvin, "and he just inducted me into the Austin City Limits Hall of Fame." She accepted the honor with a heartfelt speech about what Austin and the show have meant to her, before she and Browne took up their acoustic guitars for the lovely "These Four Walls," which she called a tribute to her town. Following that, Colvin welcomed Wimberley native Sarah Jarosz, who used her mandolin for the classic lick of Colvin's Grammy-winning smash "Sunny Came Home." After Jarosz left the stage, Colvin was joined by guitarist Steuart Smith and bassist Larry Klein, both of whom produced records for her, and formed a touring trio with her in the nineties. "This is the first time we've played together in 25 years," she declared, before the threesome nailed a version of her later-period hit "Polaroids." Jarosz joined the trio for "Diamond in the Rough," Colvin's radio breakthrough – which was also enhanced by fellow inductee Lyle Lovett's surprise appearance on harmony vocals and a thrilling Smith guitar solo. The musicians quit the stage to grand applause.
Keen came back onstage to introduce the next inductee: the one and only Buddy Guy. The blues legend was inducted by his old friend and Austin blues icon Jimmie Vaughan, who talked about discovering Guy as a kid from the album Folk Festival of the Blues, and how that put him on the path he's followed since. "Better late than never!" exclaimed Guy as he accepted his award, garnering a big laugh. The Chicago axeman paid tribute to his own influences – Muddy Waters, Howlin' Wolf, Lightnin' Hopkins – before thanking the audience and his fellow artists for helping to keep the blues alive. Guy and Vaughan then joined the former's band onstage, launching into "Damn Right I've Got the Blues," one of many signature Buddy Guy tunes. Blues singer Shemekia Copeland came next, duetting with Guy on his latest hit "Cognac," which made getting tipsy absolutely sensual. One of Guy's recent mentees, Christone "Kingfish" Ingram then took the stage for a rip through "I Just Want to Make Love to You," one of the classics from Guy's own mentor Muddy Waters. Closing out his segment, Guy and Ingram welcomed back Copeland and Vaughan and Guy donned an electric sitar for "Skin Deep," a deep soul ballad in the style of "Feels Like Rain" that reminded us all that we share more than we differ.
After an intermission (which featured another performance from Austin Samba), Keen returned to introduce his old friend Lyle Lovett. Oscar-winning actor Sean Penn surprised the crowd with an unannounced appearance to induct his pal, calling him "a humble maestro," "the storytelling heir to Faulkner, Rogers and Twain," speaking eloquently and humorously about the impact his music and friendship has had on his life. After thanking Penn, Lovett delineated how long his history with Austin City Limits goes back, from watching the show since its first season to closing out Studio 6A in 2010, before thanking the show and his family – his mother was in attendance. Then Lovett announced seminal Texas songwriter, and key Lovett influence, Willis Alan Ramsey, who sang, with help from the large band, his friend's anthem "If I Had a Boat." Dallas native Edie Brickell was next, taking on Lovett's tart country ballad "I Loved You Yesterday." The maestro himself came back onstage, thanking his crew and the Large Band, before paring the latter down to fiddler Luke Bulla, mandolinist Keith Sewell and bassist Viktor Krauss for "12th of June," inspired by his family past and present. The Large Band returned and Lovett welcomed Keen back to the stage to sing "This Old Porch," a song the pair of them wrote nearly 40 years ago – a fitting tribute to enduring friendships and a long-running career. Keen then invited the other inductees and guests on stage for the final song. Lovett took the opportunity to introduce the large band, including his longtime backup singer Francine Reed, who garnered the biggest round of applause.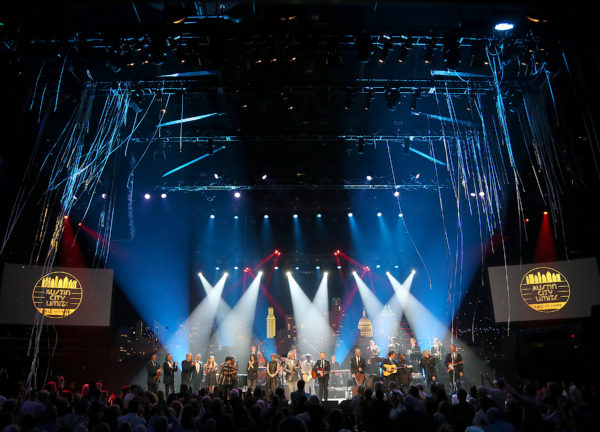 Then it was time for the closing number – "That's Right, You're Not From Texas," one of Lovett's most famous songs and one perfect for a chorus of famous backup singers. The audience went wild as streamers came down from the ceiling, as another successful Hall of Fame taping came to a close. We can't wait for you to see it when it airs as a special New Year's broadcast on your local PBS station.