Austin City Limits is thrilled to announce that we will be live streaming a trio of upcoming tapings, with indie rock kings Vampire Weekend on 8/22, Austin psych soul band Black Pumas on 8/28 and Canadian Folk & Western singer Colter Wall on 8/30. Each stream starts at 8 pm CT on our YouTube channel. 
Vampire Weekend returns to Austin City Limits for their highly-anticipated second ACL appearance.  Ending months of fevered anticipation punctuated by three brilliant double-A-side singles and a slew of over-the-top positive early reviews, Vampire Weekend's long-awaited fourth album Father of the Bride was released earlier this year, landing the #1 spot on the U.S. charts in its debut.  The album was released to rapturous reviews: GQ says "One of the most important bands of the 21st century…With Father of the Bride, their fourth album, the group has expanded itself and the conception of what a band can be";  Stereogum hails Father of the Bride, "Quite possibly their magnum opus"; USA Today raves "Vampire Weekend returns as the best indie band of their generation." The third Vampire Weekend album in a row to reach #1 on the Billboard 200, Father of the Bride's first week tally of 138,000 is both the year's biggest sales week for a rock act and the highest single week sales of the Grammy-winning band's career. Vampire Weekend recently made their first television appearance in five years and kicked off their Father of the Bride North American Tour with sold-out dates throughout 2019. Watch the Vampire Weekend live stream on Aug. 22 here.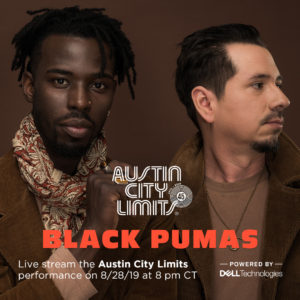 Black Pumas, the collaboration between former L.A. street musician Eric Burton and guitarist/producer Adrian Quesada, the Grammy-winning founder of Austin's Latin-funk powerhouse Grupo Fantasma, is having a banner year.  The buzzed-about act just released an acclaimed self-titled debut and won Best New Band at this year's 2019 Austin Music Awards. Described as "Wu-Tang Clan meets James Brown" by KCRW, they locked down their reputation for thrilling live shows during a 2018 residency at the C-Boys venue in Austin that overnight became the hottest party in town.  The group's 2019 South by Southwest appearance earned them numerous shout-outs from national press, with NPR hailing them "the breakout band of 2019" and Rolling Stone naming Black Pumas one of the festival's best acts, saying "Few artists seem to tap the collective unease of the national moment quite like Austin's Black Pumas…never missing a beat is the tireless, charismatic energy of singer Eric Burton."  Austin-American Statesman raves "In an era of widespread despair, the band makes rock songs that feel like prayers." Watch the Black Pumas live stream on Aug. 28 here. 
After two years of nonstop touring, Colter Wall wanted to make an album about home. Drawing on the stories of his native Saskatchewan, the young songwriter's corner of the world takes shape throughout his second full-length album, Songs of the Plains. Produced by GRAMMY® Award-winning Dave Cobb in Nashville's Studio A, the project combines striking original folk songs, well-chosen outside cuts, and a couple of traditional songs that reflect the 24-year-old's roots growing up in a small town in Western Canada.   The New Yorker declared, "Wall is among the most reflective young country singers of his generation… His ace in the hole is his showstopping voice: a resonant, husky baritone, wounded and vulnerable." "Wall pushes in close against the untenanted space of the middle provinces, filling their geographic gaps with an intoxicating rasp," notes Pitchfork. "He sings with a serrated edge, his voice digging crevices rich with heartbreak, homeland, and heritage." Noisey calls Songs of the Plains " a heartbroken triumph, a statement suggesting that all that's missing is perhaps not forever lost." Watch the Colter Wall live stream on Aug. 30 here. 
Join us in August here for sets by these great artists. The broadcast episodes will air on PBS later this year as part of our upcoming Season 45.