Singer/songwriters Patty Griffin and Steve Earle have been frequent visitors to the ACL stage in the past couple of decades. Griffin first appeared in 2000 as part of a songwriters' special, getting her own show the next year, while Earle debuted way back in 1987. It's always a pleasure to welcome back old friends, and doubly so under such special circumstances: Griffin to showcase songs from her highly-acclaimed, self-released and self-titled new album, and Earle, joined by some special guests, spotlighting Guy, his tribute to his songwriting mentor Guy Clark. Both turned in shows for the ages, which we live streamed around the world.  
Patty Griffin comes off of a four-year hiatus while the singer dealt with breast cancer, and her performance pulled generously from it. After a boisterous welcome from the crowd, she opened with the album's "Mama's Worried," essentially a duet between David Pulkingham's flamenco guitar and her own resonant singing. Next up was "The Wheel," a bluesy declaration built on its writer's jagged rhythm guitar and multi-instrumentalist Conrad Choucroun's bass guitar/kick-drum rhythm. She followed with "Boys From Tralee," a Celtic folk-tinged tune about Irish immigrants (of which Griffin's grandparents were two), tying it into the current situation at the U.S. border. From the Emerald Isle to the American swamp: Griffin moved back to her 2004 LP Impossible Dream for the shuffling, tremolo-heavy "Standing," allowing her to draw from her love of gospel. But she quickly shifted from the sacred to the secular, with the sly "Hourglass," inspired by the great Screamin' Jay Hawkins and featuring a Pulkingham solo that earned cheers. 
Guitars went to their stands as Pulkingham moved to the piano and his boss to the mic for the gorgeous "Luminous Places," a well-titled standout from Patty Griffin. Then it was on to the "Truth #2," a fan favorite, as evidenced by the cheers at the opening chords, and "Where I Come From," a narrative Patty Griffin highlight. "River," the self-titled album's single, once again showcased her rich vocals, accompanied by Pulkingham's acoustic guitar and the ridiculously multi-tasking Choucroun on piano, and greatly appreciated by the audience. Wielding a mandolin, Griffin finished her set with the rocking, inspirational "Shine a Different Way," to the crowd's delight.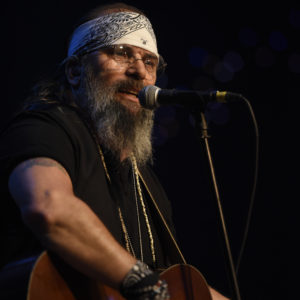 Joined by his long-running five-piece band The Dukes, Earle hit the stage kicking off his Guy Clark tribute with the classic "Dublin Blues," receiving exuberant cheers at the opening line "Wish I was in Austin." Earle immediately went into "Texas 1947," featuring the expert pedal steel work of Ricky Ray Jackson. After sharing a short story about how he met Guy Clark while hitchhiking around Texas, the band performed the ode to the Hill Country honky-tonkin' queen "Rita Ballou," featuring Eleanor Whitmore on violin. Following a tale about Clark's loyalty to Texas BBQ over Tennessee style BBQ, Joe Ely joined Earle on stage to perform "Desperadoes Waiting For a Train" – two Texas music legends trading verses on one of the state's most influential songs. The Dukes quit the stage temporarily, so Earle could essay "The Last Gunfighter Ballad," a Clark song made famous by Johnny Cash and Willie Nelson. The band returned for "The Randall Knife," one of Clark's most autobiographical and arresting tunes, followed by the beloved "L.A. Freeway," one of his most famous. With Earle donning his mandolin, he and The Dukes got acoustic for "New Cut Road," an explicitly bluegrass-flavored tune that threw another spotlight on Whitmore, as well as her flatpicking husband Chris Masterson. After introducing the band, Earle went into "Heartbroke," going through the first verse before being joined onstage by another Clark mentee – songwriting great Rodney Crowell, who originally recorded the song in 1980, before it became a hit for Ricky Skaggs in 1982. 
"I guess I should play a couple of songs of mine so y'all won't think Guy didn't teach me anything," Earle quipped before launching into "Guitar Town," the song that put him on the map as a writer and performer. After that hit, there was only one other song The Dukes could hit, and sure enough: the opening synth riff of "Copperhead Road" – the powerhouse rocker that served notice that Earle was simply country – got the crowd going wild. "That's what Guy taught me," he asserted. After that explosion, Earle brought Crowell and Ely back, joined by Lubbock legends Terry and Jo Harvey Allen, for "Old Friends," Clark's beautiful evocation of friendship, with each singer taking one of the spoken verses. Earle led the audience in a round of the chorus, before an instrumental coda and the singers laying down one last "old friends" to close. A better elegy for Clark would be hard to imagine. It was a beautiful moment, and we can't wait for you to see it when it airs this fall on your local PBS station.