Austin City Limits welcomes back a pair of singular artists with their own spins on traditional American musical forms: legendary blues guitarist/singer Buddy Guy on September 17, making his fifth appearance on the ACL stage, and soul/funk singer/horn player Trombone Shorty on September 26, making his third.
Buddy Guy's astounding career spans over fifty years with just as many albums released. Career highlights include the 2015 Grammy Lifetime Achievement Award, seven Grammy Awards, 37 Blues Music Awards, Kennedy Center Honors, Billboard Music Awards' Century Award, Presidential National Medal of Arts, and induction into the Rock and Roll Hall of Fame, to name a few. The blues titan recently released his eighteenth solo LP, The Blues is Alive and Well, the acclaimed follow-up to his 2015 album Born To Play Guitar, which received "Best Blues Album" honors at the 2016 Grammy Awards, and debuted at #1 on Billboard's Top Blues Album charts.  Produced by Guy's longtime partner Tom Hambridge and featuring special guests Mick Jagger, Keith Richards, Jeff Beck and James Bay, the new album is hailed "a heart-warming set from a cultural treasure" by Mojo. Rolling Stone raves, "Buddy Guy proves blues is alive and well," while Uncut notes, "[Guy] stretches out into these songs, inhabiting them comfortably and casually, almost always finding a way to make the familiar sound fresh." Guy will be the recipient of this year's Americana Music Awards Lifetime Achievement Honor, and at 82 years young, proves unstoppable as he continues to record and tour around the world.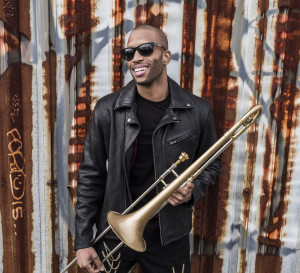 Part Jimi Hendrix, part James Brown and all New Orleans, Troy "Trombone Shorty" Andrews is the bandleader and frontman of Trombone Shorty & Orleans Avenue, a hard-edged funk band that employs brass-band beats, rock dynamics and improvisation in a jazz tradition. NPR hailed him as "New Orleans' brightest new star in a generation," and New York Magazine wrote that "Trombone Shorty takes in a century-plus worth of sounds—ragtime and jazz and gospel and soul and R&B and hip-hop—and attacks everything he plays with festive fervor." His 2017 Blue Note Records debut Parking Lot Symphony contains multitudes of sound—from brass band blare and deep-groove funk to bluesy beauty and hip-hop/pop swagger—and plenty of emotion all anchored by stellar playing and the idea that, even in the toughest of times, as Shorty says, "Music brings unity." OffBeat wrote that "Parking Lot Symphony continues Trombone Shorty's personal tradition of stunningly good musicianship, crowd-pleasing good material and just plain good fun," adding that "Andrews keeps the music close to his heart and his hometown." To celebrate that hometown's 300th birthday, its rich cultural heritage, and the bright future of its music, Trombone Shorty, Orleans Avenue and handpicked special guests are touring the nation as Trombone Shorty's Voodoo Threauxdown. "New Orleans is the best place in the world," says Shorty. "With this show, my friends and I want to spotlight New Orleans, bring joy and fun and partying to the nation, because that's what New Orleans creates. That's what our music is about."
Want to be part of our audience? We will post information on how to get free passes about a week before each taping. Follow us on Facebook and Twitter for notice of postings. The broadcast version will air on PBS later this year as part of our upcoming Season 44.