Austin City Limits presents a heartwarming hour with Southern country-rock act Zac Brown Band. The multi-platinum, three-time Grammy Award-winning group make their series debut with a career-spanning performance.
The acclaimed Atlanta octet showcase career highlights alongside new songs in a spirited, 11-song triumph. The country-rockers claimed Best New Artist at the 2010 Grammy Awards with their breakthrough release, The Foundation (now five-times platinum) and today are one of music's biggest live acts. "We're super-proud to be on the ACL stage," says bandleader Zac Brown as he welcomes the crowd to pull up a seat at the "Family Table," a gem from the band's latest release Welcome Home. Brown shares the heartfelt stories behind many of their songs including the chart-topping ballad "Colder Weather" and the power-of-music testament "Day That I Die," from 2012's Uncaged, the Grammy Award-winning Best Country Album. The band cap the soaring set with a masterful hat-trick showcasing the musical range that has made them a fan-favorite; starting with "The Muse," originally recorded with the Foo Fighters' ubiquitous Dave Grohl, followed by their stirring cover of songwriting legend John Prine's "All the Best," and ending in tribute to their Southern-rock roots with a roof-raising finale of the Allman Brothers' classic "Whipping Post."
"To call them 'Country' or 'Southern Rock' doesn't begin to describe the breadth and depth of what Zac Brown Band is really all about," says ACL executive producer Terry Lickona. "Singing songs that tell great stories and playing music that just plain makes you feel better is definitely a big part of who they are and where they're from."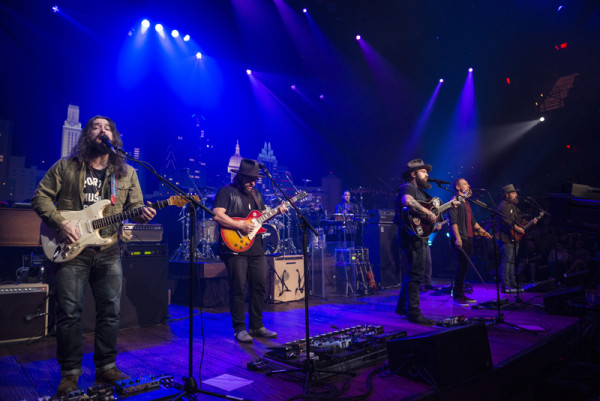 Tune in this weekend for this episode, and, as always, check your local PBS listings for the broadcast time in your area. Go to the episode page for more info, and don't forget to click over to our Facebook, Twitter and newsletter pages for more ACL info. Join us next week for a brand new episode, featuring the debut of acclaimed country troubadour Sturgill Simpson and the return of ACL frequent flyers Asleep at the Wheel.