Austin City Limits showcases modern roots rock with two American originals: indie favorites Band of Horses and acclaimed singer-songwriter Parker Millsap.
South Carolina indie-folk rockers Band of Horses made their ACL debut in 2010 and return to perform time-honed classics alongside new gems from their fifth studio album Why Are You Ok? The Charleston-based quintet, led by dynamic frontman Ben Bridwell, kick off the upbeat seven-song set with the classic, "Is There A Ghost" from their 2007 album Cease To Begin. The band strips down to an acoustic trio for the early career hit "Part One," circling a single microphone to capture their lush three-part harmonies. New songs "Throw My Mess," "Hag" and "In A Drawer," showcase the band's melodic range, and lead into the raucous set-closing anthem, fan favorite "The General Specific."
Oklahoman singer-songwriter Parker Millsap has set the Americana world on fire with his songs, his voice and his impassioned live show. Raised in the Pentecostal church, Millsap is filled with a fire-and-brimstone fervor that fuels his gospel-tinged lyrics and gives way to Buddy Holly-esque rockabilly ravers. The 23-year-old rising star opens his ACL debut with the apocalyptic title track from his sophomore album The Very Last Day. Millsap's "talent for bringing convincing, complex characters to life" (NPR) is evident in the set's centerpiece, "Heaven Sent," which has the singer taking on the role of a gay son searching for his preacher father's acceptance. Millsap closes out the standout performance with a soaring, fiddle-accompanied take on the blues classic "You Gotta Move," then concludes with a howling, impassioned performance of his own hard-hitting "Hades Pleads," which gets the appreciative ACL audience on their feet for a well-deserved ovation.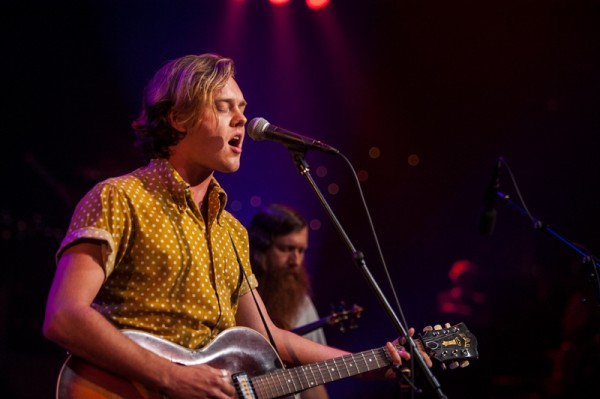 "Their songs are at the heart of what makes both Band of Horses and Parker Millsap so special," says ACL executive producer Terry Lickona. "Band of Horses are at the top of their game, lyrically and melodically, and Parker Millsap's songwriting is story-telling at its very best. This is a show you where you should turn off the lights and turn up the volume."
Tune in this weekend for this episode, and, as always, check your local PBS listings for the broadcast time in your area. Go to the episode page for more info, and don't forget to click over to our Facebook, Twitter and newsletter pages for more ACL info. Tune in next week for an encore episode from the one and only Cyndi Lauper.