Austin City Limits presents a feel-good hour featuring Black Keys superstar Dan Auerbach, performing songs from his acclaimed solo album and joined by a stellar band of legendary Nashville musicians, in a double-bill with Austin's country-soul juggernaut Shinyribs.
Singer/guitarist Dan Auerbach takes a break from his main outfit, the eight-time Grammy-winning Black Keys, and returns to the ACL stage to showcase songs from his radiant solo release Waiting On A Song. Conceived in his adopted hometown of Nashville with an all-star cast of Music Row's finest musicians, NPR raves "Each track on Waiting On A Song sparkles like a long-lost gem of early-'70s AM radio." The restless creative and his ace seven-piece backing crew, featuring many of the record's legendary silver-haired sidemen, perform a blissed-out seven-song ACL set.  Highlights include a pair of timeless tunes co-written with songwriting icon John Prine: the buoyant set-opening title track and an unrecorded gem, "Somewhere Between Eau Claire and East Moline." In old-school soul revue style, Auerbach introduces his own Easy Eye Sound label signee, 63-year old soul singer Robert Finley, who takes center stage to deliver a dose of his show-stopping "Medicine Woman." Auerbach closes out the sparkling set with the sunny, melodic delight "Shine On Me" and the crowd is happy to sing-along.
Swamp-pop band Shinyribs keep the party going, delivering a high-energy, full-throttle four-song tour de force in one of the most entertaining performances on the ACL stage. Flamboyant frontman Kevin Russell, aka the "shaman of soul," is no stranger to legions of music fans as the former leader of beloved Austin band The Gourds (who appeared on ACL in 2007). Russell has ramped up the showmanship in Shinyribs, and the East Texas rockers have become one of Austin's favorite live acts since forming in 2010. The eight-piece outfit is a party machine, complete with horns, back-up singers and dancers. Performing songs from across their four albums, powerhouse singer Russell is a bigger-than-life force of nature with stage theatrics as lively as the music, delivering delightful repartee, guitar solos, enviable dance moves, call-and-response with back-up singers the Shiny Soul Sisters, all while whipping up a brew of Texas country soul with a side of hip-shaking swamp-funk. The band's trio of onstage dancers –  dubbed the "Riblets" – drape the frontman in a glittery silver robe tricked-out with colorful flashing lights for the roof-raising set-closer "East Texas Rust" as Russell wails on electric guitar. You in Texas baby.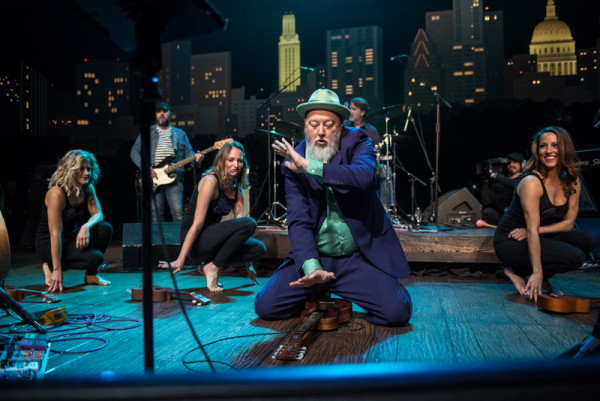 "You can't not watch this show without feeling good afterwards," said ACL executive producer Terry Lickona. "Dan Auerbach has five times more creative energy than anyone with half his credits! And 'seeing is believing' with Shinyribs. Kevin Russell goes above-and-beyond to 'Keep Austin Weird'!"
Tune in this weekend for this episode, and, as always, check your local PBS listings for the broadcast time in your area. Go to the episode page for more info, and don't forget to click over to our Facebook, Twitter and newsletter pages for more ACL info. Join us next week for another brand new episode, featuring the ACL debut of country superstar Chris Stapleton and Americana powerhouse Turnpike Troubadours.