Austin City Limits showcases one of today's most thrilling live acts, LCD Soundsystem, for an electrifying hour. The dance-rock band make their first-ever appearance on the program with a victory lap of beloved hits alongside new classics.
LCD Soundsystem perform songs from American Dream, its first new release after a five-year hiatus and the first #1 album in their decade-long run. Called "a party album for the end of the world or an apocalypse album for the end of the party," by Rolling Stone, the album earned wide acclaim and landed on many "best of 2017" lists. The New York City band, formed by leader James Murphy in 2002, launches a spectral Austin City Limits set with a pair of songs from their acclaimed comeback: the synth-popping beat of album-opener "Oh Baby" and charging bass and cathartic guitar of dance-floor magnet "Call the Police." Murphy clutches his signature retro mic and promises the audience a mix of songs old and new as they kick into fan-favorite "I Can Change," a perfect balance of romantic woe, disco rhythm and pop melody from 2010's This Is Happening. Murphy's lyrical wit and soaring vocal is the band's trademarks and together they dive into the wry melancholy of "New York, I Love You But You're Bringing Me Down" from 2007's Sound Of Silver.  LCD's penchant for mixing rock anthems with dance rhythms is in full force on the rock 'n' roll disco opus "Tonite," the newly-minted 2018 Grammy-winner for Best Dance Recording, the band's first career Grammy win. The fascinating hour allows viewers an immersive glimpse into LCD's artistry, with seven band members onstage to recreate the electronic-based parts of their catalog, layering a potent mix of sounds with free-wheeling electro-pulse synth. A staccato piano riff signals "All My Friends," an endorphin rush ode to slowing down time that closes out the hour as Murphy gets into the spirit, stepping into the crowd to shake hands with all his new best friends in the front row.
"When LCD played their 'last show' at Madison Square Garden in 2011, I thought we'd missed our chance," explained ACL executive producer Terry Lickona. "Then I was excited to hear James had decided to revive the band, make a new record and hit the road again. They were a must-get for ACL! LCD's sound has a way of washing over you and carrying you away. They make music like nobody else can!"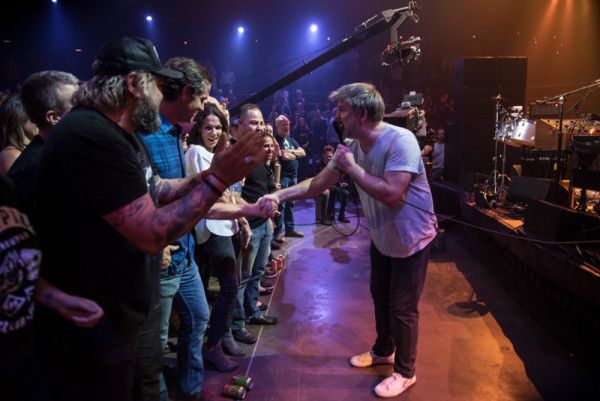 Tune in this weekend for this episode, and, as always, check your local PBS listings for the broadcast time in your area. Go to the episode page for more info, and don't forget to click over to our Facebook, Twitter and newsletter pages for more ACL info. Join us next week for another brand new episode, featuring the solo ACL debut of Black Keys singer/guitarist Dan Auerbach and the debut of former Gourds member Kevin Russell's party favorite Shinyribs.