When last we saw Jason Isbell and his intrepid band the 400 Unit, it was on the heels of the release of his beloved 2013 breakthrough Southeastern. Since then he's become an award-winning star in the Americana world, releasing two more acclaimed records: 2015's Something More Than Free and this year's The Nashville Sound. As thrilled as we were to have him back, we were even more excited that he would be joined by his wife and creative partner Amanda Shires – not only as a member of the 400 Unit, but as a featured artist in her own right. The former fiddler for the most recent version of the Texas Playboys has built a critically acclaimed catalog of five solo albums, including 2013's revered Down Fell the Doves and last year's My Piece of Land. Two great sets in one night – both livestreamed around the world.
"What a dream," said Amanda Shires as she tuned her violin. Then she and her three-piece band launched into "My Love (The Storm)," before an unauthorized monitor buzz rudely interrupted. ("That's OK, I enjoy a technical problem," she quipped, before soundchecking with a bit of "The Devil Went Down to Georgia.") Problem fixed, the band went back into "My Love" with no issues. That song's swampy menace segued directly into "You Are My Home," a smoky ballad whose romantic title sentiment was knocked off kilter by Shires' violin skronk. The quartet wasted no time going into the next song, the minor key folk rock of "Devastate" contrasting nicely with its more languid predecessor. After a witty round of band intros, she donned a tenor guitar and led her boys in "The Way It Dimmed," a frisky country tune, and "Harmless," a wistful ballad.
Following a story about an old boyfriend, Shires invited said paramour onstage, as husband Jason Isbell arrived to add harmony vocals and a fiery guitar solo to the folk rocker "Wasted and Rollin'." Switching back to the violin, she sang and bowed the atmospheric ballad "Pale Fire," before bearing down on her fretboard for the darker, gnarlier "Look Like a Bird." Shires drove the song with drone as Isbell and guitarist Zach Setchfield traded solos, before digging in with her own epic four-string cries and growls, much to the crowd's delight. Isbell left the stage (to get ready for his own show, presumably) as Shires switched back to the guitar for the melodic rocker "When You're Gone," ending the set on a powerful and upbeat note. "That was awesome!" said producer Terry Lickona as he came out to announce the intermission for the stage to be reset.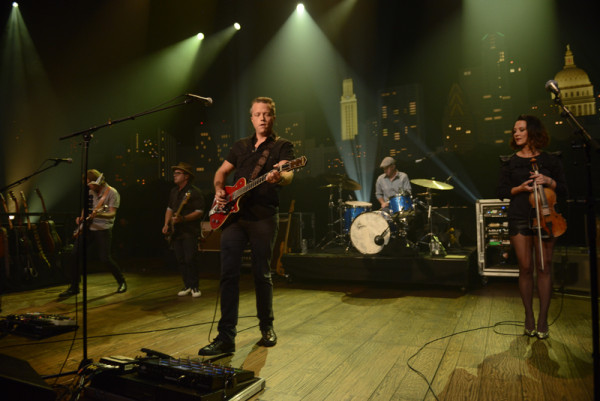 "Happy to be back on the best rock & roll TV show in the whole wide world," said Jason Isbell as he and the 400 Unit (which includes Shires) took the stage and began with "Hope the High Road," a burly rocker from The Nashville Sound. Then it was on to the Grammy-winning hit "24 Frames," a perfect marriage of powerful music and Isbell's poetic lyric, and the accordion-kissed country rocker "Codeine." Showing himself to be the natural heir to the songwriting tradition set by Guy Clark and John Prine, Isbell went into "Last of My Kind," an introspective tune interrupted by a mistake, quickly righted by a second, stronger take. The band followed with "The Life You Chose," a melodic folk rocker that really got the crowd going.
With both Isbell and co-guitarist Sadler Vaden on acoustic guitars, "Chaos and Clothes" moved even further into the realm of folk, but lyrics that referenced black metal T-shirts kept it grounded in the modern world. Isbell donned a crunchy Telecaster and the Unit blasted into the powerhouse rock & roller "Cumberland Gap," keeping the electricity flowing with the social commentary of "White Man's World." The acoustic guitars came back out for "If We Were Vampires," a song of devotion that seems destined to be an Isbell standard. Speaking of standards, Isbell dipped into the songbook of ACL favorite John Prine for a duet with Shires on "Clocks and Spoons." A round of band intros followed, before the 400 Unit roared into the anthem "Anxiety," its grunged-out intro and outro allowing the band to really get loud. Isbell and the Unit took a bow to wild applause and the music, sadly, was over. It was a great doubleheader of a show, one we can't wait for you to see when Isbell and Shires' shared episode airs early next year as part of our Season 43 on your local PBS station.