Austin City Limits is happy to announce a rare double shoot on August 21, featuring top-notch Americana with Jason Isbell & the 400 Unit and Amanda Shires.
Jason Isbell and the 400 Unit's acclaimed new album, The Nashville Sound, is a beautiful piece of American music-making. As with Isbell's 2013 breakthrough, Southeastern (which Isbell showcased on his debut ACL appearance in Season 39) and his double-Grammy-winning follow up, 2015's Something More Than Free, The Nashville Sound was produced by Dave Cobb. Isbell says that he and Cobb created a simple litmus test for the decisions they made in the two weeks they spent at RCA Studios (which was known as "The home of the Nashville Sound" back in the '60's and '70s): they only made sonic moves that their heroes from back in the day could've made, but simply never did. It's a shrewd approach—an honest way to keep the wiz-bang of modern recording technology at arm's length, while also leaving the old bag of retro rock 'n' roll tricks un-rummaged. It's also the best way to keep the spotlight on Isbell's stock-in-trade: great songs. Simply put, Isbell has a gift for taking big, messy human experiences and compressing them into badass little combustible packages made of rhythm, melody and madly efficient language. The songs are full of little hooks—it could be guitar line that catches one listener, or a quick lyric that strikes to the heart of another—and an act of transference takes place. The stories Isbell tells become our own. The music is coming not from Jason and the band, but from within us. Lyrically, The Nashville Sound is timely. Musically, it is timeless.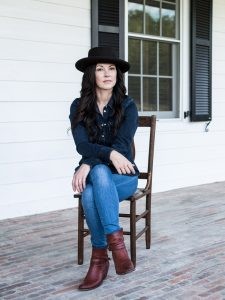 Texas native Amanda Shires began her career as a teenager playing fiddle with the Texas Playboys. Since then, she's toured and recorded with John Prine, Billy Joe Shaver, Todd Snider, Justin Townes Earle, Shovels & Rope, and most recently her husband and creative collaborator Jason Isbell, with whom she first-appeared on ACL in 2013. Along the way she's made three solo albums, each serving to document a particular period in her life while improving on the perceptive qualities of the previous record. The songs on her latest My Piece Of Land deal with family, anxiety, and the phases of one young woman's life, but the primary focus is the concept of home. Shires addresses the similarities and differences between the home she was born into, the two homes she was eventually split between, and the home she has finally made for herself. She recorded the album under the guidance of producer Dave Cobb at his Low Country Sound studio. Cobb believes in the spontaneity of early takes, and with the proficient rhythm section of Paul Slivka and Paul Griffith, the studio band was able to record the album in a relatively short amount of time without sacrificing performance quality. This approach gives each song on the album emotional urgency along with a groove that's loose and effortless. With My Piece Of Land, Amanda Shires has reached a personal pinnacle. This album is the creative milestone suited to accompany the recent milestones in her life: becoming a mother, developing into a true artist, and finally finding a home.
Want to be part of our audience? We will post information on how to get free passes about a week before each taping. Follow us on Facebook and Twitter for notice of postings.