Austin City Limits is proud to announce a pair of back-to-back livestreams with two of today's most thrilling live acts. We will be streaming the upcoming tapings of Seattle's The Head and the Heart on May 22 and Austin's own The Black Angels on May 23, live and in their entirety, directly from the Austin City Limits stage at 8pm CT/9 pm ET on ACLTV's YouTube channel.  Both acts are making return appearances to the ACL stage armed with acclaimed new albums.
When Seattle band, The Head and the Heart, who first appeared on ACL in Season 37, regrouped in 2016 to start writing together again after a sabbatical, "it almost felt like we were a new band, trying things we hadn't tried," bassist  Chris Zasche recalls. "We stayed at a bungalow on the beach. We'd wake up, have coffee and go boogie boarding. We were ready and excited to be back together." That renewed sense of purpose can be felt throughout their major label debut, Signs of Light, the group's third album and first release for Warner Bros. Records. "This album isn't about us now having achieved our dreams," says vocalist/multi-instrumentalist Charity Rose Thielen. "The day we started being able to live off our art was the day we achieved our dreams, in my mind. This is the album where we really fell into our true voices as those artists." Recorded in Nashville with producer Jay Joyce (Eric Church, Cage The Elephant), Signs of Light crackles with the upbeat, singalong energy of the band's finest work. Throughout, the colors are brighter, the electric guitars are louder and the musical touchstones more universal. Lead single "All We Ever Knew," written during the Let's Be Still era but never captured to the band's satisfaction until now, is sure to be a crowd-pleaser, while "Turn It Around" seems primed to be a future concert staple, matching its inspirational message with a lush and multi-layered soundscape. Blurt say the album "fulfills the aim the band's handle appears to indicate. This is after all, music that connects with the head and the heart, and imparts a dual sense of resilience and delight in its wake." Join us on May 22nd for The Head and the Heart's highly-anticipated second ACL taping.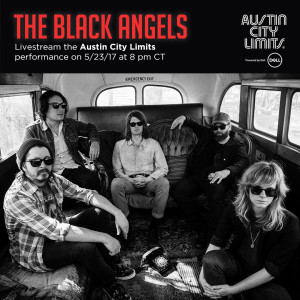 Austin psych rock masters The Black Angels appear with charged new songs from Death Song, their first full-length release in four years, and their debut for Partisan Records. NPR raves, "The Black Angels have delivered an enormous and frighteningly timely fifth album full of uniquely trippy anthems to oblivion."  Written and recorded in large part during the recent election cycle, the music serves as part protest, part emotional catharsis in a climate dominated by division, anxiety and unease. Recorded between Seattle and Austin, the eleven-track collection offers a sharply honed elaboration on their signature sound – menacing fuzz guitar and cutting wordplay, steeped in a murky hallucinatory dream. Since forming in Austin in 2004, The Black Angels have become standard-bearers for modern psych-rock, and the New York Times has said they "play psychedelic rock as if the 1960s never ended, and they are absolute masters of it." The Black Angels made a stellar ACL debut in 2013 and we look forward to their return.
Please join us May 22 and May 23 for these full-set livestreams on our ACLTV YouTube channel. The broadcast versions will air on PBS later this year as part of Season 43.