Austin City Limits presents a captivating hour with two of contemporary country music's brightest: Margo Price in her ACL debut and Hayes Carll making a return appearance.
Rising star Margo Price had a banner 2016 with the release of her acclaimed solo debut Midwest Farmer's Daughter. Recorded at Memphis' fabled Sun Studios and released by Jack White's Third Man Records, the album topped critics' year-end-best lists with Rolling Stone raving, "It's the kind of record that hits you in the gut: staggeringly honest, as devastating as it is joyful and whip-smart." Opening her stellar ACL debut with the honky tonk comeuppance "About To Find Out," Price puts a fresh spin on classic Nashville with her sharp songwriting, steely vocals and dynamic road-tested live persona. "Hands of Time," about a heartbreaking run of bad luck, leads into the crowd-pleasing set-closer "Hurtin' (On the Bottle)," as Price ventures into the audience surrounded by newfound fans.
"A wry Texas troubadour with a knack for crooked grace and a clever turn of phrase" (New York Times), Hayes Carll returns for his first appearance since his ACL debut in 2010. The native Texan recalls his troubadour roots with his first album in five years, the critically acclaimed Lovers and Leavers, after having garnered a 2016 Grammy nomination for Best Country Song. Carll dedicates the artful set-opener "Sake of the Song" to a creative influence, the late, great Guy Clark, calling him the "lion of the songwriting world." His natural gift for storytelling is evident in his startlingly personal six-song set, with its highlight "The Magic Kid," a song about his son's determination to be a magician, stealing the show and demonstrating Carll's own brand of magic. He reaches back to his 2005 breakthrough Little Rock to close out the set, showcasing the fascinating and fearless evolution of a songwriting giant.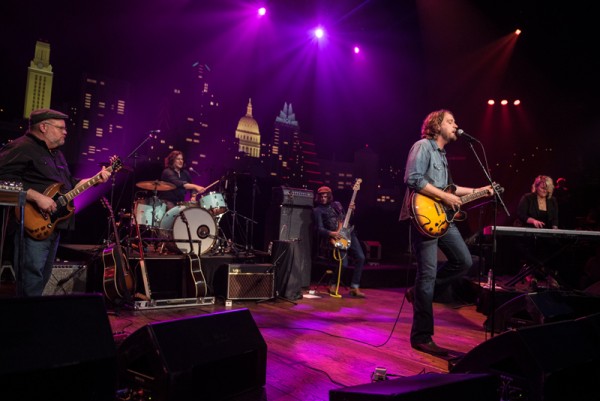 "If you're not a fan of Nashville's pop country trends, this show will be a breath of fresh air," says longtime ACL executive producer Terry Lickona. "Margo writes and sings with a classic country touch, but what she writes about totally speaks to today. Hayes carries on the proud tradition of Texas songwriters, and this is his best work to date."
Tune in this weekend for this episode, and, as always, check your local PBS listings for the broadcast time in your area. Go to the episode page for more info, and don't forget to click over to our Facebook, Twitter and newsletter pages for more ACL info. Tune in next week for a brand new episode, featuring the return of Band of Horses and the debut of Parker Millsap.