Austin City Limits presents a special encore featuring musical highlights and tributes from the 2015 Austin City Limits Hall of Fame. Hosted by Dwight Yoakam on June 18, 2015, this unique special showcases one-of-a-kind performances and collaborations from the ACL Hall of Fame celebration, honoring the artists who've helped make the award-winning tv series an American music institution.  An all-star line-up including Lyle Lovett, Jason Isbell, Vince Gill, Patty Loveless, Dwight Yoakam, Gillian Welch and more come together for one night to perform in honor of the newest class of inductees: Asleep at the Wheel, Guy Clark, Flaco Jiménez, Loretta Lynn and Townes Van Zandt.   
ACL reaches back to its roots with a show-opening tribute to country trailblazer Loretta Lynn, who first appeared on the series in 1983. Country singer Patty Loveless, also a coal miner's daughter, pays tribute to the living legend, and is joined by Vince Gill for a spirited duet of the Conway Twitty/Loretta Lynn classic "After the Fire Is Gone." Lynn accepts her honor saying "Texas has always been so good to me. They fed me when my kids was hungry. They fed me when I was hungry." Lyle Lovett takes the stage to honor Texas songwriting legend Guy Clark, saying "He is my friend.  He is my hero," with a stunning reading of the first song Clark ever wrote: "Step Inside This House." Acclaimed singer-songwriter  Jason Isbell performs a moving solo rendition of a Clark classic, "Desperados Waiting For A Train."  
Superstar Tex-Mex accordionist Flaco Jiménez makes a joyous show-stopping cameo during his own tribute, joining Dwight Yoakam, Los Lobos' David Hidalgo and conjunto masters Los Texmaniacs to show off his nimble accordion style. The late, great Texas troubadour Townes Van Zandt, who first appeared in ACL's debut season in 1975, is honored beautifully in acoustic performances by roots outfit Gillian Welch and British singer-songwriter Laura Marling. Austin's own Asleep at the Wheel, who performed on the very first episode of ACL in 1975, are inducted by longtime fan Vince Gill, who joins the Western swing institution for a lively take on their early recording "Take Me Back to Tulsa."
The special comes to a perfect close with the night's entire cast returning to the ACL stage for a grand finale, trading verses on a Townes Van Zandt classic, "White Freightliner Blues."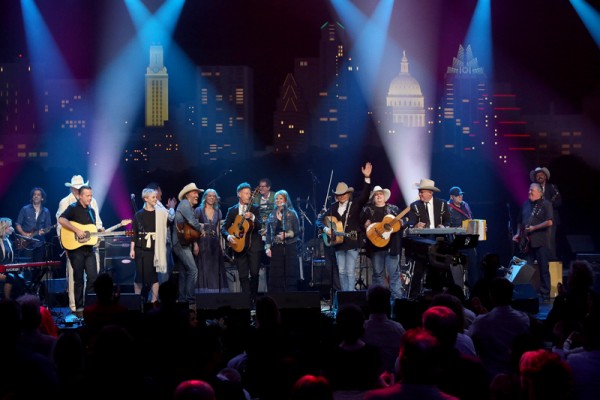 "We created our own Hall of Fame as part of our 40th anniversary last year to recognize and celebrate those artists who were there in the beginning and helped make Austin City Limits what it is today," says ACL executive producer Terry Lickona.  "The annual event is a unique showcase for some amazing performances and emotional moments, and we're thrilled to be able to capture it all to bring to our fans at home."
Tune in this weekend for this episode, and, as always, check your local PBS listings for the broadcast time in your area. Go to the episode page for more info, and don't forget to click over to our Facebook, Twitter and newsletter pages for more ACL info. Tune in next week for an encore episode with Ed Sheeran and Valerie June.