Austin City Limits presents two innovative singer-songwriters: UK sensation Ed Sheeran and rising star Valerie June. Ed Sheeran makes his ACL debut in a must-see episode that features the breakout star performing his entire set solo. Sheeran exudes the raw talent that has made him a worldwide superstar, with charged versions of hits from his landmark debut and new songs from the chart-topping follow-up release. Acclaimed Southern singer-songwriter Valerie June shares the bill, making a captivating ACL debut with her starry-eyed roots music.
Ed Sheeran brings his A-game in his ACL debut, with a remarkable one-man solo performance that demonstrates why he's one of music's most popular live performers. Clad in an ACL t-shirt, the 23 year-old three-time Grammy nominee performs his  breakthrough hits "The A Team," "Lego House" and songs from his new release x.  With an acoustic guitar and a loop pedal as his only accompaniment, Sheeran creates a perfectly balanced mix of hip-hop and acoustic balladry. He showcases the honest songwriting and vocals that have earned him legions of fans across the globe.  Closing out the crowd-pleasing set, Sheeran leads the rapturous audience in an epic sing-along of his hit "Sing," with the Austin crowd still chanting as Sheeran leaves the stage.
Striking Southern singer-songwriter Valerie June makes her first appearance on the ACL stage performing songs from her luminous debut Pushin' Against a Stone. The Washington Post raves of the release: "Shades of Nina Simone, Dolly Parton and blueswomen of decades past flicker throughout; you can easily picture it crackling out from a timeworn record player." The Tennessee native's heartfelt sound and beautifully timeless voice have earned her critical raves and a 2014 Americana Awards nomination for emerging artist. With one foot in country blues, the other in mountain folk music and her head in the stars, June and her band conjure a distinctive brand of genre-blending that she calls "organic moonshine roots music" for a memorable ACL debut.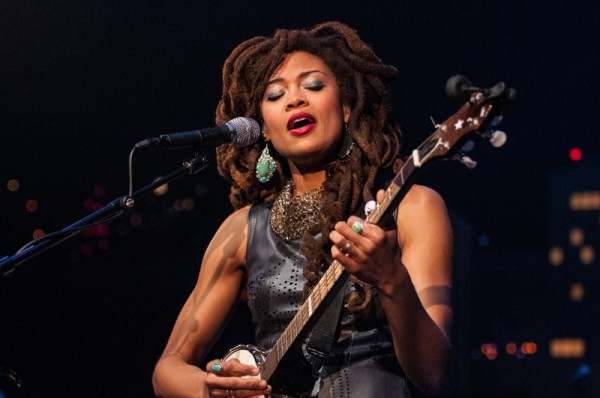 "In some ways, Ed Sheeran and Valerie June are as different as night and day," says ACL Executive Producer Terry Lickona, "but they are both distinctly original in their music. Through their intimately personal songs and unique onstage personas, they represent everything that Austin City Limits is all about."
Tune in this Saturday for this episode, and, as always, check your local PBS listings for the broadcast time in your area. Go to the episode page for more info, and don't forget to click over to our Facebook, Twitter and newsletter pages for more ACL goodies. Next week: Juanes.