Austin City Limits celebrates 40 years on television with a grand finale featuring musical highlights and inductions from the first-ever Austin City Limits Hall of Fame presentation. Hosted by Oscar-winning actor Matthew McConaughey, this never-before-broadcast special showcases outstanding performances and collaborations from the ACL Hall of Fame ceremony held April 26, 2014, including Emmylou Harris, Lyle Lovett, Buddy Guy, Robert Randolph and more. The program also honors the inaugural class of Hall of Fame inductees, featuring legendary music acts Willie Nelson and Stevie Ray Vaughan & Double Trouble and a pair of individuals who played an invaluable role in the genesis of the series: show creator Bill Arhos and Texas Longhorns football head coach and ACL supporter Darrell Royal.
For this extraordinary occasion ACL returns to its original Studio 6A, where the series taped its first episode in 1974—featuring Willie Nelson—to honor the artists and individuals who have inspired the iconic television series throughout its four decade run. The intimate performances include inductee Willie Nelson, joined by Lyle Lovett and Emmylou Harris for stunning readings of Nelson-penned classics including "Funny How Time Slips Away", "Crazy" and "On the Road Again." Matthew McConaughey inducts his friend and fellow Texan, saying "There would be no Austin City Limits without Willie Nelson."
Austin blues-rock giants Stevie Ray Vaughan & Double Trouble are honored with a stirring tribute and their signature songs are performed by special guests backed by Double Trouble's Chris Layton, Tommy Shannon and Reese Wynans. Guitar ace Kenny Wayne Shepherd and Grammy-winning singer Mike Farris perform a scorching rendition of "The House Is Rockin'," a song Vaughan made iconic. Blues titan and ACL veteran Buddy Guy says, "I wasn't here when Willie started, but I came soon after," then demonstrates his incredible guitar prowess with an electrifying take on "Mary Had A Little Lamb." Steel guitar dynamo Robert Randolph performs a fiery version of "Give Me Back My Wig" joined by Doyle Bramhall II. The special comes to an epic close with an all-star reading of a Lone Star classic as a stellar lineup of guitar slingers blaze through the Stevie Ray Vaughan standard "Texas Flood."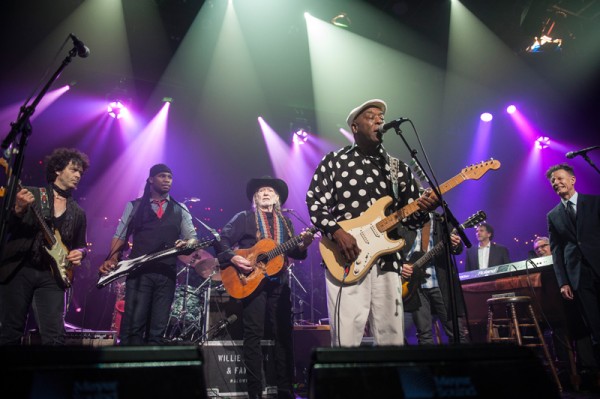 Tune in this weekend for this stellar special, and, as always, check your local PBS listings for the broadcast time in your area. Go to the episode page for more info, and don't forget to click over to our Facebook, Twitter and newsletter pages for more ACL info. Next week: Gary Clark Jr. and Alabama Shakes.