Get your lighters out for one of the most riotous, epic, joyous episodes in the four-decade history of Austin City Limits as the Foo Fighters return for the head-banging blowout of ACL's milestone anniversary season. In an installment destined to be a future classic, this superstar-caliber performance serves as a colossal closeout to the program's celebratory Season 40. Dave Grohl & company bring the rock in a non-stop, incredible hour of music that will have viewers on their feet and pledging allegiance to the Foo.
2015 marks the Foo Fighters' 20th Anniversary, and while the 25-million-record-selling, eleven-time GRAMMY-winning band play sold-out arenas and stadiums across the globe, the modern rock superstars return to ACL's humble stage on this special occasion. The Foos first appeared during Season 34 in 2008 and recently immortalized Austin and ACL's executive producer Terry Lickona in an installment of their HBO series Sonic Highways, even recording a song in ACL's historic, original Studio 6A for the companion audio release.
"Here's what I think we should do," says Foo leader Dave Grohl at the outset. "We should play some old songs, we should play some new songs, we should have some guests." The band stays true to their word, launching into a blistering nine-song attack, performing fan favorites and standout tracks from their acclaimed new release Sonic Highways. The crowd goes wild when Austin guitar great Gary Clark Jr. joins the band for "What Did I Do?/God As My Witness," the song originally recorded in the Austin episode of the HBO series. Hometown hero and blues guitar legend Jimmie Vaughan joins Clark Jr. and the band onstage for "Tuff Enuff," the signature song of Vaughan's Fabulous Thunderbirds, with Grohl on vocals and Vaughan adding his distinctive guitar riffs. The audience is on their feet for the entire hour, pumping their fists in the air and singing along as Foo Fighters make a believer out of everyone, in one of the most entertaining hours of music in ACL history. On the closing anthem "Best of You" Grohl sings, "I've got another confession to make/I'm your fool." So is the Austin audience in a performance that is the ultimate highlight of ACL's 40th season.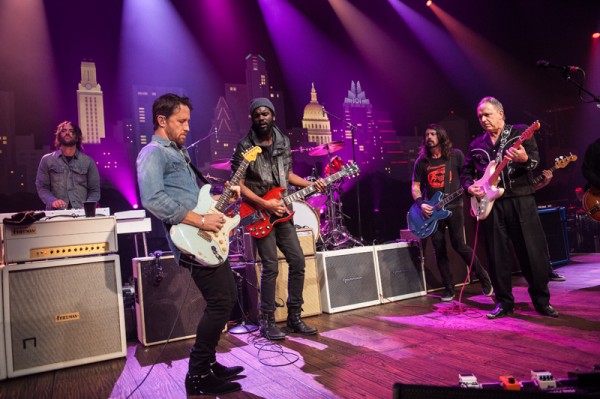 ACL executive producer Terry Lickona says, "We love us some Foo Fighters!! They are one of the biggest rock bands on the planet right now, and Dave Grohl is a renaissance rock and roll man. He showed us their love on the HBO Sonic Highways series, and this ACL episode is the first major TV showcase for their new music. Ours is a unique relationship, to say the least!"