Austin City Limits presents an electrifying hour with Nick Cave & The Bad Seeds, one of the most exhilarating live acts in music. The noir-rock outfit make their ACL debut in an hourlong performance offering a memorable career-wide set powered by dark songs of love, death, God and fate.
Nick Cave is one of contemporary music's most powerful personalities, and the Australian-born iconoclast takes the ACL stage with his longtime band for a mesmerizing appearance. The masterful nine-song set features highlights from their 30-year career, spanning the 1984 debut to 2013's universally-acclaimed Push the Sky Away, their fifteenth studio album.
The black-clad Cave stalks the ACL stage with primal energy and explores the thin line between light and darkness with selections from his fire-and-brimstone universe, spouting scripture-scaled narratives and anti-anthems from his rogue's gallery of characters. "Tupelo," a twisted take on the mythos surrounding Elvis Presley, has the singer-songwriter ranting like an evangelist fallen from grace and intent on clawing his way back. Cave looks directly into the heart of darkness with a piano-based rendition of the "The Mercy Seat," a murderously powerful first-person account of execution by electric chair that progresses from the sinister to the sublime. The episode comes to a show-stopping end with the title track from their recent worldwide chart-topping release; as Cave sings the lyric "Some people say it's just rock 'n roll, ah, but it gets you right down to your soul," the Austin crowd is rapt under his spell and ready to preach the gospel of Nick Cave & the Bad Seeds.
"One of the most famous Austin City Limits episodes of all time was the Tom Waits show in 1978—people still talk about it," says ACL executive producer Terry Lickona. "Nick Cave is the Tom Waits show of the 21st century! You will absolutely tell your friends about this one. You've got to see it to believe it!"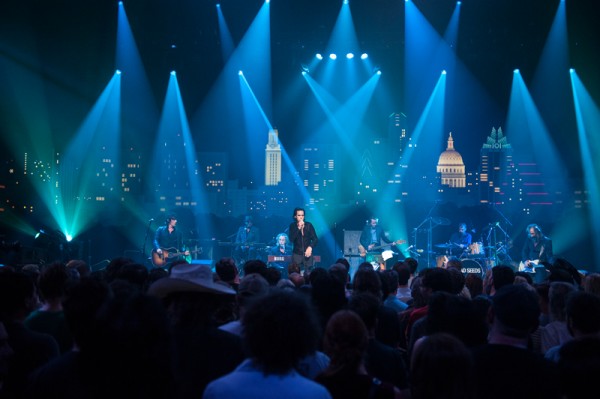 Tune in this weekend for this episode, and, as always, check your local PBS listings for the broadcast time in your area. Go to the episode page for more info, and don't forget to click over to our Facebook, Twitter and newsletter pages for more ACL info. Next week: Los Lobos and Thao & the Get Down Stay Down.