Nick Cave & the Bad Seeds
VIDEOS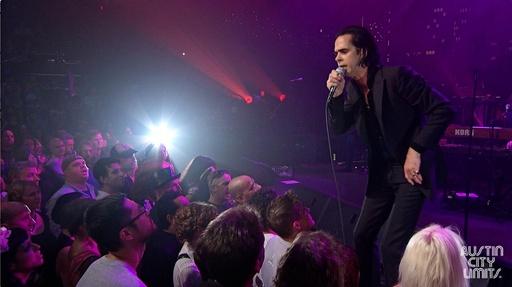 "Jubilee Street" (Season 40)
A recent New York Times Magazine profile of Nick Cave noted that "Cave can claim at least half a dozen vocations: songwriter and performer with the Bad Seeds and their garage-rock offshoot Grinderman; screenwriter of the acclaimed (and extremely gory) movies The Proposition and Lawless; novelist; film-score composer; lecturer; script doctor; and on certain (perhaps thankfully) rare occasions, even actor." While rightly celebrated for all of the above, the live experience is where Nick Cave & the Bad Seeds justify and defy hyperbole.
Following a sold-out tour last year, the band have been traversing the U.S. once again, leaving audiences and critics alike awestruck. The response has been unparalled. A critic from Mother Jones claimed the band's San Francisco show restored his faith in rock 'n' roll and urged the masses, "For God's Sake, Stop What You're Doing and Go Buy Tickets to See Nick Cave!" In Portland, the Willaimette Week called the performance "a master class in rock, and not something anyone present will ever forget." The Denver Post saw "the devil in an evangelist's clothes, oozing the sexuality of early rockers like Elvis Presley and Jerry Lee Lewis coupled with the punk innovation of Iggy Pop." In Minneapolis, the City Pages remarked on the audience experience: "We became unified in the moment as one sordid congregation, and from here we would follow anywhere Cave chose to lead us." The most commonly recurring word to emerge from the collective audience bearing witness to a Nick Cave & the Bad Seeds show? Unforgettable.
For this episode, Nick Cave & the Bad Seeds – Nick Cave, Warren Ellis, Barry Adamson, Martyn Casey, George Vjestica, Jim Sclavunos and Conway Savage – bring their perfectly crafted and incendiary set to Texas, as they make their Austin City Limits debut with songs from their most recent release, the universally regaled Push the Sky Away, as well as others from a legendary back catalog.
EPISODE LIST
Nick Cave & The Bad Seeds (40)
NEWS
if you like Nick Cave & the Bad Seeds, you might also like...